---
Minneapolis Minnesota Jeweler Specializing in Custom Design and Unique Engagement Rings.
---
Here on our blog at Knox Jewelers, we're always trying to introduce you to the latest and greatest in jewelry. For an industry with such a rich history as ours, it may come as a surprise that there are new innovations constantly on the horizon. New gemstones come into fashion, go out of fashion, come back again – there's always something new and exciting happening. One gem in particular has recently gained popularity on the market: it's called Morganite, and it's truly a stunning stone. It comes in delicate pastel shades of pink, rose, peach and salmon. Let's now take a look at the back story of this remarkable gem and see how you can incorporate it into some of our handmade, exquisite designs.
Morganite: Background & Facts
No doubt you've heard of a man named J.P. Morgan. You probably associate the name with one of the most renowned and (according to some people) infamous financiers in American history. But did you also know that he is the namesake for Morganite? George Kunz proposed the name to honor his friend for donating funds for the promotion of the arts and sciences in the nation, and to represent J.P. Morgan's gem-collecting ventures.
Morganite assumes many hues of pink, but the colloquial term "pink emerald" is not accepted by professional regulatory bodies and trade associations in the jewelry industry. Rather, morganite is a type of beryl, and is distinct from its sibling the emerald (another gem which is also derived from beryl). Due to still being relatively unknown to the public, morganite has many large specimens available on the open market. We're definitely excited about showing off this fantastic, underrated gem to our customers here at Knox Jewelers!
Special Considerations for Morganite Center Stones in Rings
If you're planning to invest in a morganite center stone, there are a couple of things you'll want to keep in mind. First of all, morganite is somewhat less durable than your average diamond or sapphire. Because of this fact, you'll want to be careful when using it in a ring design – we all know how rings can be prone to certain types of accidental damage.
As for cleaning and caring for morganite jewelry, here are the basic principles. Firstly, you're going to want to be really careful if you're incorporating it into a ring. We said this already, but it definitely warrants repeating. Secondly, as far as cleaning is concerned, all you need to use – in fact, all you should use – is warm, soapy water and non-abrasive cloth. Do not expose your morganite jewelry to any harsh chemicals, as these chemicals are quite capable of causing major damage to the stone.
Incorporating Morganite Into Your Own Custom Design
Morganite is a stunning addition to any piece of jewelry, and it can truly add a unique flair not found among other gemstones. We recommend a white or rose gold metal base to complement a morganite stone, though platinum as a base also looks amazing. Either way, you can't go wrong.  If you find that you prefer a different kind of metal, we're here to help you make it a reality.
Any of our handcrafted designs are suitable as a host for a stunning morganite gemstone. Be sure to check out our entire inventory at Knox Jewelers, including our unique engagement rings, wedding bands, and more. You're bound to find a design that truly looks amazing in conjunction with a morganite center stone. We're also happy to recommend one for you, or design one completely from start to finish just for you.
We're Here to Help: Get in Touch with Us Today!
Do you have any questions about morganite? If so, the friendly staff at Knox Jewelers are here to answer them. We'll walk you through the whole process of creating a custom jewelry design for you or your loved one, and we'll make sure you are able to design the perfect piece. Our hand-tailored and client-oriented design process will put you in the driver seat, and we know you'll be impressed. Get in touch with us today to learn more about designing your very own morganite jewelry. We look forward to meeting you and helping you create your dream ring!
Tags: custom, custom birthstone jewelry, Custom engagement ring, custom jewelry, custom morganite engagement ring, custom morganite jewelry, engagement ring, Engagement rings, Filigree Engagement Rings, halo, Morganite, morganite jewelry, peach gemstone, pink gemstone, Platinum, Rose Gold, Unique, White Gold, Yellow Gold | Categories: Unique Engagement Rings


---
There are a lot of reasons why having a March birthday is awesome: Firstly, you're born right on the cusp of spring and the warm weather (especially for those of us in northern environs). Secondly, your birthstone is the lovely aquamarine, a gemstone which derives its name from the Latin term aqua – meaning water – and marine – meaning of the sea. Water of the sea. Stunning, no? And for those lucky individuals with a March birthday, Knox Jewelers offers an outstanding selection of handmade aquamarine jewelry to celebrate this special month. Now, let's take a look at the history of aquamarine, how to pick the best possible gemstone for your jewelry, and some examples of custom engagement rings we have designed and crafted for our clients in the past.
Aquamarine Background
Even in its natural, unrefined state, aquamarine is one of the most visually awe-inspiring gemstones in the world, and these crystals are widely renown and valued very highly on the market. To be specific, aquamarine is a blue-hued variety of beryl, a mineral from which we also derive emeralds. Sometimes, a heat treatment is applied to increase the intensity of blue, though many instances found in the wild are often perfectly suitable as-is for use in jewelry making.
Choosing the Right Gemstone
The quality of a given aquamarine gemstone depends on a number of individual factors, including color, clarity, cut, and carat weight. Let's break down each factor one at a time to get a good feel for how these stones are valued in the marketplace. The color range for aquamarine tends to be confined to the spectrum of intense blue to greenish-blue. A general trend in color valuation is that more intense blues tend to be worth more in the open market, though this rule does have its exceptions. For clarity, most specimens have few if any visible inclusions. Stones that have inclusions of this sort tend to be worth less. As for cuts, any and all can be used, though ones that are used for emeralds are also widely used for aquamarine. Finally, larger stones tend to have less demand.
How to Care for Aquamarine Jewelry
In general, aquamarine is a hardy stone. However, it is susceptible to physical damage and heat, so it is very important to ensure that you keep it out of situations which could result in these forms of damage. As for cleaning, it is a relatively simple procedure to keep your aquamarine jewelry in tip-top shape: Simply use warm, soapy water to gently rinse and clean the surface. You should not expose your aquamarine jewelry to harsh chemicals or other invasive cleaning methods, as this could cause serious and irreparable damage.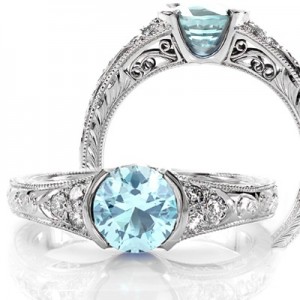 Unique Engagement Rings at Knox Jewelers
At Knox Jewelers, we've been crafting – by hand – stunning and unique aquamarine jewelry and engagement rings for our customers for decades, and we've always striven to provide only the best customer service and attention to detail in the industry. Whether you're looking for, whether it's an engagement ring for that special someone or just a surprise for their birthday, you're bound to find what you're looking for at Knox Jewelers.
Stunning Combinations
Aquamarine center stones look absolutely great with just about any combination of metal and design. On our website here at Knox Jewelers, you can browse through all of the designs that we have crafted for our customers in the past. Although the samples shown in their preview images will have different gemstones, we would be more than happy to customize your preferred piece with a beautiful aquamarine center stone – all you have to do is ask! As for what combinations work best, we think that white gold and platinum look great for those who are interested in a clean, elegant design. Yellow gold and rose gold can also be used to create a contrast effect that looks modern and sophisticated. Regardless of the direction you're leaning toward, we have you and your aquamarine needs covered!
Have Any Questions?
Are you interested in aquamarine engagement rings or other jewelry? Great! We'd love to chat with you about your interests and get a feel for what you're looking to create. Get in touch with our friendly staff soon, and we'll get started on making your dreams a reality!
Tags: Antique Engagement Rings, Aquamarine Engagement Ring, Aquamarine Jewelry, craftsmanship, custom, Custom Aquamarine, custom birthstone jewelry, Custom engagement ring, diamond halo, engagement ring, Engagement rings, filigree, Filigree Engagement Rings, halo, hand engraved, hand engraved engagement rings, Micro Pave, Micro Pave engagement rings, Platinum, Rose Gold, Unique, Unique Aquamarine, Unique Engagement Rings, White Gold, Yellow Gold | Categories: Gemstones


---
One of the more unique and visually dynamic gemstones is the ametrine stone, a transparent quartz variant which incorporates two distinct zones of color derived from both amethyst and citrine. The stone acquires this stunning color gradient from the combination of the trace chemicals which comprise amethyst and citrine, thus leading to the development of this extraordinary and unique stone. If you are looking to represent both February and November birthdays, then ametrine is the perfect gem for the job. Let's take a closer look now at how to choose the right ametrine stone, how to care for these remarkable gems, and how they can be incorporated into a custom engagement ring or wedding band, pendant, or other jewelry piece here at Knox Jewelers.
The Rich History of Ametrine
The history of ametrine stems from a long and rich cultural heritage. A legend surrounding the genesis of ametrine comes to us from the Europeans: It is said that a Spanish conquistador in the 17th century happened across the original Bolivian mine, and subsequently introduced the unique gemstones found within to the Spanish monarch. However, the location of the mine faded into mythology, only to be discovered again in 1960. Commercial mining operations began shortly thereafter, and in 1970 production ramped up, thus introducing ametrine into the marketplace once more.
How to Choose the Perfect Ametrine Gemstone
The only extant source of commercial ametrine mining lies in a deposit residing in eastern Bolivia. Unsurprisingly, this is also a mining site which produces commercially significant quantities of amethyst and citrine stones. In choosing a quality ametrine stone, you'll want to look at the following factors: color gradient, cut, clarity, and carat weight. In terms of color, the finest ametrine specimens typically display an intense purple to orange gradient, usually with a clear boundary between the two poles. For ametrine cuts, the most expensive and fine stones typically incorporate the craftsmanship of designer cuts to achieve breathtaking effects. Clarity is also essential, and the majority of quality ametrine stones exhibit no visible inclusions or other artifacts. Finally, the size of a particular ametrine specimen and its color gradient are closely correlated – bigger is better (especially in the range of over 5 carats).
How to Care for Ametrine Gemstones
Caring for ametrine jewelry is quite simple. Hot water and soapy, foamy water are all that is necessary to keep your jewelery looking as good as new – no cleaning solutions or other potentially damaging products are required to keep these gems clean and spotless. We strongly recommend avoiding exposing your ametrine jewelry to harsh chemicals or other situations which could result in damage to the stone – exercise caution, especially in situations of physical exertion.
Ametrine Rings at Knox Jewelers
We have designed numerous custom engagement rings and wedding bands for our customers in the past, and many of these designs would look even more stunning with an ametrine center stone. Whether you are interested in a gold (yellow, white, or rose are all great choices)or platinum band, ametrine is bound to look great. We can also incorporate a number of stunning design flourishes, including hand engraving and other forms of handcrafted design elements. All of these facets are combined to form a beautiful finished product that connotes the special bond that you share with your loved one. Check out our collection of unique designs and see for yourself just how much attention to detail and innovation our designers put forward on each and every piece.
Design a Custom Ametrine Ring for Your Loved One
At Knox Jewelers, it is our mission to help you design a beautiful ametrine engagement ring or wedding band with a unique character that encompasses your love and admiration for your partner. To learn more about the design process and how you can be an essential part of it, get in touch with our friendly staff today to get started. We will walk you through each and every step on the way to designing your very own engagement ring or wedding band for your partner, and it is sure to be an experience of a life time. We look forward to meeting you soon and embarking upon this journey!
Tags: Ametrine, Ametrine Engagement Rings, Ametrine Jewelry, craftsmanship, Cushion Cut, custom, custom birthstone jewelry, Custom engagement ring, custom jewelry, engagement ring, Engagement rings, Filigree Engagement Rings, Micro Pave, Micro Pave engagement rings, Platinum, Rose Gold, Unique, Unique Engagement Rings, Vintage Engagement Rings, Wedding Bands, White Gold, wide wedding band, wide wedding ring, Yellow Gold | Categories: Gemstones


---
You might be wondering what the differences are between standard bezel settings and their younger siblings, half bezel settings. The answer is simple: a half bezel setting is just a regular old bezel setting, except that it only encompasses approximately half of the edge of the stone rather than the entirety of it. Now, you probably want to know why on earth someone would only want to have a bezel setting that covers half the edge of the stone rather than all around it. Once again, the answer is simple: By keeping around half the edge of the stone uncovered, you can show off the unique edges and angles of that particular stone. We truly enjoy designing rings with half bezel designs, and we think you'll love how they look.
An engagement ring or wedding band with a half bezel setting that exposes sides of the center stone tends to fall into the contemporary camp, though this kind of setting can look absolutely stunning in just about any context and with any kind of stone, not simply diamonds. Whether you are working with emeralds, sapphires, rubies, or diamonds, a half bezel setting can add a modern flourish and round out the rest of the design of the ring. Now, let's take a look at some of the half bezel engagement rings and wedding bands we have crafted for our customers at Knox Jewelers in the past. If you see any you particularly like, be sure to let us know! Onto the rings…
Luna – A Contemporary Half Bezel Ring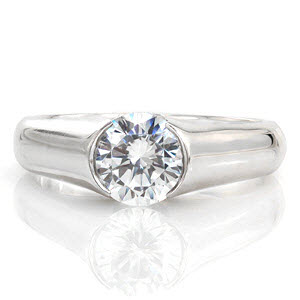 The most common contexts where half bezel settings tend to be found are in rings which are generally labeled as contemporary, or modern. Our Luna design is a prime example of these kinds of rings, and it really showcases how a half bezel can add a level of intricacy to more pure designs – being able to view a side cross section of the center stone truly livens up the piece and gives it an elegant appearance.
Here are some other contemporary styles:
Motion Channel – A Diamond Band Half Bezel Design
Of course, half bezel settings are not simply limited to those designs that we might call "contemporary." Our Motion Channel design is a great example of this fact: Motion Channel incorporates a half bezel that remains fluid with the entirety of the 14k white gold band in order to both show the sides of the round brilliant center cut diamond as well as remain faithful to the broader visual motifs we designed into this piece.
Some additional designs featuring a half bezel setting with a diamond adorned band:
Dreams – The Stunning Synthesis of Filigree and Half Bezel Settings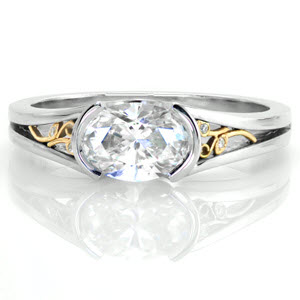 Our Dreams design is a brilliant example of how filigree and half bezel settings can work together to create an entirely new and distinctive visual style that catches the eye and guides it towards those exposed edges of the center stone. The yellow gold filigree curves gently guide the war towards the center stone, wherein it then views the side perspective of the center stone.
Filigree detailing can be added to half bezel settings in a variety of ways:
Princess Seville – A Half Bezel Ring Inspired by Antique Designs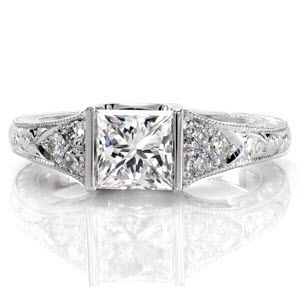 More examples of beautiful antique inspired half bezel designs:
To demonstrate how a half bezel setting can be used in just about any sort of jewelry context, we wanted you to have a look at our Princess Seville design, an antique-inspired ring which incorporates intricate hand engraving, a beautiful 14k white gold band, and a half bezel setting that shows off the stunning center stone. Truly, half bezel settings can have a place in any kind of ring, and they can truly take them to another level of exquisiteness and fine design.
Interested in Half Bezel Settings? Get in Touch with Knox Jewelers Today!
If you enjoyed this overview of half bezel settings and some of the examples of our fine craftsmanship here at Knox Jewelers, then you may want to consider having an engagement ring or wedding band with a half bezel setting designed by hand for you. We will work together with you throughout the entire design process to ensure you have a piece at the end which is unique, stunning, and crafted specially for you and your loved one. If you have any questions about how a half bezel setting can be best used in an original design, please do not hesitate to contact us today to learn more about getting started. We look forward to hearing from you soon!
Tags: Antique Engagement Rings, craftsmanship, custom, Custom engagement ring, Diamond Engagement Ring, engagement ring, Engagement rings, filigree, Filigree Engagement Rings, hand engraved, hand engraved engagement rings, Micro Pave, Micro Pave engagement rings, Platinum, quality, Rose Gold, Unique, Unique Engagement Rings, White Gold, Yellow Gold | Categories: Unique Engagement Rings


---
Amethyst, the stunning February birthstone, has a rich historical legacy that fits its elegance and regal nature. It is also steadily gaining in popularity as customers forgo diamonds as the center stone for their engagement rings for more personalized options, such as birthstones. At Knox Jewelers, we have crafted a plethora of unique amethyst jewelry for our customers, and this lovely stone looks fantastic in a variety of media and designs. Without further ado, let us take a look at the history and lore surrounding amethyst, as well as give you a tour of some of our exquisite custom designs that would look great with an amethyst center stone.
The History of Amethyst
The history of amethyst is one steeped in rich lore and symbolism, and its historical roots extend into the past for thousands of years. The color of amethyst is often a rich combination of red and purple hues – that's why the ancient Greeks associated the stone with Dionysus, the Greek god of wine making, and other revelries. Throughout the ages, amethyst has come to be associated with different gods and symbols to fit the culture and context of the times. The royal and noble families of many European nations also incorporate amethyst stones into their heirloom jewels, thus giving amethyst a certain sense of prestige that can only come from a royal inheritance.
An Overview of Amethyst
Amethyst is a variety of quartz that is well-regarded and known for its purple and red color. Depending on the specific sample, the color can incorporate more tones of red or purple, thus giving amethyst many different possible shades and combinations. Furthermore, amethyst is a prime example of an attribute unique to certain stones called "color zoning." The phenomenon of color zoning involves different sections (zones) of the stone exhibiting darker or lighter shades, thereby giving the stone a dynamic visual appearance. Truly, amethyst is one of the most stunning purple-colored gemstones in existence.
How to Choose an Amethyst Stone
There are a few different factors of quality you ought to keep in mind when choosing an amethyst stone. The most highly valued and prized amethyst stones are those who have the right balance of red and purple and produce no color zoning. In addition, the presence of brown tints can decrease the value of a particular sample. As for clarity, amethyst follows the pattern for many other stones by deriving more value from inclusion-free samples, though there are a few exceptions to this rule. Finally, there are a variety of custom designer cuts that can give an amethyst stone a signature look and feel – let us know if this is an option you are potentially interested in.
Taking Proper Care of Amethyst Jewelry
Caring for your amethyst jewelry is a relatively simple process. You'll want to exercise caution and common sense by removing your ring prior to engaging in activities which could potentially expose it to physical or chemical damage. Cleaning an amethyst stone is a matter of gently scrubbing with a soft-bristled toothbrush in a solution of warm, soapy water.
Amethyst Engagement Rings at Knox Jewelers
At Knox Jewelers, crafting stunning custom engagement rings is what we do best. We will work together with you to design a unique engagement ring that successfully incorporates your design touches and a personalized character. Let's take a look now at a couple of designs to help you acquire an idea of how an amethyst stone could look with one of our beautiful rings:
Bonita
Our Bonita design features hand engraving, filigree, and milgrain texturing in addition to a 1.30 carat round brilliant cut center stone. An amethyst stone would look absolutely stunning in conjunction with these design features and the 14k white gold band.
Design 2231
To demonstrate how versatile and beautiful amethyst can look in any context, take a look at our Design 2231 ring. Imagine combining the lovely accent diamonds with a 0.90 carat cushion cut amethyst center stone along with the 14k yellow-white gold band.
Get In Touch
If you would like to learn more about amethyst engagement rings and how to best incorporate this beautiful birthstone in your own jewelry, get in touch with us today. We are happy to answer any questions you may have, and we look forward to talking to you soon!
Tags: Amethyst, Amethyst Engagement Ring, Amethyst Engagement Rings, Amethyst jewelry, Antique Engagement Rings, craftsmanship, custom, custom birthstone jewelry, Custom engagement ring, engagement ring, filigree, Filigree Engagement Rings, hand engraved engagement rings, Platinum, quality, Rose Gold, Unique, Unique Engagement Rings, Wedding Bands, White Gold, Yellow Gold | Categories: Unique Engagement Rings


---