---
Minneapolis Minnesota Jeweler Specializing in Custom Design and Unique Engagement Rings.
---
A lady's diamond wedding band is the perfect compliment to any Knox Jewelers custom created engagement ring. This band will be exchanged when you make your wedding vows and will become a symbol of your love and commitment. Finding the right wedding band option to pair with your engagement ring is important. There are no rules to follow when choosing your band, whatever looks and feels right to you is what matters. With Knox's custom designs there are endless possibility when creating your symbol of love.
Not all diamond wedding bands are the same. There are several ring styles to choose between, from a contoured or straight band paired against your engagement ring to a wide band wore on another finger. Listed below are several options and characteristics to keep in mind while custom creating your own unique wedding band.
Metal Selection
The metal you choose to have your band custom created in will have a strong influence on the overall look of the completed ring. Gold, any shade, and platinum rings will wear differently over time, so choosing the metal your engagement ring was created in will help create a consistency between the pair.
White Metals
Currently on trend for both engagement ring and wedding bands are the bright white metals, including platinum, 18K white gold and 14K white gold. White metals are popular because their bright finish compliments diamonds, making the gemstones seem brighter and more brilliant. These metals seamless meld with diamonds in a band design and allow the gemstones to look larger.
Yellow and Rose Gold
Yellow and rose gold wedding bands compliment several skin tones and make for beautiful and distinct options. Yellow gold, 18K or 14K, is a desirable alternative for a bride seeking a vintage inspired wedding band. Seen as a rich and luxurious shade, yellow gold can add warmth to any engagement ring. Rose gold, 18K or 14K, has recently become a popular alternative in Knox wedding bands. This rosy hue of gold adds a soft glow to diamond settings. Its blush tone gives a romantic vibe to any custom created band. These warm, alluring metal options add great contrast against the white sparkle of diamonds, allowing a bold statement in your wedding band. Several customers of late have opted to pair a warm metaled band against their white gold rings, for a unique combination.
Diamond Setting Styles
There are a variety of gemstone setting styles available in diamond wedding bands. How a band's diamonds are set will determine the overall look of the ring. We can custom create your band to mimic the stone settings in your engagement ring, or you can choose an alternative style to add contrast.
Prong Set
In prong settings, diamonds are held in place by four prongs a stone, giving the band an added security. In shared-prong settings, diamond are lined up and held in place by shared prongs, so each prong clasps two diamonds. This setting style allows for more of the gemstone to be visible, but will not have the same durability has four prongs.
Bead Set
Bead setting is a subtraction process where the ring is casted smooth and the jewelers removes material in order to form tiny beads that hold all of the diamonds in place. Bead set wedding band will have a lower profile than prong set bands, as the diamonds are set into the metal.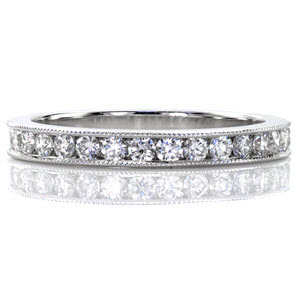 Channel Set
In channel settings, diamond are secured between two bands of precious metal. No prongs allows for a streamlined look. Channel set wedding bands add a contemporary feel to any engagement ring.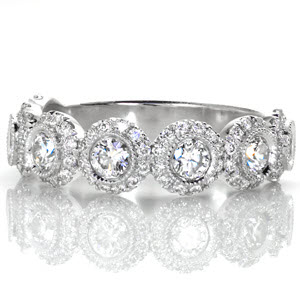 Bezel or Flush Set
Bezel set wedding bands will have exceptional durability. Diamonds are flush set with a thin strip of metal completely surrounding the gemstone. This setting style could add a unique look against many engagement rings.
Unique Shapes
Diamond wedding bands do not have to be straight. Try mixing styles by choosing a twisted or scalloped band to pair with your engagement ring.
Wide Bands
Knox Jewelers' signature wide bands are a great option if you prefer a right hand wedding band rather than a band worn against your ring.
Custom Contoured Bands
If you would like to custom create a wedding band from the ground up, Knox Jewelers is here to help! Our custom shop allows us to create a band that could hug the contours of your engagement ring. A contoured wedding band would sit flush against your ring. This option is available with any of our wedding band featured on our website.
Know Jewelers is here to custom create the perfect wedding band to compliment your engagement ring and represent the lifetime of love. Bands are available in any metal color and gemstone setting style you prefer. Please contact us to today for any questions regarding starting production on your custom wedding band!
Tags: bead set, bezel set, contoured band, diamond set, Diamond Wedding Bands, Diamonds, knox engagement ring, Knox Jewelers, Knox Signature Rings, knox wedding bands, prong set, scalloped band, shared prongs, stone setting, twisted band, Wedding Bands, wide bands | Categories: Unique Engagement Rings


---
Garnet, most commonly the rhodolite variety, is the  gemstone coupled to the month of January. Every species of garnet, and there are many, posses similar crystal formations and physical properties, but differ in chemical composition. These mineral variations form a set of closely related gemstones, called a mineral group. The gemstone species of garnet include pyrope, almandine, spessartine, grossular, uvarovite and andradite. Most gem quality varieties of this mineral are a mixture of two or three of these mineral species. For example, rhodolite garnet, is a mixture of pyrope and almandine.
The most popular varieties of garnet include the reddish and purple hues of the gemstone. These shades have a very long history, appearing in pieces found in both ancient Egypt and Rome. The popularity of red garnet may stem from its amble availability. It forms in metamorphic rocks that are found on every continent.
Today there is a wide array of garnet hues available to choose from including reds, pinks, oranges, yellow, greens, browns, and even blues. New species and deposits of garnet have been found all over the world. Listed below are the locations where garnet naturally occurs and is mined to be transformed into beautifully faceted gemstones.
Brazil –

Brazil is home to a vast array of garnet varieties.

Namibia –

Namibia produces stunning spessartine garnets with strong orange hues.

Kenya –

Kenya is home to the famous Scorpion mine that is world-renowned for its tsavorite garnets.

Tanzania –

Tsavorite, a green variety of garnet, was first discovered in Tanzania.

Iran –

A recent discovery of demantoid, a green garnet variety, has made Iran a new supplier of the gem.

Afghanistan –

Afghanistan is one of the largest suppliers of spessartine garnet.

Pakistan –

Dazzling spessartine garnets can be found in the Kashmir reign of Pakistan.

Sri Lanka –

Sri Lanka is a major supplier of rhodolite garnet, the common deep reddish purple variety of the gemstone.

India –

Red garnets can be found in Orissa, India.

Myanmar –

Rare and beautiful reddish orange spessartine garnets can be found in Myanmar. Several other varieties are also mined here.

Russia –

Russia is the original source of demantoid garnets, the rare deep green variety of the gemstone.
If garnet is your gem of choice, let us at
Knox Jewelers
help you custom create a one-of-a-kind piece of jewelry to showcase this beautiful gemstone. The possibility are endless with a mineral available in so many sizes, shapes and a rainbow of colors. A Knox Jewelers custom created piece, featuring a beautiful garnet is the perfect way to celebrate any occasion falling within the month.
Contact us today
and lets get started. We have a vast
inventory of garnets
, in many colors, just waiting to be transformed!
Tags: custom birthstone jewelry, custom pendant, custom ring, garnet, Knox Jewelers, map, rhodolite, source, tsavorite | Categories: Unique Engagement Rings


---
Pantone, the unrivaled  expert on color and color technology,  announced for the first time ever, two colors will be the Colors of the Year for 2016. Every year, the Pantone Color Institute reveals its predicted Color of the Year.  This prophecy strongly influences the upcoming year in design. The hues, Rose Quartz and Serenity, should start to appear in home furnishings, fashion collections, and most importantly jewelry design.  These pastel hues have already made an appearance in several of Knox Jewelers' recent custom ring creations.
Pantone Color Institute's Executive Director, Leatrice Eiseman, had this to say about the decision, "Joined together, Rose Quartz and Serenity demonstrate an inherent balance between a warmer embracing rose tone and the cooler tranquil blue, reflecting connection and wellness as well as a soothing sense of order and peace." [1]
Rose Quartz is described as an alluring and gentle color that expresses both compassion and a sense of composure. On the other hand its compliment, Serenity, conjures feelings of weightlessness and relaxation. Both the pale pink and pale blue hues can be found in several gemstone options. Any of the gemstones featured below can be set in your one-of-a-kind creations! Fancy colored sapphire can be found in both a soft pink and blue hue, and is the only gemstone featured below that we recommend for use in engagement rings.
Pink Tourmaline - Rose Quartz
Chalcedony – Aquamarine
Let Knox Jewelers help you create your own custom jewelry with one or both of your favorite 2016 Pantone colors! There are so many colorful gemstone options to serve as inspiration for your next heirloom piece of jewelry. Now is your chance to create a work of art with the colors that represent the year to come.
If you are looking to design a piece that will be cherished for a lifetime by your loved one, we are here to help. Knox Jewelers specializes in unique custom jewelry designs and engagement rings. Pink and blue gemstones in any shape or size can be added to one of our custom created jewelry designs for a one-of-a-kind look!
Contact Knox Jewelers to find out more about our products or services, including our custom jewelry design. Let us help you to be on-trend with your jewelry in 2016. We look forward to hearing from you!
Tags: Aquamarine, Blue, Chalcedony, Custom engagement ring, custom jewelry, Gemstones, Morganite, Pantone, Pink, pink tourmaline, Rose Quartz, sapphire, tanzanite | Categories: Gemstones, Jewelry, Unique Engagement Rings


---
As we near the final days of holiday shopping, I am sure a few of you have not crossed that special someone off your list. If you are still at a loss in finding the perfect gift this year, I have one piece of advise. In the words of Jackie Kennedy, "pearls are always appropriate." Knox Jewelers has several classic and more modern pearl options still available in-store that are ready to be wrapped and placed under the tree.
Pearls were once the most sought after gemstones in antiquity and even today they continue to have a following. They are a favorite of many legendary women including Cleopatra and Queen Elizabeth. Synonymous with elegance and class, pearls are the only precious gemstone created by a living creature. A perfectly placed grain of sand in an oyster is the start to what will become a beautifully formed pearl.
It was once thought that pearl jewelry was something only to be worn for special occasions. In the present day, modern designs have allowed pearls to be worn everyday in fun and versatile pieces. Pearls in any form will always hold an air of elegance, whether they are set into a simple pair of stud earrings or an elaborate modern pendant.
If she is attending a quiet dinner with friends or a larger holiday party, pearls are an elegant complementary addition to any outfit. If you're looking to add to or liven up her pearl wardrobe, we have selected some of our favorite holiday pearl jewelry options from our inventory and listed them below. Every woman would appreciate receiving one of these timeless and versatile pieces.
The Forever Classic
Pearl stud earrings are an everyday staple that could easily be the finishing touch to any outfit from casual jeans to a formal dress.
The Edgy Infusion
If she prefers her pearls with a modern update, this pendant featuring a black druzy and diamond-cut sterling silver beads could be the perfect show-stopping piece.
The Versatile Strand
Worn as one strand, twisted as two strands or even three, this classic knotted pearl rope could begin to be the piece she pairs with everything.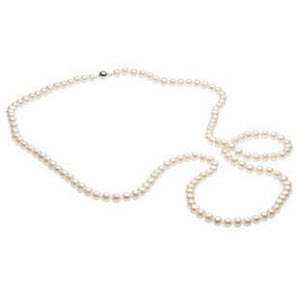 The Victorian Vibe
Whether she's a Mary at heart, or more of an Edith, she will agree that pearls are a great addition to any antique inspired piece.
The Statement Earrings
If the staple stud isn't your cup-of-tea try a bold colored drop pearl earring. These modern settings will never be called boring.
The Have-it-all Gift Set
Why choose one gift, when you can give it all. This freshwater pearl set includes a pair of stud earrings, bracelet and necklace strand. Wear them all together or separately!
If you're holiday shopping for others, consider pearl jewelry and you might even have enough left over for a little self-gifting, too!
Stop in or contact Knox Jewelers today and let us help you select the perfect pearl jewelry for any occasion this holiday season!
| Categories: Unique Engagement Rings


---
Citrine, along with golden topaz, is the official birthstone for the month of November.  In recent decades citrine has gained popularity in the jewelry industry and has become a yellow gemstone staple in the marketplace. Its name is derived for the Latin word citrina which means "yellow".  Citrine's durability, affordability and attractive color make it one of the most sought after varieties of quartz. Its color also makes its an affordable alternative to golden topaz and yellow sapphire. Everything you have ever wanted to know about this golden gem and how Knox Jewelers can help you to create the perfect birthstone jewelry will be revealed below.
1. Citrine is a gemstone variety of the mineral quartz.
Quartz is one of the most common minerals on earth. Its physical form can range anywhere from sand grains on a beach to large gemstone crystals of amethyst or citrine. Though they look very different, all quartz varieties are composed of the same chemical elements, silicon and oxygen. The size and color of their crystal formation is the largest difference between quartz species. Citrine is the pale yellow to brownish orange, transparent variety of this mineral. Other popular quartz gemstones include amethyst, smokey quartz and rock crystal. Gem varieties of quartz usually form in large crystals with exceptional clarity.
2. Citrine's most popular colors are a deep yellow and a reddish orange.
Citrine is available in varying hues ranging from pale yellows to deep orange browns. Though the most sought after hues of citrine in the marketplace are vibrant and free of brown tints.
3. Citrine crystals found in nature are extremely rare.
The exact elements and environment needed for citrine quartz crystals to form is rare. Some natural citrine is mined in Bolivia, but the supply is incredibly scarce. Most citrine gems on the market today are produced by heat treating amethyst, which is also a quartz variety. Most of amethyst heated to become golden is found in huge geodes mined in Brazil.
4. Citrine owes its yellow and orange colors to trace amounts of iron in its crystal structure.
All varieties of quartz are mixtures of silicon and oxygen. Iron is the trace element that give citrine its golden color.
5. Fine quality and large citrine gemstones remain affordable.
Citrine is one of the most popular and frequently purchased yellow gemstones because of its availability and fair cost. Even fine graded citrine has an economical price. Sizable citrines remain modestly priced, as price per carat does not rise dramatically for larger sizes.
6. Quartz varieties, like citrine, have been used in jewelry for centuries.
Quartz in any form was commonly used in Europe and the Middle East as gemstones for carving. Citrine exclusively has been found as an ornament going back thousands of years. It was a popular decorative gem in Ancient Greece, and adorned weaponry in 17th century Scotland. More recently, citrine was a go-to gem in the Art Deco era where the gemstones large sizes lead to over-sized and elaborate pieces.
7. Before modern technology, citrine was often mistake for topaz.
It is nearly impossible to visually tell the difference between a faceted citrine gemstone and another of yellow topaz. The largest difference between the two is their hardness. A citrine has a Mohs Hardness rating of 7, well topaz is slightly harder with a rating of 8.
8. Gemstone quality quartz can be found all over the world.
Natural citrine, though rare, can be found in Bolivia, Spain, Madagascar, Mexico and Uruguay. Most of the amethyst that is suitable for heat treatment to become citrine is mined in Brazil.
Create the Perfect Jewelry with Citrine
If you are looking for a special piece of jewelry that will be cherished for a lifetime, we are here to help. Knox Jewelers specializes in unique custom jewelry designs and engagement rings. Citrine  in any shape or size can add  color to one of our custom created jewelry designs for a one-of-a-kind look!
Contact Knox Jewelers to find out more about our products or services, including our custom jewelry design service. We look forward to hearing from you.
Tags: Birthstone, citrine, craftsmanship, custom, custom birthstone jewelry, Custom engagement ring, custom jewelry, Knox Jewelers, november, Unique, yellow | Categories: Unique Engagement Rings


---