---
Minneapolis Minnesota Jeweler Specializing in Custom Design and Unique Engagement Rings.
---
There is something quite magical about falling so deeply in love with someone that you want them to be your partner for life. In fact, this type of love can be so intense, it may feel like no words could adequately describe just how special this person is to you. This is why a truly unique engagement ring can sometimes express what's in your heart better than any words you could ever speak! Moreover, these rings serve as a constant and beautiful reminder to your significant other of just how extraordinary they are to you.
Unique engagement rings come in many different varieties ranging from antique engagement rings to sapphire engagement rings to contemporary engagement rings. You may also want to design your own ring with customizations such as filigree and hand engraving. Designing your own rings can also give you the best of both worlds. For example, some couples prefer to design their own brand new rings because of the superior materials and techniques used in modern rings but are still drawn to the styles of vintage engagement rings. In this case, it is possible for the couple to create a vintage style ring but still have the higher quality workmanship and materials of a modern ring. Below, you will find a discussion on several types of unique engagement rings. Hopefully, this will help you generate some good ideas for your own ring!
Filigree Engagement Rings
If you and your partner are drawn to antique engagement rings and vintage engagement rings, you may want to design your own ring with filigree. Filigree is delicate wire work featuring intricate details and is more common in antique engagement rings and wedding rings. Filigree reached its peak in popularity during the late 1800s and early 1900s. If you have a family heirloom engagement ring passed down from your Grandmother, or perhaps even your great-Grandmother, there is a relatively high probability that you'll find some filigree work in the design of this heirloom ring. Custom-made filigree engagement rings can never be copied exactly since the filigree work is all done by hand and it is extremely detailed. Filigree can be done in silver, gold, platinum, or a combination of these precious metals. The beautiful art of filigree traces back to the ancient Greeks and Romans but they were not the only cultures creating these delicate curls of metal. Archaeologists have also found intricate filigree metalwork in artifacts from ancient China and India. If you visit historic museums, you can often find examples of filigree rings and other jewelry from these cultures and see how skilled their artists were to be able to make such masterpieces.
Hand Engraving
You can add hand engraving to any style of engagement ring on the inside, outside, or in both areas. Hand engraving is a great way of personalizing a ring while at the same time embellishing it with highly attractive design patterns. Hand engraving is often found on filigree engagement rings since the two types of detailing compliment each other and create a vintage appeal. You can add names, initials, treasured words that have special meaning to you and your partner, special dates such as your wedding date or the day you first met, embellishments, or small symbols. This means there is really no limit in how personalized you can make an engagement ring with hand engraving. The most popular design elements are scroll and wheat patterns, though often times floral or organic elements are used. There are two types of hand engraving you can choose from: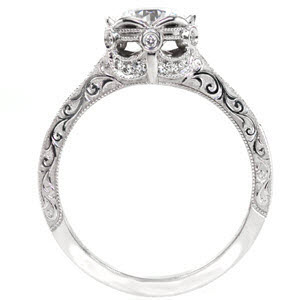 Standard Bright-cut Engraving
With standard bright-cut engraving, a polished graver point is used to make engraving cuts that look polished, i.e. "bright." This is the most common style of hand engraving.
Relief Style Engraving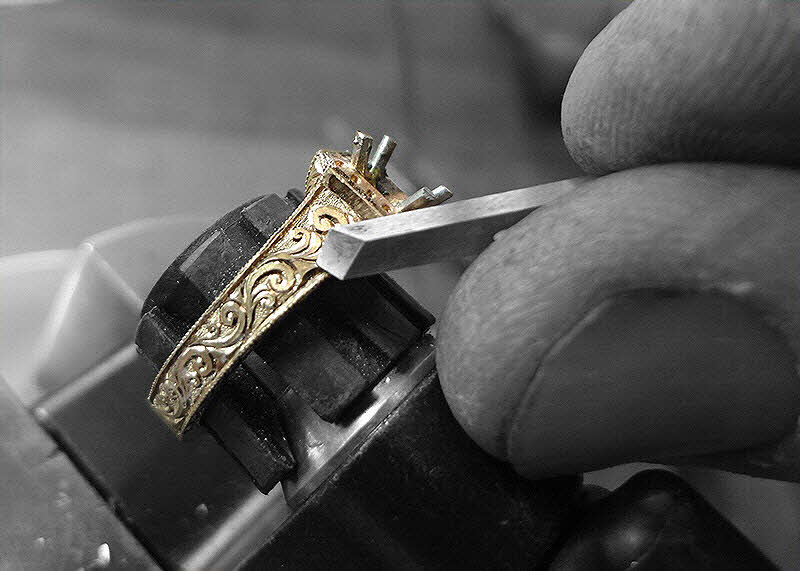 With relief style engraving, the background metal is cut out so that the designs appear to project above the surface of the background metal (think of the raised mountains on a graphic relief map). This can be done in high relief, medium relief, or low relief, depending on your preferences so be sure to look at multiple examples before you make up your mind. The background metal in relief style engraving is also stippled. This type of engraving is more labor intensive to produce than standard bright cut engraving so it is more expensive.
Sapphire Engagement Rings
Sapphire engagement rings are a vibrant alternative to the more traditional, neutral toned diamond engagement rings. Sapphire is a very durable gemstone and will stand up to everyday use just as nicely as diamonds do. Sapphire comes in a variety of amazing colors beyond the beautiful blue that most people think of. Sapphire also comes in white, red, pink, yellow, orange, peach, green, and even purple! Something that many people don't know about red sapphires is that they are also called rubies, and these luscious red gems make for truly regal pieces of jewelry. Adding color to an engagement ring is a fun way to create a mesmerizing piece that will truly stand out on your partner's hand. You can choose your partner's favorite color or choose a color based on a significant shared memory. Sapphire stones also mix well with diamonds and engagement rings containing sapphire stones can be used for a "layered look" to be worn with a more traditional wedding ring.
Design Your Own Ring
Designing your own engagement rings with your partner is an extraordinary and exciting process. You'll create special memories that will last a lifetime and the experience will bond you even closer together as you make all the necessary decisions. While this is reason enough to design your own ring, when the ring is finished, you will also end up with a highly customized engagement ring that will follow you and your partner everywhere you go. It is something you can share with your family and friends, and potentially your children as well. In fact, your personally designed custom engagement ring becomes a one of a kind original heirloom you can pass down through the generations of your family along with the story of your love.
If you'd like an old-fashioned look, or even something historic, you can bring in pictures of antique engagement rings and vintage engagement rings you like and share these with your designer. Some couples prefer to come up with a design that matches their cultural heritage. You may also want to combine two or more traditional cultural styles into one ring if you and your partner have a mixed heritage.
If you and your partner prefer a more sleek, modern look, you can still custom create your engagement ring from inspiration images or from combining your favorite details. When you design your own ring, you automatically have the amazing benefit of being able to combine the different elements you love most into one single ring! You can also incorporate elements most liked by each partner into a single style ring. In this way, your ring design becomes a collage of your tastes and preferences — a constant symbol of your union.
Rose Gold Engagement Rings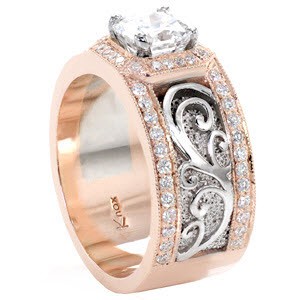 If you or your partner are set on having diamonds for your gem stones but still want to use color in your rings then consider changing the metal of your design to rose gold. With rose gold engagement rings the warm hue of the peachy-pink colored metal provides a luxurious twist on the cool tones of white gold or platinum. Rose gold is quickly gaining popularity with those who want to create a unique ring because it makes an impressive statement without being too ostentatious. Of course if you love color then you can also combine a sapphire gemstone with a rose gold band to create a magnificent piece that truly reflects your personality. Rose gold can also be used in combination with other precious metals as either the main color or as an accent.
Mokume Gane Engagement Rings
Mokume Gane is a tantalizing option for adding detail to the band of a ring and this type of metalwork goes back more than three centuries. Mokume Gane has its origins in 17th century Japan (1600s), during the heyday of the Samurai. The term "Mokume Gane" translates into "wood grain metal," although it is actually a composite of different colored metals that are fused under high pressure and high heat until the jeweler can work with it as one solid piece. The different colors of the metals interwoven together gives the Mokume Gane design a wood grain-like appearance. This beautifully crafted metal composite was originally used to decorate the swords of the great Samurai warriors, but over time Mokume Gane was also incorporated into jewelry. There are different types of patterns that can be achieved when creating Mokume Gane but the classic wood grain and a star burst pattern are two of the most common. Any engagement ring or wedding band created with Mokume Gane details will be one of a kind because each billet of the composite is created by hand which means every pattern ends up being slightly different than others of the same type.
Split Shank Engagement Rings
The band on split shank engagement rings divides into two or more bands as it approaches the center stone of the ring. In this way, the eye is naturally directed toward the center stone, whether it be a traditional diamond engagement ring or a sapphire engagement ring. Therefore, a split shank band is a great choice if you really want to highlight your center stone. If you create your own custom ring, you may want the back of the band in a split shank engagement ring to be solid to allow more space for special engraving on the inside. On the other hand, you and your partner may prefer several slim bands interwoven together to create movement and dimension in the design.
Wide Engagement Ring Bands
Extra wide bands give engagement rings a regal look and allow lots of room for customized details. These have become very popular with our customers, generating many inquiries on how to create new custom designs. Wider engagement ring bands can also give you more space to include longer inscriptions inside the ring and other custom engravings. With wider engagement ring bands, you also have more room to include a more intricate design in split shank engagement rings. With wide bands, you can include a traditional, single center stone or you can choose more evenly spaced diamonds and gem stones. More and more frequently people who choose a wide banded ring use it as their engagement ring and wedding band all in one.
Patterns Inspired by Nature
Some couples choose to design their engagement rings to include motifs and patterns inspired by nature. Mother Nature is after all a remarkable artist! While the options for doing so are endless, a few of the more popular nature inspired elements include intertwining branches of a tree representing the union of the couple, leaves, flower blossoms, and nature inspired geometric patterns such as the inner spiral found in many seashells or the pattern you might see on the back of a sea turtle. If you and your partner are nature enthusiasts, these details may be perfect for expressing your personalities. Nature inspired motifs are also common on antique engagement rings and vintage engagement rings so they fit in well if you are inspired by these older designs.
Hiding Secret Details Inside a Ring
Sometimes what makes an engagement ring the most special is not what you put on display to the world, but what you "hide" on the inside of the band such as a special message for your true love. In this way, you can choose to keep these details just between you and your partner and/or share these details only with the most special people in your life such as family members and close friends. In some instances, the phrasing of the words on the inside of an engagement ring is something that no one else will understand of unless you explained it to them; something that only you and your partner, and perhaps those closest to you both, know about.
Additional Thoughts About Unique Engagement Rings
Your engagement ring is a lifelong symbol of your enduring commitment and love for your unique partner. It is only natural for you to want the engagement ring you choose to reflect the personality of the one you adore. Unique engagement rings say to your darling, every day, that they are exceptional, treasured, and loved immensely. The custom-made ring that you propose with will be a constant reminder of the very special bond you two share. Making your engagement rings unique gives you the opportunity to infuse your heart, soul, and outstanding personalities into the ring.
While customizing your engagement rings may at first seem like a daunting task, here at Knox Jewelers we are thrilled to walk you through the process step by step in such a way that it seems totally natural to design your own engagement ring. This makes it easy and fun to express yourself in the details of the ring without having to be a professional designer or creative artist to do so! Remember too, you can actually combine different elements from different rings you have seen and liked, so in a sense, you can become a mosaic artist. So you if you like the band on one ring, the pattern of the settings on another ring, and the way the inscription is done on another ring, speak to your designer about combining all three elements into one ring.
You may have noticed that people often cry over engagement rings, this is because there is probably no other object, except perhaps their wedding ring, that evokes a more deep heart-felt emotion. This is why it is important to pay attention to details and get your custom engagement ring absolutely perfect. Knox Jewelers can be a trusted partner in this process and can help you with one of the most important decisions of your life. We take pride in creating heirloom quality masterpieces that are the perfect fit for you and your partner.
Tags: Antique Engagement Rings, Filigree Engagement Rings, hand engraved engagement rings, Sapphire Engagement Rings, Unique, Vintage Engagement Rings | Categories: Unique Engagement Rings


---
We live in a world and age where more and more women want to wear something unique, something that sets them apart and is a distinct extension of their personality. An increasing number of couples are turning to the vintage look of filigree engagement rings in order to be unique.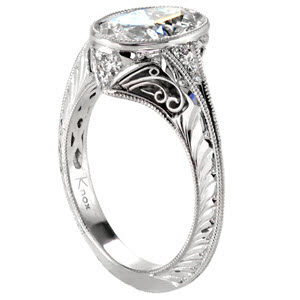 Filigree rings are becoming increasingly popular all around the world, as they feature a beauty and delicacy that is hard to match with other engagement ring styles. The unique combination of femininity, exquisite beauty and deep nuances is perfect for many brides that are willing to try something new, something that features an amazing vintage aspect. Due to their ornamental, delicate and romantic motifs, filigree engagement rings have spiked in popularity in the last decade.
What is Filigree?
Filigree is a complex metalworking technique that involves working threads of precious metal into elaborate designs and patterns. Some of the most common motifs of a filigree ring include scrolls, vines, flowers, hearts and flourishes. When master jewelers design and create filigree, they use metals like yellow, white or rose gold, or platinum to create astounding designs.
Please note that filigree is different than engraving. While engraving involves carving away or sculpting a metal or piece of jewelry for an astounding decorative effect, filigree involves creating and shaping metal wire embellishments into a design.
A Short History of Filigree
Back in the year 3000 BC, filigree was an ancient form of art employed by the Egyptians, Greeks and Etruscans. The word "filigree" comes from Latin and means thread seed or wire seed. Its name represents the exact features of this technique. In the jewelry industry, filigree became widely used in the early 20th century, and was extremely popular in the Edwardian era, mainly in France and England. In 1900, during the Edwardian rule, filigree rings were created of platinum and featured intricate scroll and vine-like designs.
Benefits of Filigree Engagement Rings
There are several reasons to choose a filigree engagement ring over more traditional types of rings. Here are some of the most important:
- Romantic and Old-Fashioned
- Unique and Distinct
- Personalization and Customization
Types of Filigree Engagement Rings
Antique Filigree Rings: these rings, even though they have a vintage aspect, are exquisitely beautiful and shine with glamour. The rings in this collection are handcrafted by master jewelers, offering a distinctive and romantic link to the 20th century. Choose an antique styled filigree ring to be continuously inspired by its timeless beauty. Some beautiful antique rings are Seville, Vera, Classic Filigree and Oval Aurora.
Modern Vintage Style Filigree Rings: this collection includes beautiful rings that feature both the old and the new embedded into the same piece of jewelry. Rings like Bonita, Haley Allison, Meghan Renee, or Louise are some of the most adorable modern filigree rings that can help you combine vintage with modern.
Custom Filigree Engagement Rings:  Custom filigree engagement rings are growing in popularity, as more and more couples prefer to be totally unique and wear something they have designed together.
The Bottom Line
If you love the look of filigree, do not hesitate to create your custom filigree engagement ring or choose one from our Filigree Engagement Rings. Be unique and show others that you have amazing tastes.
Tags: Antique Engagement Rings, Filigree Engagement Rings, filigree rings, Vintage Engagement Rings | Categories: Jewelry, Unique Engagement Rings


---
Have you ever looked at a diamond and wondered why some diamonds are more attractive than others? While some are bright and flash with a rainbow of colors, others look dark and lifeless? These differences are all based on the cut and shape of a diamond. Cut grade fuels a diamond's overall visual appeal in fire, sparkle and scintillation.
The light behavior within a diamond directly correlates to how well a diamond is cut. GIA recognized this relationship of a diamond's cut and the quality of fire and the return of white light. Developing a grading system that quantifies specific measurements, angles, and percentages GIA was able to determine parameters that embody the best qualities in the cut of a diamond.
GIA began their 15 year study on the round brilliant by creating a computer model to examine light behavior within a diamond. Developing proportion-based metrics from this model they were able to predict a diamond's performance on fire and brilliance. However, research proved that computer-based results could not be the only determining factor in judging a diamond's overall brightness. After surveying industry leaders and general consumers, GIA created a foundation for the round brilliant cut grade.
When a cut grade is given, it is the component of brightness, fire, scintillation, polish, and symmetry, as well as durability and weight concerns. These are all an integral part that make up the GIA diamond cut grade system. With many different proportion combinations possible, GIA was able to determine the relationship of a stone's interaction with light.
The reflection of light internally and externally in a diamond is called it's brilliance. Fire is the dispersion of spectrum colors you see when light hits the diamond. The pattern of light and dark areas and the flash of light that emits when a diamond is moved is called scintillation. A well cut diamond will attribute to these three desired qualities because it directs more light through the top of the stone. A poor cut will appear dark because light is exiting through the bottom of the stone if it is too deep or too shallow.
Diamond cut is often confused with its shape. Round, used in most diamond jewelery, is the shape of a stone. All other shapes are classified under fancy shapes. Evaluated only on polish and symmetry, fancy shapes do not receive a cut grade like the round brilliant. These grades are valued ranging from Excellent to Poor.
Polish is rated on the overall surface condition of a diamond's facets. It is the result of the polishing process and blemishes created after cutting. These grades are given to a diamond when viewed under 10X magnification. An Excellent or Very Good may have minute or minor features that can only be seen with the aid of a microscope. Anything Good or lower can affect the appearance of a diamond and may be seen by the naked eye.
Symmetry is the exactness of shape and placement of the facets. It is subdivided into two types of features, proportion-related and facet-related. These grades are also performed under 10X magnification for its initial face-up impression and profile view. Both angles are evaluated because of the three dimensional nature of a diamond; one symmetry feature can be linked to others. Similar to polish, grades given Good or lower can have symmetry features that are noticeable to the unaided eye.
Understanding GIA parameters for each grade and the specific guidelines they represent, Knox Jewelers recommends fancy shapes to be Good or Better. With almost 30 years of industry experience, we have found that the beauty of a diamond is greatly reduced when selecting polish or symmetry below this standard. A diamond that contains Good or Better qualities enhances the elegance of a handmade Knox custom design.
The care and craftsmanship that goes into each ring is harmonious to the quality of diamond a customer chooses. As the focal point, a diamond captivates the attention with its radiance of sparkle and luster. Selecting a well cut stone to compliment a Knox diamond engagement ring is a timeless expression of love, forever evoking a sense of glamor and romance.
Tags: 4 C's, cut grade, Diamond Grading System, Fire, GIA diamonds, Knox engagement rings, Polish, Scintillation, Sparkle, Symmetry | Categories: Diamonds


---
Did you happen to spot the stunning diamond ring poised elegantly on Daisy Buchanan's ring finger in The Great Gatsby? The beautiful cushion cut center surrounded in a halo of diamonds has certainly captured the attention of many. The influential attributes of the roaring twenties was portrayed in a lavish display of platinum and diamonds in Daisy's engagement ring.
The Great Gatsby follows a cast of characters during the summer of 1922 in a prosperous town located on Long Island. The setting of the story was at the cusp of the Art Deco period where society embraced symmetry and bold geometric shapes. This portrayal of the American Dream depicts the transformational shift in culture of economic prosperity and exuberance.
Daisy's glamorous ring showcases a cushion cut diamond which captures the timelessness of an old mine cut and the sophistication of a modern round brilliant. An old mine cut has an unmistakable vintage appeal with individual hand cut facets and a proportionate shape to its original rough form. The modified square shape of a cushion cut combines the essence of a bygone era with the sophistication of modern technology. The cushion cut is a contemporary diamond shape that embraces the romantic allure in one of the first diamond cuts in history.
The Great Gatsby story paints a picture of an American ideal where freedom includes the opportunity for prosperity and social mobility. Luxurious parties, expensive cars and platinum jewelry were a symbol of wealth and success. Daisy's elegant platinum band was a statement of high societal standing.
This classic look was featured in a beautiful U-cut style setting. U-cut is hand created pave where each prong is cut out by hand and the metal area around the prong. The U-shape pattern is formed when a jeweler carves the metal where the diamond is placed. This design technique allows diamonds to be set closer together, giving the ring more sparkle.
The U-cut method can only be crafted in platinum due to the metals superior strength. With platinum's durability, less metal is needed to give the appearance of an endless row of diamonds. With less metal covering the diamonds, Daisy's ring glimmers from across the room a t every angle.
To complete the historical look, Daisy wore a matching U-cut wedding band with micro-pave diamonds. Pave, is a French word meaning 'paving a street.' Her ring was paved with smaller diamonds to showcase her cushion cut diamond.

Another way to display a cushion cut diamond in platinum is a V-cut pattern. In this approach, the jeweler forms an angle on each side of the metal where it meets at a point, forming a V-shape. Like the U-cut, this technique can only be custom created in platinum. Showing less metal from the prongs and more of the micro-pave diamonds will maximize the radiance of the ring.
The Art Deco ring by Knox Jewelers represents The Great Gatsby period stylistically with bold geometric shapes. Clipped corners of a rectangular halo compliment the sharp, symmetrical lines of the emerald cut center diamond. To portray the fashion of the Great Gatsby era, two raised rectangular accents are parallel to the center halo.
Another common jewelry style for the era, the combination of diamonds and sapphires. Sapphires add a rich blue color to emphasize the beauty of the center diamond. This velvety blue fashion statement is a chic way to enhance the white luster of platinum.
At Knox, we carry an entire collection of antique inspired styles in platinum or gold. As a custom design jeweler located in Minneapolis, we can create a design with or without a halo. Add surprise diamonds around the crown of the center diamond or build a halo around the diamond shape of your choice including cushion, round, oval or princess. Wear a Great Gatsby inspired ring of a timeless era, crafted with a contemporary appeal.
Tags: Antique Engagement Rings, Art Deco, Emerald Cut, Great Gatsby Engagement Ring, Modern Round Brilliant, Old Mine Cut, pave, Platinum, sapphire, The Great Gatsby, u cut, v cut, Vintage Engagement Rings | Categories: Unique Engagement Rings


---
Could you imagine going into a car dealership purchasing what you thought was a 6 cylinder luxury performance car, only to discover it was actually a 4 cylinder engine with the body of a sports car. This misrepresentation would never occur in the auto industry. However falsely identified diamonds are common in the jewelry industry. The idea that all diamond laboratories are created equal is not the case; while most labs use the GIA diamond grading scale, not all have the same level standards to adhere to it.
Many industry leaders have tested this known truth of variable diamond grading standards by sending the same diamond to different labs and getting very different results. Rapaport, an international network that provides an overview of the diamond market, recently preformed one of these studies using 10 diamonds. The diamonds were sent to different grading labs in the US and abroad. The outcome proved that some diamonds could differ as much as three color grades when graded at multiple labs.
The biggest difference in these grading reports were American labs verses international. Surveys found grading labs in the US, including GIA, IGI, and EGL USA were fairly close in their grading standards. However, EGL USA generally graded the diamonds much more lenient than the other two labs.
Another discrepancy in the diamond reports were the laboratories overseas, including EGL Israel and EGL Hong Kong. This is when they found some diamonds two to three color grades off when compared to diamond reports from the US. Antwerp's HRD lab was slightly softer in grading when analyzed to GIA standards.
So many labs are speaking the same diamond language but each with varying interpretations. How is a consumer to know they are truly purchasing an "E" color diamond and not an "H?" The biggest safeguard for a consumer is to be educated on diamond quality.
At Knox, educating our customers on the 4C's and showing how to identify differences in quality is how we maintain consumer confidence. Once you can detect a colorless diamond from a near colorless diamond, you will gain the security of knowing how to select diamond color. Knox Jewelers will spend time with you, going over internal features of clarity characteristics using a microscope or loupe; helping to understand the clarity scale and what that represents in a diamond. During a diamond consultation we express the importance of a well cut diamond and how that relates to the overall beauty of a stone. At that time, we emphasize how to select a diamond size based on its dimensions and not by carat weight alone.
By knowing what diamond characteristics to look for, customers have the knowledge in determining the true nature of a diamond and if the lab certification is accurately supported. Most diamonds are laser inscribed on the girdle of the stone, this is the outer edge that separates the top and bottom portion of a diamond. This inscription is a sequence of numbers and letters that identifies the diamond with the laboratory's certification report. If this inscribed code coordinates with the lab report number, customers can be confident the information being presented is genuine.
When evaluating the authenticity of a diamond report, it is important to understand who is certifying the stone. GIA was the pioneer in establishing the grading scale and providing third party verification on diamonds. Their strict grading procedures is well respected in the jewelry industry. With this reputation, high quality diamonds are sent to GIA for certification. While diamonds of lower value are sent to labs with soft grading practices in an effort to achieve higher diamond grades than GIA would evaluate the diamond at.
With this understanding, Knox Jewelers prefers the highly recognized, honest services provided by GIA. We choose not to sell diamonds that are overly generous in their diamond evaluations. As a small, locally owned business located in Minnesota we wholeheartedly believe in the integrity of our family jewelery store. GIA is the world's most trusted name in diamond grading. In line with Knox Jewelers higher level of standards, GIA ensures the integrity and accuracy of every report it issues with objectivity and expertise. To display the very best of diamond attributes, choose a GIA graded diamond for your Knox ring.
Tags: 4 C's, certification, certified diamonds, diamond grading, diamond labs, EGL diamonds, GIA diamonds | Categories: Diamonds


---