---
Minneapolis Minnesota Jeweler Specializing in Custom Design and Unique Engagement Rings.
---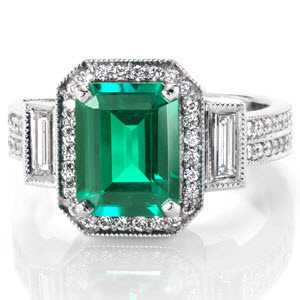 If  you're ready to begin production on your custom engagement ring you'll have a full team of world famous Knox Jeweler's craftsmen bringing your piece to life. Our designers work hand-in-hand with our production team in our Minneapolis studio to create every work of art you see on our website. We produce heirloom quality pieces that will someday be passed down to future generations.
A beautiful Emerald center-stone will only last as long as our lifetime ring designs if you wear and take care of them properly. This means not only using caution and common sense when wearing emerald jewelry, but also making sure it is cleaned and stored in a proper manner. These tips are useful for your emerald jewelry and for all fine jewelry.
Caring for emeralds starts with knowing the proper times to don your ring and when to remove it.  Do not leave your emerald rings on while doing the dishes, showering or using cleaners of any kind.   Emeralds tend to attract grease and soaps.  The gemstone's brilliance could be affected if these substances gather underneath it over a period of time. It is also wise to put jewelry on only after applying makeup, lotion, perfume or hairspray.  These products may contain chemicals that could damage the gemstone.  Your emerald center-stone could collect scratches, so it is smart to store it separately from other gemstones and jewelry.
To clean your emerald, soak the ring in room temperature water with mild soap like hand soap or Woolite.  Use a soft toothbrush to softly brush the underside of the emerald to remove the accumulation of dirt and grease.  It should then be rinsed with warm water and patted dry.  You should be able to notice a restored brightness in your gemstone.
You should not clean an emerald in an ultrasonic cleaners or steam cleaners. These may cause damage to the stone. An emerald should never be exposed to high heats. Try to avoid using strong soaps, jewelry cleaner liquids or other cleaners as most of these are not compatible with the oil treatments routinely done on emeralds. Cleanings should only be done a couple times a year.
Emeralds are majestic gemstones with a long history behind them.  Any emerald from our online gemstone list would make a beautiful center piece for your heirloom.  Our designers and gemstone buyers know exactly what to look for to help you choose a top quality gem.  With the proper care your Knox Jewelers' engagement ring featuring a vibrant green emerald will last for generations to come. Contact us today to get started on your custom design.
Tags: Care, custom, Custom engagement ring, Emerald, engagement ring, heirloom, Knox Jewelers, Unique Engagement Rings | Categories: Unique Engagement Rings


---
Emerald has captivated countless generations and deeply ingratiated itself in popular culture as well as within the jewelry industry. It is the quintessential birthstone for those lucky individuals who happen to have a May birthday, and its enduring beauty has remained a focal point of the jewelry market for hundreds of years. At Knox Jewelers, we've designed many hand-crafted works of art that incorporated an emerald center stone, and we think you'll agree with us when we say that it's a great choice for those individuals who are considering using it in a ring or pendant. Let's take a closer look now at the history and background of this magnificent gemstone, and how we can help you to design a unique engagement ring that truly embodies your loved one's May birthday.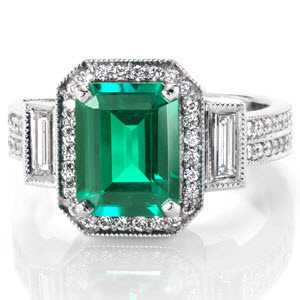 The Illustrious History of Emerald
Emerald's name comes to us from antiquity – specifically, classical Greek. Its original name was "smaragdos," but it traveled through numerous cultures, including the Roman Empire, before being translated into modern English from the Middle English word "Emeraude." The ancients knew just as well as we do today the cathartic healing effect that gazing at a beautiful emerald can achieve, and its popularity has endured through millenniums. Today, as it always has, emerald symbolizes the beauty and power of nature in the form of lush green landscapes and growth, thus making it an ideal gemstone to symbolize the month of May.
What You Need to Know about Emerald

Emerald is a form of beryl with a trademark green color that ranges from pure green to a blue-green mix. Although expert opinions differ as to what differentiates an emerald from a standard green beryl stone, professionals tend to identify an emerald by its rich color which is not too light as to be considered a mere green beryl. Generally, the darker the stone and the more saturated it is, the more likely it is to be considered a true emerald.
The Earth has been brewing emeralds for billions of years – 2.97 billion, to be precise. Today, it is often mined  in the countries of Brazil, Colombia, Zambia, and Madagascar, among many others. Extracting this precious gemstone from the ground and preparing it for use in jewelry is an expensive and time-consuming process that involves the labor of many skilled artisans.
Selecting the best emerald stone possible involves taking into account four important criteria: color, clarity, cut, and carat weight. Each of these factors plays a vital role in determining whether or not a given emerald stone is up to par. Here's what you should look for when choosing an emerald stone:
Color: Pure green stones tend to command the highest prices, and saturation is very important as well.
Clarity: Valuable emeralds typically have inclusions known as "jardins," which are essentially "gardens" of visual inclusions.
Cut: The most common cut is a rectangular step cut, also known as an emerald cut.
Carat weight: Emeralds have lower densities than diamonds, so a one carat emerald will on average appear larger in size than a comparable diamond sample.
Your Very Own Emerald Ring
Designing a unique engagement ring for your loved one has never been more enjoyable or simple than at Knox Jewelers. From the very beginning of this special journey, we will work together with you to craft a ring that will stand the test of time while embodying your love. Our expert artisans have worked with numerous types of metals, stones, and techniques, and we know you will be eternally impressed with the emerald engagement ring that we design together with you. We're truly looking forward to getting started on this journey with you, so be sure to get in contact with us soon.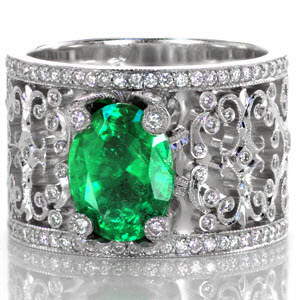 Let's Get Started Today!

At Knox Jewelers, we can't wait to get started on helping you to design a stunning, unique engagement ring that is bound to stand the test of time for countless generations. Our jewelry design process is holistic and unique, and it is entirely centered around your desires and input. If you wish to create an heirloom that will last years, then get in touch with us today to get started on the journey of a lifetime. We look forward to meeting with you soon!
Tags: 4 C's, birth stones, craftsmanship, custom, custom birthstone jewelry, Custom engagement ring, custom jewelry, Emerald, Emerald Cut, filigree, May, quality, Unique Engagement Rings, White Gold | Categories: Unique Engagement Rings


---
Colored diamonds are among the rarest and most coveted gemstones on the planet today. Their legendary nature dates back to ancient times, and they continue to remain some of the most awe-inspiring stones in the world. In fact, only one in 10,000 diamonds has a vibrant color, and the most expensive gemstone ever auctioned – the Graff Pink Diamond – sold for a staggering $46,000,000. These diamonds are rare, beautiful, and superbly valuable, and they would make a great addition to your very own custom engagement ring. At Knox Jewelers, we have extensive experience in working with all kinds of gemstones, including colored diamonds, and we would love to have the opportunity to design a work of art just for you and your loved one. Let's take a closer look now at the history and background of colored diamonds to see just why they're so special and valued.
The History and Legacy of Colored Diamonds

Ancient India is the origin of the world's first color-grading system for diamond stones, wherein they served as a mark of honor and reputation in the caste structure of the country. Depending upon an individual's specific role in society, they were permitted by the ruling castes to wear one of many different known colored stones of that era.
Since then, the jewelry industry has adopted a number of more modern grading systems for these diamonds, and these systems continue to evolve as the years march forward. Sources of colored diamonds include Southeast Asia and South America in a variety of different countries, including Brazil and Indonesia. From Australia, the Argyle mine produces stunning pink diamonds – among the most coveted of this class of gemstone.
The Rarity and Splendor of Colored Diamonds
Although many of our clients are familiar with the classic gemstones such as sapphires, rubies, and emeralds, many of them are not so familiar with colored diamonds. Nonetheless, these diamonds can easily match the beauty of the former gemstones, and they are bound to make a great addition to any piece of jewelry. After all, there is nothing quite like having a stunning colored diamond center stone to adorn your engagement ring or other jewelry.
Colored diamonds are certainly making a comeback in the industry today, and "fancy colored diamonds" – that is, diamonds which have rich hues and intense colors – are among the most prized by both designers and customers. Colored diamonds are achieving this new found popularity by combining those qualities which make more traditional gemstones like ruby and sapphire so renowned with the durable and enduring properties of diamond. Without a doubt, these rare gems will continue to gain market share and repute.
Design Your Very Own Unique Engagement Ring at Knox Jewelers
At Knox Jewelers, we are experts in designing heirloom jewelry that will last for countless generations and stand the test of time. We want to help you design a custom engagement ring with a colored diamond center stone that truly evokes feelings of love, loyalty, and family – all the necessary ingredients in the creation of a true heirloom. We are proud to help our valued clients to physically manifest these eternal bonds and relationships, and we look forward to helping you create your very own design.
We start with a consultation to determine what your goals are for the piece. Then, we help you select the perfect center stone. Finally, we will make final adjustments to the design and select a metal for the base. As our talented jewelers bring your creation to life, we'll send you photos of its progress along the way. This process is truly intimate and one-of-a-kind, and you're sure to remember it fondly well into the future.
Have Any Questions? Let Us Know: We're Always Happy to Help!
If you happen to have any questions at all about colored diamond stones or the jewelery creation process at Knox Jewelers, please be sure to let us know. We're always happy to answer any questions you may have, and we look forward to working together with you to design a work of art that will last and be passed down throughout the ages. Get in touch with our friendly and professional staff today, and we'll get started on the journey to creating your very own, one-of-a-kind piece of custom jewelry.
Tags: Color Diamond, craftsmanship, Custom engagement ring, custom jewelry, diamond, Diamond Engagement Ring, Diamonds, Rings, Unique Engagement Rings, White Gold, wide wedding band, Yellow Gold | Categories: Diamonds, Jewelry, Unique Engagement Rings, Unique Wedding Rings


---
Diamonds capture our attention and hold it. They accomplish this feat through many different mechanisms, but one of the most visible and noticeable is its reflection of light. Light can affect a diamond in a variety of ways, and each of these ways contributes to diamond's overall beauty and popularity – after all, there's a reason why diamonds are often used in metaphors and idioms involving light and perception. Let's take a look now at some of the different ways in which varying light conditions can sometimes drastically change your diamond's appearance to make it lighter, darker, or even more colorful.
Why Your Diamond Looks Different Based on Lighting Conditions and the Environment
Think of it this way: Your diamond is a conglomerate of many different tiny mirrors that are each angled in different directions. Thus, your diamond reflects a multitude of different objects in its environment. Then, you have to consider your own viewing angle – how you look at the diamond also changes your perception of it. Try this experiment: Hold your diamond jewelry as far away as you can stretch your arms. Then, hold it as close to your eyes as you can. See the difference? When you hold it close, you'll reflect the pupils of your eyes. Holding it far away will reflect more of the immediate environment.
How the Cut of a Diamond Affects Its Appearance in Light
Diamonds are typically graded based on their color, clarity, carat weight, and cut. That last item, cut, is essential in determining a particular diamond's final appearance. In fact, your diamond's cut plays one of the biggest roles in determining how light will interact with it. There are seven different components that go into determining a diamond's cut grade: brightness, fire, scintillation, weight ratio, durability, polish, and finally symmetry. Let's take a closer look at those components now.
Brightness, Fire, and Scintillation: The Perfect Combination
These three attributes describe a particular diamond's appearance. Your diamond's cut will determine how vibrant each of these aspects will be in the presence of different lighting conditions. In general, the best and most valuable diamonds channel all three of these attributes for maximum brilliance and beauty.
Weight Ratio, Durability, Polish, and Symmetry: The Four Pillars of Craftsmanship
The other four attributes that determine a diamond's cut grade are weight ratio, durability, polish, and symmetry. These four aspects collectively describe the quality of the craftsmanship that went into the cut. Well-polished, symmetrical, durable, and balanced diamonds will naturally contribute to a higher cut grade.
How Cut Grades Correspond to Appearances
Cut grades are determined by the preceding seven attributes. But what does this grade mean for your diamond? Let's break down each of the five grades to see how light affects each one differently.
*Excellent: For the most precise and beautifully-crafted cuts, light will reflect at subtle angles and radiate throughout the surface of the diamond. Only the most well-cut stones receive this rating.
*Very good: An impressive rating that many diamonds strive to achieve: The stone will look stunning under multiple lighting conditions and in different environments.
*Good: A diamond rated "good" will have a balanced brightness, fire, and scintillation score under varied lighting conditions.
*Fair: Average diamonds with a passable brightness, fire, and scintillation profile will achieve a "fair" rating.
*Poor: Self-explanatory.
The Ideal Diamond
The perfect diamond will capture light from its surroundings and display a beautiful show of color and light that captivates your eyes. It will display a clear spectrum of stunning colors as light strikes its surface (fire). As it moves through the environment, it will sparkle radiantly and emit a variety of light and dark patterns (scintillation). It will be bright and luminous (brightness).
How does a well-cut diamond achieve these effects? In short, it directs more light through its top without allowing it to exit through its bottom. A poorly cut stone will do the exact opposite, thus appearing darker under light.
Knox Jewelers: Your Diamond Jewelry Experts
At Knox Jewelers, we have helped countless customers design stunning and unique engagement rings. Many of these custom engagement rings have utilized a diamond center stone for its classic, timeless beauty. If you're on the market for a custom engagement ring of your own that incorporates a diamond center stone, be sure to get in touch with us today at Knox Jewelers. We look forward to working together with you to design an engagement ring that stands the test of time!
Tags: 4 C's, Choosing a Diamond, cut grade, Diamonds, Engagement rings, Knox Jewelers, Light | Categories: Diamonds, Jewelry, Unique Engagement Rings


---
For those lucky enough to be born in the month of April, we have good news for you: Your birthstone is the illustrious, famous, and sparkling diamond. As the saying goes, "Diamonds are forever" – and in more ways than one. Diamonds are extraordinarily durable in both physical strength and historical staying power – in fact, it's quite possible that diamonds have been a part of human civilization for many millennia – and for good reason, too. Let's take a look now at how diamonds came to achieve their lofty status, and how you might incorporate one or more of them into a stunning work of art right here at Knox Jewelers.
The History and Mythology of Diamonds
Diamonds have a rich and complex past. Countless cultures and civilizations throughout history and around the world have coveted and revered diamonds for their stunning and unique properties. From India to Italy to Brazil, diamonds have captivated countless generations. Although the sources of diamonds and the major players in the market have changed dramatically over the past few hundred years, one aspect of them has remained constant: They have been prized for their splendor and beauty, and as the remnants of aristocracy made way for the middle class of the modern era, they have only grown in popularity.
From the sultans to the kings and queens to the middle class, diamonds have forever remained a staple of human culture, and we have no doubt that they will continue on this path for countless millennia to come. Why are we so sure about this? Let's take a look now at just how alluring and special diamonds truly are. After all, they have been brewing beneath the surface for millions – if not billions – of years.
Just What Exactly Makes Diamonds So Unique?
But just what makes diamonds so unique and beautiful? Indeed, the answer to this question is more nuanced than you may have assumed. We all know that diamonds are rare, but what makes them different? To answer this question, we need to take a close look at the properties of these stunning stones.
Firstly, diamonds – without exception – are all composed of the same chemical components. In fact, they're the only stones that are made of  one element – carbon. Each and every diamond shares the same internal structure that gives it its superb strength. These stones are so strong that they are 58 times harder than anything else that you'll find in nature, and they were formed billions of years ago during the creation of the earth by interstellar forces and bodies.
Incorporating Diamonds into Jewelry
At Knox Jewelers, we have been designing stunning engagement rings, earrings, pendants, and more for our happy customers for decades, and many of these pieces have utilized a diamond center stone or in a micro pave arrangement. Among engagement rings, diamonds are very popular. Whatever your plans may be, we're here to help you pick the right design for your special someone.
Diamonds are extremely versatile, and can be used in any number of pieces. They blend well with all metal types, including white, yellow, and rose golds, platinum, and more. Additionally, they can even work well with other center stones, such as in our micro pave configuration. Whether you're looking to use a diamond in an engagement ring, or just in a special gift for that special someone (who happens to have a fortuitous birthday in April), you're bound to find exactly what you need at Knox Jewelers.
See More Diamond Jewelry Today at Knox Jewelers!
If you or a loved one has an April birthday, then the diamond is the right stone for you. We would be honored to have the opportunity to show you some of our stunning diamond designs up close, and we think that you will agree with the praise we have heaped upon them here. If you would like to learn more about using a diamond center stone or micro pave design in an engagement ring for your special someone, we encourage you to get in touch with us today to begin the conversation. Our friendly, veteran staff are here to work together with you to design a work of art that will stand the test of time. Don't be shy – get in touch with us today!
Tags: April, Birthstone, Custom engagement ring, diamond, Diamond Engagement Ring, Knox Jewelers | Categories: Gemstones, Jewelry, Unique Engagement Rings


---