---
Minneapolis Minnesota Jeweler Specializing in Custom Design and Unique Engagement Rings.
---
We have opened our second location in the Minneapolis – Saint Paul Metro area. Our new store is located in Woodbury Lakes,  next door to Victoria's Secret®. The address is 9020 Hudson Road Suite 405, Woodbury, Minnesota 55125. Telephone number is 651.330.9275.
Our Woodbury store is open seven days per week.
Monday through Saturday from 10:00 AM until 8:00 PM
Sunday from 11:00 AM until 6:00 PM.
For those of you that know us, please stop into the new store to say hi. For those that are just hearing about us, here is a little bio for you:
Our passion is making rings and we like to think this passion shows through in our work.
Our jewelry making techniques combine cutting-edge technologies with the skills of our onsite master level artisans. The end result is a level of design and quality that we feel is in the upper echelon of jewelry.
Our level of quality cannot be mass produced. Every one of our rings is built to order from the ground up, in the exact intended finger size and for the exact intended center stone. One size fits all is good enough for our competitors, but not for us.
We take extreme pride in our unique line of rings. But more than that, we take pride in delivering a wearable work of art in every ring we make. Every Knox ring is meticulously hand crafted one ring at a time from the ground up. Even with our simple solitaire designs, our artisans are instructed to maintain crisp lines with perfect symmetry and perfectly polished surfaces. Our more ornate and artistic designs may take a week or longer for one of our master artisans to complete.
It is about more than just making rings to us. For us, it is about making every Knox ring a little work of art.
Our Woodbury location is intended to offer our unique line of artisan and handcrafted engagement rings, wedding bands and  jewelry to the following communities of the east Metro.
Woodbury
Oakdale
Afton
Lakeland
Bayport
Stillwater
Lake Elmo
North St. Paul
Cottage Grove
Newport
Inver Grove Heights
South St. Paul
Little Canada
Roseville
Vadnais Heights
White Bear Lake
Eagan
Hastings
Red Wing
Wisconsin
Prescott
River Falls
Hudson
North Hudson
Somerset
For those unaware of our unique line of handcrafted unique engagement rings and wedding bands, here are a few categories from our web site.
Micro Pavé Engagement Rings
Hand Engraved Engagement Rings
Filigree Engagement Rings
Halo Engagement Rings
Solitaire Engagement Rings
Antique Engagement Rings
Contemporary Engagement Rings
Sapphire Engagement Rings
Custom Engagement Rings
Classic Engagement Rings
Diamond Wedding Bands
Eternity Bands
Gents Wedding Bands
Knox Signature Rings
Tags: Afton, Afton engagement rings, Afton jewelers, Afton jewelry store, Antique Engagement Rings, Bayport, Bayport engagement rings, Bayport jewelers, Bayport jewelry store, Classic Engagement Rings, Contemporary Engagement Rings, Cottage Grove, Cottage Grove engagement rings, Cottage Grove jewelers, Cottage Grove jewelry store, Custom Engagement Rings, Diamond Wedding Bands, Eagan, Eagan engagement rings, Eagan jewelers, Eagan jewelry store, Engagement rings, Eternity Bands, Filigree Engagement Rings, Gents Wedding Bands, Halo Engagement Rings, hand engraved engagement rings, Hastings, Hastings engagement rings, Hastings jewelers, Hastings jewelry store, Hudson, Hudson engagement rings, Hudson jewelers, Hudson jewelry store, Inver Grove Heights, Inver Grove Heights engagement rings, Inver Grove Heights jewelers, Inver Grove Heights jewelry store, jewelers, jewelry store, jewelry stores, Knox Signature Rings, Lake Elmo, Lake Elmo engagement rings, Lake Elmo jewelers, Lake Elmo jewelry store, Lakeland, Lakeland engagement rings, Lakeland jewelers, Lakeland jewelry store, Little Canada, Little Canada engagement rings, Little Canada jewelers, Little Canada jewelry store, Micro Pave engagement rings, New jewelry store, Newport, Newport engagement rings, Newport jewelers, Newport jewelry store, North Hudson, North Hudson engagement rings, North Hudson jewelers, North Hudson jewelry store, North St. Paul, North St. Paul engagement rings, North St. Paul jewelers, North St. Paul jewelry store, Oakdale, Oakdale engagement rings, Oakdale jewelers, Oakdale jewelry store, Prescott, Prescott engagement rings, Prescott jewelers, Prescott jewelry store, Red Wing, Red Wing engagement rings, Red Wing jewelers, Red Wing jewelry store, River Falls, River Falls engagement rings, River Falls jewelers, River Falls jewelry store, Roseville, Roseville engagement rings, Roseville jewelers, Roseville jewelry store, Sapphire Engagement Rings, Solitaire Engagement Rings, Somerset, Somerset engagement rings, Somerset jewelers, Somerset jewelry store, South St. Paul, South St. Paul engagement rings, South St. Paul jewelers, South St. Paul jewelry store, Stillwater, Stillwater engagement rings, Stillwater jewelers, Stillwater jewelry store, Unique Engagement Rings, Vadnais Heights, Vadnais Heights engagement rings, Vadnais Heights jewelers, Vadnais Heights jewelry store, White Bear Lake, White Bear Lake engagement rings, White Bear Lake jewelers, White Bear Lake jewelry store, Wisconsin, Wisconsin engagement rings, Wisconsin jewelers, Wisconsin jewelry store, Woodbury, Woodbury engagement rings, Woodbury jewelers, Woodbury jewelry store | Categories: Whats new at Knox


---
The focus of this article is to illustrate some of the differences in micro pavé engagement ring styles, design elements and setting styles.
If you are looking  for a more thorough description and definition of Micro Pave. Please see our Pave? or Micro-Pave? article linked here:
http://www.knoxjewelers.biz/blog/category/micro-pave/
Hand Cut Micro Pavé Engagement Ring Examples
We will start with some hand cut Micro Pavé examples. Hand cut Micro Pave refers to a diamond setting style in which each little prong holding the diamonds in the ring design are cut out by hand. As well as cutting out each little prong, the diamond setter will also also cut out the area under and around where the diamond is to be set so as to give the setting style a nice aesthetic as well as help show off the micro pavé diamonds.
We only offer these hand cut micro pave setting styles in Platinum rings as other metals are not as ideally suited for this type of detailed hand work.
Here is  an extreme close up photo (macro shot) of a hand cut micro pavé engagement ring. We call this setting style, U-cut, which is a good descriptive of the U shape area cut out underneath each diamond. As mentioned, this hand cut pattern  helps accentuate the micro pave diamonds and also lends the design a very attractive aesthetic.
Here is another very close up example of a hand cut micro pave engagement ring. Note on this example how the U-cut style was also incorporated into the micro pave halo around the center diamond.
Here is a top view of the same U cut Micro Pave halo design engagement ring.  This view illustrates how this setting style minimizes how much metal shows and thus accentuates the micro pave diamonds.
More to come soon…
Tags: fish tail, fish tail micro pave, Fish Tail pave, fishtail, fishtail micro pave, fishtail micropave, fishtail pave, french cut, french cut micro pave, french cut micropave, French Cut Pave, hand cut micro pave, Micro Pave, Micro Pave engagement rings, pave, u cut, U cut micro pave, v cut, V cut micro pave | Categories: Micro Pave Styles


---
Here are a few of our recent transit and billboard advertisements we've used around uptown and downtown Minneapolis.
The first two feature the tag line "Wear A Work Of Art" as we feel each of the rings we design and build are individual works of art.
Here is one we displayed around Uptown & Downtown Minneapolis with our "Be The First To Wear an Heirloom" message.
Last but not least is our "The Art of Ring Making"
Here is a recent Billboard we featured on Interstate 35W just north of downtown Minneapolis. Featuring our "Be The First To Wear an Heirloom" message.
Tags: Billboard & Transit Ad Artwok | Categories: Billboard & Transit Ad Artwork


---
We receive calls and emails from around the world inquiring about our unique wide wedding bands and unique engagement band designs. The ring designs that generate the most inquires tend to be wider than average designs. Some have center stones, like the cushion cut diamond, while others do not. All are singularly unique in their design and are meticulously and expertly hand crafted from the ground up. We feel these two facts combined help our wedding rings (especially signature designs such as these) stand out from more conventional wedding band or engagement ring styles. In fact, many of these unique rings would translate well as a right hand ring or anniversary band.
We wanted to have an article in our journal that featured some of these wide wedding ring designs along with a little info about each ring. Please note that the images are linked (when possible) to additional photos/videos of the design.
Let's start with a design that features a wide ring design with an Asscher cut center diamond along with sky blue sapphires set in the filigree between the two diamond pave set outside rails of the ring.
Here are other versions of this beautiful, unique, wide wedding ring:
Shown with a princess cut center diamond and deeper blue sapphires set in hand made filigree.
This unique wide wedding ring is shown with a radiant cut center diamond and rich green natural emeralds set in hand made filigree.
This engagement ring is shown with a princess cut center diamond and bead-set micropave diamond rails. Some of the filigree scrolls have diamonds set in them
This next wide wedding ring was a real labor of love for our artisans and we think this fact 'shines through' in the beautifully intricate detailing of the unique ring design. This is one of our wider ring designs at approximately 15mm
Since our original "Caledonia" design was created we've had a few custom versions made with center diamonds and sapphires.
Here are two versions of our Dolce design. A very unique wide wedding ring, set with fancy colored diamonds in two tone gold to accentuate the diamond color.

Here is our "Dolce" wedding ring set up with fancy yellow diamonds in 18k Yellow Gold with 18k White Gold.
Here is Dolce set up with fancy pink diamonds in 14k Rose Gold.
This is another unique wide wedding ring with an open pattern flower, leaf and vine motif.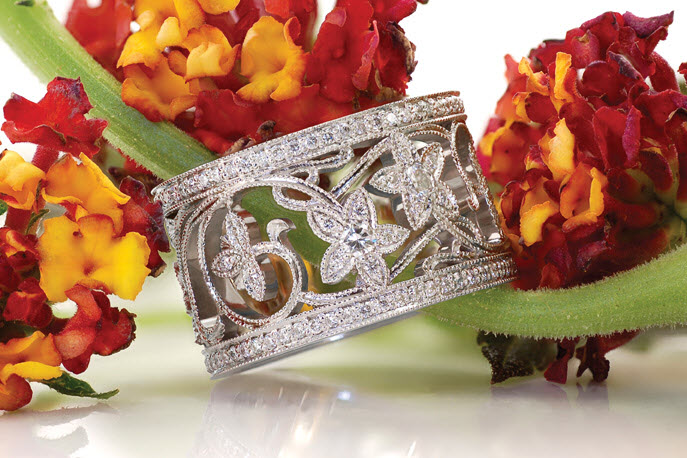 Here is our "North Star" Design… A very vintage style engagement ring when set up with a center diamond. Or can be used as an engagement or anniversary band (right hand band).

"North Star" with a low set center diamond.

Our Original "North Star" Wedding Band.
Allamanda features a flowing leaf and vine pattern. Set with several smaller round diamonds, this ring would also make a lovely right hand ring.
The following engagement ring was a big favorite when it came through the shop. The interplay of the deep blue sapphire with the bright white of this polished white gold makes for a stunning contrast. Similar to Allamanda, this unique ring features an organic leaf pattern.
The wedding ring below was created using 18kt white gold and 18k yellow gold. To truly appreciate the craftsmanship on this wedding ring, click on the photo to see other views, as well as a video.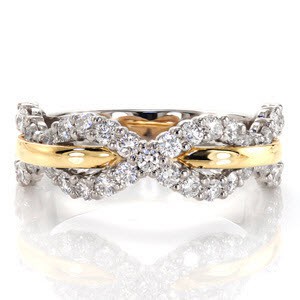 Tags: anniversary band, filigree, hand engraved, Rings, Unique, Wedding ring, wide anniversary band, wide wedding band, wide wedding ring | Categories: Unique Wedding Rings


---
At last count we had upwards of 50 split shank engagement ring designs with new and custom versions coming out on a regular basis. Many of these split shank engagement rings have micro pave set diamonds in the design. Others include a diamond halo. We wanted to feature some of our more popular split shank engagement rings designs in one article so that someone unfamiliar with our website or store could look and compare many different designs on the same page.
Please note that the images are linked to the rings product page which will have additional photos and possibly a video of the ring.
The first split shank design is a very clean and simple split shank design with pave diamonds. The center stone is a 2 carat round center diamond.
2.20 carat cushion cut diamond in a very elegant split shank engagement ring
Here is a micro pave split shank design with a round micro pave halo
Here is a very similar design with an Asscher shape center diamond
Here is a Split shank design with a round center diamond in a cushion shape diamond halo, the design also features a surprise diamond
(click through to other photos to see surprise diamond)
2.00  carat princess cut set in a beautifully delicate micro pave split shank design
Speaking of halos, the signature look of our Cielo design is the combination of a split shank with a halo. We have made this design for just about every shape center stone, here are a few:
Another round center diamond version…
One more…
More to come soon…
Tags: Asscher, cushion, Cushion Cut, cut, diamond halo, engagement ring, Engagement rings, halo, Micro Pave, pave, princess, split shank | Categories: Unique Custom Design Engagement Rings


---