---
Minneapolis Minnesota Jeweler Specializing in Custom Design and Unique Engagement Rings.
---
Diamonds capture our attention and hold it. They accomplish this feat through many different mechanisms, but one of the most visible and noticeable is its reflection of light. Light can affect a diamond in a variety of ways, and each of these ways contributes to diamond's overall beauty and popularity – after all, there's a reason why diamonds are often used in metaphors and idioms involving light and perception. Let's take a look now at some of the different ways in which varying light conditions can sometimes drastically change your diamond's appearance to make it lighter, darker, or even more colorful.
Why Your Diamond Looks Different Based on Lighting Conditions and the Environment
Think of it this way: Your diamond is a conglomerate of many different tiny mirrors that are each angled in different directions. Thus, your diamond reflects a multitude of different objects in its environment. Then, you have to consider your own viewing angle – how you look at the diamond also changes your perception of it. Try this experiment: Hold your diamond jewelry as far away as you can stretch your arms. Then, hold it as close to your eyes as you can. See the difference? When you hold it close, you'll reflect the pupils of your eyes. Holding it far away will reflect more of the immediate environment.
How the Cut of a Diamond Affects Its Appearance in Light
Diamonds are typically graded based on their color, clarity, carat weight, and cut. That last item, cut, is essential in determining a particular diamond's final appearance. In fact, your diamond's cut plays one of the biggest roles in determining how light will interact with it. There are seven different components that go into determining a diamond's cut grade: brightness, fire, scintillation, weight ratio, durability, polish, and finally symmetry. Let's take a closer look at those components now.
Brightness, Fire, and Scintillation: The Perfect Combination
These three attributes describe a particular diamond's appearance. Your diamond's cut will determine how vibrant each of these aspects will be in the presence of different lighting conditions. In general, the best and most valuable diamonds channel all three of these attributes for maximum brilliance and beauty.
Weight Ratio, Durability, Polish, and Symmetry: The Four Pillars of Craftsmanship
The other four attributes that determine a diamond's cut grade are weight ratio, durability, polish, and symmetry. These four aspects collectively describe the quality of the craftsmanship that went into the cut. Well-polished, symmetrical, durable, and balanced diamonds will naturally contribute to a higher cut grade.
How Cut Grades Correspond to Appearances
Cut grades are determined by the preceding seven attributes. But what does this grade mean for your diamond? Let's break down each of the five grades to see how light affects each one differently.
*Excellent: For the most precise and beautifully-crafted cuts, light will reflect at subtle angles and radiate throughout the surface of the diamond. Only the most well-cut stones receive this rating.
*Very good: An impressive rating that many diamonds strive to achieve: The stone will look stunning under multiple lighting conditions and in different environments.
*Good: A diamond rated "good" will have a balanced brightness, fire, and scintillation score under varied lighting conditions.
*Fair: Average diamonds with a passable brightness, fire, and scintillation profile will achieve a "fair" rating.
*Poor: Self-explanatory.
The Ideal Diamond
The perfect diamond will capture light from its surroundings and display a beautiful show of color and light that captivates your eyes. It will display a clear spectrum of stunning colors as light strikes its surface (fire). As it moves through the environment, it will sparkle radiantly and emit a variety of light and dark patterns (scintillation). It will be bright and luminous (brightness).
How does a well-cut diamond achieve these effects? In short, it directs more light through its top without allowing it to exit through its bottom. A poorly cut stone will do the exact opposite, thus appearing darker under light.
Knox Jewelers: Your Diamond Jewelry Experts
At Knox Jewelers, we have helped countless customers design stunning and unique engagement rings. Many of these custom engagement rings have utilized a diamond center stone for its classic, timeless beauty. If you're on the market for a custom engagement ring of your own that incorporates a diamond center stone, be sure to get in touch with us today at Knox Jewelers. We look forward to working together with you to design an engagement ring that stands the test of time!
Tags: 4 C's, Choosing a Diamond, cut grade, Diamonds, Engagement rings, Knox Jewelers, Light | Categories: Diamonds, Jewelry, Unique Engagement Rings


---
For those lucky enough to be born in the month of April, we have good news for you: Your birthstone is the illustrious, famous, and sparkling diamond. As the saying goes, "Diamonds are forever" – and in more ways than one. Diamonds are extraordinarily durable in both physical strength and historical staying power – in fact, it's quite possible that diamonds have been a part of human civilization for many millennia – and for good reason, too. Let's take a look now at how diamonds came to achieve their lofty status, and how you might incorporate one or more of them into a stunning work of art right here at Knox Jewelers.
The History and Mythology of Diamonds
Diamonds have a rich and complex past. Countless cultures and civilizations throughout history and around the world have coveted and revered diamonds for their stunning and unique properties. From India to Italy to Brazil, diamonds have captivated countless generations. Although the sources of diamonds and the major players in the market have changed dramatically over the past few hundred years, one aspect of them has remained constant: They have been prized for their splendor and beauty, and as the remnants of aristocracy made way for the middle class of the modern era, they have only grown in popularity.
From the sultans to the kings and queens to the middle class, diamonds have forever remained a staple of human culture, and we have no doubt that they will continue on this path for countless millennia to come. Why are we so sure about this? Let's take a look now at just how alluring and special diamonds truly are. After all, they have been brewing beneath the surface for millions – if not billions – of years.
Just What Exactly Makes Diamonds So Unique?
But just what makes diamonds so unique and beautiful? Indeed, the answer to this question is more nuanced than you may have assumed. We all know that diamonds are rare, but what makes them different? To answer this question, we need to take a close look at the properties of these stunning stones.
Firstly, diamonds – without exception – are all composed of the same chemical components. In fact, they're the only stones that are made of  one element – carbon. Each and every diamond shares the same internal structure that gives it its superb strength. These stones are so strong that they are 58 times harder than anything else that you'll find in nature, and they were formed billions of years ago during the creation of the earth by interstellar forces and bodies.
Incorporating Diamonds into Jewelry
At Knox Jewelers, we have been designing stunning engagement rings, earrings, pendants, and more for our happy customers for decades, and many of these pieces have utilized a diamond center stone or in a micro pave arrangement. Among engagement rings, diamonds are very popular. Whatever your plans may be, we're here to help you pick the right design for your special someone.
Diamonds are extremely versatile, and can be used in any number of pieces. They blend well with all metal types, including white, yellow, and rose golds, platinum, and more. Additionally, they can even work well with other center stones, such as in our micro pave configuration. Whether you're looking to use a diamond in an engagement ring, or just in a special gift for that special someone (who happens to have a fortuitous birthday in April), you're bound to find exactly what you need at Knox Jewelers.
See More Diamond Jewelry Today at Knox Jewelers!
If you or a loved one has an April birthday, then the diamond is the right stone for you. We would be honored to have the opportunity to show you some of our stunning diamond designs up close, and we think that you will agree with the praise we have heaped upon them here. If you would like to learn more about using a diamond center stone or micro pave design in an engagement ring for your special someone, we encourage you to get in touch with us today to begin the conversation. Our friendly, veteran staff are here to work together with you to design a work of art that will stand the test of time. Don't be shy – get in touch with us today!
| Categories: Gemstones, Unique Engagement Rings


---
Princess cut diamonds are one of the more exquisite styles of diamond cuts. In fact, it's one of the most popular diamond cutting styles on the market today – and for good reason. This cut incorporates a number of  techniques which allow for a high level of brilliance with a unique faceting style that makes it distinctive from the more traditional round brilliant cuts. Instead, the Princess cut is typically square or rectangular. Let's take a closer look now at the history of the Princess cut, its variants, and some important considerations to keep in mind when choosing Princess cut diamonds for your jewelry.
The History of Princess Cut Diamonds
Although the Princess cut partially derives its existence from the older, more venerable "French" cut, it did not come into being until the 1960's. It has definitely kept pace with its competitor, the round brilliant cut, and it is continuing to grow in popularity among our clients here at Knox Jewelers. While the Princess cut may lack the long history of other types of cuts, it more than makes up for that with elegance, precision, and brilliance. No wonder it's the second-most popular type of diamond cut on the market! Customers who have chosen this cut for their engagement ring agree that the Princess cut is one of the most elegant shapes out there today.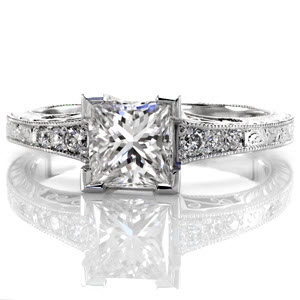 A Variety of Stunning Princess Cut Styles
As you might imagine, not all Princess cut diamonds are created equal. For instance, some Princess cut diamonds may have greater depth, polish, or symmetry than others. To make the process of choosing the right diamond for your Princess cut engagement ring as easy as possible, our expert jewelers here at Knox Jewelers will ensure that your ring has only the finest diamond which balances color, clarity, and depth. After all, there is no industry-wide or standardized consensus on the specific grading of cut on Princess stones, so you'll want expert guidance in choosing the right one. We have the experience necessary for helping you to make the right choice.
Our Handcrafted Princess Cut Engagement Rings
Each and every design at Knox Jewelers is created by hand and from the ground up – none of our jewelry comes out of a factory. Our artisans and craftspeople are some of the most well-regarded experts in the industry, and we have had the privilege of designing many engagement rings for our valued clients. Be sure to have a look at some of the custom engagement rings we have designed in the past – if you're interested in incorporating a similar design into your own Princess cut engagement ring, then we would be absolutely thrilled to create a ring that is tailored to your specific desires and ideas.
Some Important Considerations to Keep in Mind
The most important consideration to keep in mind if you're thinking about investing in a Princess cut diamond for your jewelry is this: Although Princess cut diamonds are very beautiful, their corners tend to be less durable than you might expect due to the way the cut is made. Although we have set many Princess cut diamonds into our handmade, custom-tailored designs for our satisfied customers, we generally recommend that those customers who are looking for crisp and straight edges on their center diamond, to instead opt for a Radiant cut with a square ratio. We usually recommend this option whenever possible due to the improved stability and robustness of the resulting cut. Aside from this important consideration, the Princess cut is an excellent choice for practically any unique engagement ring!
Design Your Own Unique Engagement Ring at Knox Jewelers
Designing a unique engagement ring with our expert staff is an experience of a lifetime. We will work together with you from start to finish to create a Princess cut engagement ring that encompasses the visual and emotional motifs you want to see incorporated into it. There exists perhaps no experience more fulfilling or significant than being able to design a piece of jewelry which symbolizes the love you share with that special someone. We encourage you to get in touch with our friendly staff today and we'll get started on the process of designing a truly significant engagement ring just for you.
| Categories: Unique Engagement Rings


---
Here on our blog at Knox Jewelers, we're always trying to introduce you to the latest and greatest in jewelry. For an industry with such a rich history as ours, it may come as a surprise that there are new innovations constantly on the horizon. New gemstones come into fashion, go out of fashion, come back again – there's always something new and exciting happening. One gem in particular has recently gained popularity on the market: it's called Morganite, and it's truly a stunning stone. It comes in delicate pastel shades of pink, rose, peach and salmon. Let's now take a look at the back story of this remarkable gem and see how you can incorporate it into some of our handmade, exquisite designs.
Morganite: Background & Facts
No doubt you've heard of a man named J.P. Morgan. You probably associate the name with one of the most renowned and (according to some people) infamous financiers in American history. But did you also know that he is the namesake for Morganite? George Kunz proposed the name to honor his friend for donating funds for the promotion of the arts and sciences in the nation, and to represent J.P. Morgan's gem-collecting ventures.
Morganite assumes many hues of pink, but the colloquial term "pink emerald" is not accepted by professional regulatory bodies and trade associations in the jewelry industry. Rather, morganite is a type of beryl, and is distinct from its sibling the emerald (another gem which is also derived from beryl). Due to still being relatively unknown to the public, morganite has many large specimens available on the open market. We're definitely excited about showing off this fantastic, underrated gem to our customers here at Knox Jewelers!
Special Considerations for Morganite Center Stones in Rings
If you're planning to invest in a morganite center stone, there are a couple of things you'll want to keep in mind. First of all, morganite is somewhat less durable than your average diamond or sapphire. Because of this fact, you'll want to be careful when using it in a ring design – we all know how rings can be prone to certain types of accidental damage.
As for cleaning and caring for morganite jewelry, here are the basic principles. Firstly, you're going to want to be really careful if you're incorporating it into a ring. We said this already, but it definitely warrants repeating. Secondly, as far as cleaning is concerned, all you need to use – in fact, all you should use – is warm, soapy water and non-abrasive cloth. Do not expose your morganite jewelry to any harsh chemicals, as these chemicals are quite capable of causing major damage to the stone.
Incorporating Morganite Into Your Own Custom Design
Morganite is a stunning addition to any piece of jewelry, and it can truly add a unique flair not found among other gemstones. We recommend a white or rose gold metal base to complement a morganite stone, though platinum as a base also looks amazing. Either way, you can't go wrong.  If you find that you prefer a different kind of metal, we're here to help you make it a reality.
Any of our handcrafted designs are suitable as a host for a stunning morganite gemstone. Be sure to check out our entire inventory at Knox Jewelers, including our unique engagement rings, wedding bands, and more. You're bound to find a design that truly looks amazing in conjunction with a morganite center stone. We're also happy to recommend one for you, or design one completely from start to finish just for you.
We're Here to Help: Get in Touch with Us Today!
Do you have any questions about morganite? If so, the friendly staff at Knox Jewelers are here to answer them. We'll walk you through the whole process of creating a custom jewelry design for you or your loved one, and we'll make sure you are able to design the perfect piece. Our hand-tailored and client-oriented design process will put you in the driver seat, and we know you'll be impressed. Get in touch with us today to learn more about designing your very own morganite jewelry. We look forward to meeting you and helping you create your dream ring!
Tags: custom, custom birthstone jewelry, Custom engagement ring, custom jewelry, custom morganite engagement ring, custom morganite jewelry, engagement ring, Engagement rings, Filigree Engagement Rings, halo, Morganite, morganite jewelry, peach gemstone, pink gemstone, Platinum, Rose Gold, Unique, White Gold, Yellow Gold | Categories: Unique Engagement Rings


---
There are a lot of reasons why having a March birthday is awesome: Firstly, you're born right on the cusp of spring and the warm weather (especially for those of us in northern environs). Secondly, your birthstone is the lovely aquamarine, a gemstone which derives its name from the Latin term aqua – meaning water – and marine – meaning of the sea. Water of the sea. Stunning, no? And for those lucky individuals with a March birthday, Knox Jewelers offers an outstanding selection of handmade aquamarine jewelry to celebrate this special month. Now, let's take a look at the history of aquamarine, how to pick the best possible gemstone for your jewelry, and some examples of custom engagement rings we have designed and crafted for our clients in the past.
Aquamarine Background
Even in its natural, unrefined state, aquamarine is one of the most visually awe-inspiring gemstones in the world, and these crystals are widely renown and valued very highly on the market. To be specific, aquamarine is a blue-hued variety of beryl, a mineral from which we also derive emeralds. Sometimes, a heat treatment is applied to increase the intensity of blue, though many instances found in the wild are often perfectly suitable as-is for use in jewelry making.
Choosing the Right Gemstone
The quality of a given aquamarine gemstone depends on a number of individual factors, including color, clarity, cut, and carat weight. Let's break down each factor one at a time to get a good feel for how these stones are valued in the marketplace. The color range for aquamarine tends to be confined to the spectrum of intense blue to greenish-blue. A general trend in color valuation is that more intense blues tend to be worth more in the open market, though this rule does have its exceptions. For clarity, most specimens have few if any visible inclusions. Stones that have inclusions of this sort tend to be worth less. As for cuts, any and all can be used, though ones that are used for emeralds are also widely used for aquamarine. Finally, larger stones tend to have less demand.
How to Care for Aquamarine Jewelry
In general, aquamarine is a hardy stone. However, it is susceptible to physical damage and heat, so it is very important to ensure that you keep it out of situations which could result in these forms of damage. As for cleaning, it is a relatively simple procedure to keep your aquamarine jewelry in tip-top shape: Simply use warm, soapy water to gently rinse and clean the surface. You should not expose your aquamarine jewelry to harsh chemicals or other invasive cleaning methods, as this could cause serious and irreparable damage.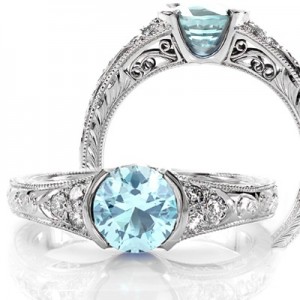 Unique Engagement Rings at Knox Jewelers
At Knox Jewelers, we've been crafting – by hand – stunning and unique aquamarine jewelry and engagement rings for our customers for decades, and we've always striven to provide only the best customer service and attention to detail in the industry. Whether you're looking for, whether it's an engagement ring for that special someone or just a surprise for their birthday, you're bound to find what you're looking for at Knox Jewelers.
Stunning Combinations
Aquamarine center stones look absolutely great with just about any combination of metal and design. On our website here at Knox Jewelers, you can browse through all of the designs that we have crafted for our customers in the past. Although the samples shown in their preview images will have different gemstones, we would be more than happy to customize your preferred piece with a beautiful aquamarine center stone – all you have to do is ask! As for what combinations work best, we think that white gold and platinum look great for those who are interested in a clean, elegant design. Yellow gold and rose gold can also be used to create a contrast effect that looks modern and sophisticated. Regardless of the direction you're leaning toward, we have you and your aquamarine needs covered!
Have Any Questions?
Are you interested in aquamarine engagement rings or other jewelry? Great! We'd love to chat with you about your interests and get a feel for what you're looking to create. Get in touch with our friendly staff soon, and we'll get started on making your dreams a reality!
Tags: Antique Engagement Rings, Aquamarine Engagement Ring, Aquamarine Jewelry, craftsmanship, custom, Custom Aquamarine, custom birthstone jewelry, Custom engagement ring, diamond halo, engagement ring, Engagement rings, filigree, Filigree Engagement Rings, halo, hand engraved, hand engraved engagement rings, Micro Pave, Micro Pave engagement rings, Platinum, Rose Gold, Unique, Unique Aquamarine, Unique Engagement Rings, White Gold, Yellow Gold | Categories: Gemstones


---