---
Minneapolis Minnesota Jeweler Specializing in Custom Design and Unique Engagement Rings.
---
As the saying goes, 'A Diamond is Forever', we believe a warranty should last just as long.
All of Knox Jewelers' heirloom quality rings are protected by our lifetime warranty.  This service is free of charge and covers all  regular maintenance need to ensure your ring lasts generations.
Its important to understand that jewelry is not a maintenance free purchase.  Just like a car, periodic service is required.  Cleanings and inspections are designed to catch when work needs to be done.
Without our lifetime warranty, you could be paying hundreds of dollars to keep up on yearly maintenance elsewhere.
The Knox Lifetime Warranty Covers:
Free Rhodium Plating and Polishing is offered twice a year.  To keep your ring looking like new.

Cleaning and Inspections are always free, no appointment is needed in our Minneapolis or Woodbury locations.

If during one of these inspections there is a loose stone, we will take care of getting it tighten for you, a savings of $19 a stone.

If a side diamond ever falls out or is damaged, Knox will replace it free of charge, an average savings of $73 per stone.

Included in our warranty is one free ring sizing, so your ring will have a perfect fit.

You will want to have your ring insured under a homeowners or renters policy.  We will issue you a free certificate of sale; this is the document your insurance carrier will need.  It will outline all the important details about your center gem and ring.  The average cost for a similar appraisal is $125.

Our lifetime warranty also helps in case something major happens to your ring.  Like it was lost, stolen or damaged.  With Knox,  we will cover up to $250 of your insurance deductible in the event you need to make an insurance claim.

Lastly, to keep your ring looking brilliant between in-store cleanings, we supply you with a free jar of jewelry cleaner every year.
As you can see, the savings of common services needed to maintain your ring will add up to thousands of dollars over a  lifetime of wear.  Knox is here to protect you purchase for the rest of its life.
When we created our lifetime warranty, we wanted to make it easy for our customers to maintain.
We don't need you to come in every six months to the date like most jewelers do.  We want to see your ring once a year.  If you happen to miss an annual inspection, don't fret, we can reinstate your warranty after we inspect your ring on your next visit.
We don't require you to keep a signed and dated inspection book to get warranty work done.  We keep track of your visits so you don't have to.
The jewelers that crafted your ring are also the ones who will take care of your jewelry when warranty work is needed.  We will never ship your ring out of state or use sub-contractors for repairs.
Almost all warranty work is performed while you wait.  Jewelers who are not equipped for on-site repairs like us will have to send your ring out, which can take up to four weeks.
Contact us today if you have any questions concerning our warranty or getting started on your custom engagement ring.
Tags: Antique Engagement Rings, craftsmanship, Knox Jewelers, Lifetime Warranty, Rhodium, Vintage Engagement Rings | Categories: Unique Engagement Rings


---
All gemstones have unique features that make them ideal centerpieces for jewelry. The alexandrite's ability to absorb light earns it the tag of chameleon of the jewelry jungle. It can be a lovely shade of green in the bright light of day before magically turning to brown or purple in incandescent light. The alexandrite effect is such a fascinating phenomenon. It makes the gemstone a much desired piece because you could have an emerald by day and a ruby by night. Another fascinating feature of the alexandrite is that you see a different color depending on how you look at it. The main pleochroic colors include purple-red, orange and green, which arise from this gem's unique light absorbing abilities.
Alexandrite's Colorful History
This gem was discovered in the Ural Mountains of Russia, borrowing its name from heir apparent to the throne at that time, Alexander II. The stone was close to people's hearts owing to the red and green colors that resemble the imperial flag of Russia. These gems were so beautiful and revered that even today they still remain the standard by which they judge quality. The first Russian alexandrites displayed vivid hues but with the current depletion of Ural mountain deposits, the rare gem can now be found in East Africa, Brazil, and Sri Lanka. The alexandrite found in other parts of the world is still beautiful but some display muddy hues, a fact that raises questions about its purity.
The Gem of June
The rare stone is also a June birthstone together with pearls and moonstone. Due to the rarity of alexandrite it is easier to combine  it with other stones and precious metals to create the perfect birthstone jewelry. If you fancy this member of the chrysoberyl family, you can consult with any of the staff at Knox Jewelers to create a custom piece using this magical mineral. Such jewelry is ideal for people who were born in June as it is one of the stones associated to that period on the zodiac. This means that the stone has mystical, empowering and cosmetic abilities if worn by the right people. Legends have it that wearing your birthstone brings good tidings and keeps away evil spirits. We chose to work with the best gem cutters globally to maintain the high standards of the alexandrite. Knox provides master craftsmanship on every heirloom quality engagement ring or fashion piece. Alexandrite jewelry is suitable for many occasions thanks to its ability to change hue depending on light and its mineral hardness. Alexandrite is one of the hardest minerals after diamond and sapphire with a MOHS rating of 8.5.  This means your custom jewelry can be worn for years to come.
Custom Creating Your Dream Birthstone Jewelry
The skillful artisans at Knox Jewelers can make you anything from wedding bands, custom engagement rings, or other pieces bearing the beauty of the lovely alexandrite. The pieces are individually crafted and they come with our lifetime warranty as Knox uses the best practices to give you jewelry that will last a lifetime. If you have a party, wedding, engagement or special event that warrants presentation of a ring, choose the unique alexandrite .  Knox jewelers will create a piece of art worthy to hold such a rare and spectacular stone. Knox has surely brought the world a new way to enjoy precious stones and you can wear yours everyday. Do not wait any longer to become the owner of one stunning alexandrite ring, come to Knox where all your wishes will be artistically delivered by the most skillful craftsmen who have been at it for years. Get in touch with us today and we can start the custom creation process with you.  If you want to stand out from the crowd, it is certainly time to invest in the magnificent and spellbinding alexandrite jewelry.
Tags: alexandrite, Birthstone, color change, custom, custom birthstone jewelry, Custom engagement ring, june | Categories: Unique Engagement Rings


---
This week at Knox Jewelers we encountered a surprising addition enclosed within one of our oval-shaped diamonds.  Hidden under a facet junction nestled a tiny green mineral crystal surrounded by the diamond crystal during formation.  This clarity characteristics inside a gemstone serves as evidence in its creation . It could lead you to discover how and sometimes even where it formed. Many characteristics can be clues to the events in a gem's history or the Earth's own history.
Crystal Clarity Characteristic
Clarity characteristics in diamonds are common. There are very few diamonds that receive the clarity grade of Flawless, most contain some imperfection weather it be an inclusion, a feature enclosed within the diamond, or a blemish, a feature on the surface of a diamond. Diamonds can have many interesting inclusions, sometimes they can contain another smaller diamond crystal but more often they hold embedded crystals of an entirely different material.
Common Crystal Colors
The color of the included crystal will depend on the type of mineral they are composed of.  The most common internal crystals colors are colorless (other diamond), black (carbon), red (garnet) and green (period or diopside).  Most of the time we can not conclusively determine the mineral an included crystal is, being inside another gem make it hard to get to and even more complex to test, but color can narrow the spectrum down to a smaller number of options.  Even if we don't know exactly which gemstone it is, included crystal are still a very fascinating addition.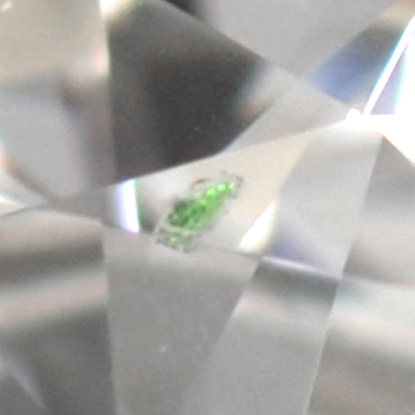 Crystal Formation
As a gemstone grows it competes with other crystals for space and nutrients. A fast-growing crystal can enclose a smaller, slower-growing crystal that then becomes part of the bigger crystal's life story. The formation and internal world of diamond is incredibly fascinating and we were very excited to come across something so unusual.  Inclusions, especially mineral crystals, can be an interesting feature within your diamond.  Many of them are very small and not viable to the naked eye, but with magnification they are very intriguing to study.
Pros and Cons of Included Crystals
Most included mineral crystals are small and unnoticeable, but a diamond's clarity and value could be affected by larger inclusions that can be seen with the naked eye. More obvious colored crystal inclusions are generally undesirable and these inclusions are usually met with negativity.  On the other hand, these additions can also make a gemstone unique.  They tell the story of the gem's birth and give each one its own fingerprint.  A small crystal could add character to a dimaond and turn it into something uniquely your own.  Your center stone would be a conversation piece for years to come, and especially appropriate if your favorite color was green!
Choose Your Diamond Today
Stop into Knox Jewelers if you're looking for something that is original and finely crafted. A little piece of art that you can wear and is different from the rest, with a personally chosen diamond to match. Let Knox Jewelers fashion the ring you will have for the rest of your life. If you happen to have any questions at all about diamonds or their clarity grade, please be sure to let us know. We're always happy to answer any questions you may have, and we look forward to working together with you to design a work of art that will last and be passed down throughout the ages. Get in touch with our friendly and professional staff today, and we'll get started on the journey to creating your very own, one-of-a-kind piece of custom jewelry.
Tags: 4 C's, Clarity Characteristics, craftsmanship, Crystal, Diamonds, Green, Inclusions, Oval, Unique | Categories: Unique Engagement Rings


---
If a gemstone has been heat treated, it simply means it has undergone some type of thermal process in order to alter or improve its appearance.  In this modern era, nearly 95 percent of sapphire gemstones are heat-treated for several important reasons. Given this widespread practice and the number of questions we've received about it, Knox Jewelers has decided to write up a special report to educate our valued clients about the process of heat treating sapphires and how these processes can best be utilized for maximum effect and benefit. There exists a wide variety of heat treatments available on the market today, and these treatments – depending upon their quality levels – can affect the price and value of sapphires in different ways.
The Heat Treatment Process
A small percentage of sapphire crystals naturally occur in the deep, vibrant shades we most desire.  Heating can take a lack-luster gemstone and transform it's color into a beautiful rare hue.  The gemstone industry utilizes heat treating in order to develop or intensify a given sapphire's natural color and texture. It can also be used to improve the clarity of a particular sapphire by removing, or at the very least reducing, inclusions. The idea behind this process is to mimic the natural processes of the earth by simulating how a sapphire might have turned out if that particular specimen had been discovered near a thermal vent in the earth.
If you have safety concerns about the heat treatment process, you can put your fears to rest. The modern heat treatment systems used by the industry are completely safe and use no radiology or chemical based techniques. All in all, it's one of the safest, most cost effective ways to improve the color and overall visual appearance of a particular sapphire stone.
The History Behind Heat Treating
For countless centuries, the human race has utilized heat treatment to improve the quality and appearance of gemstones. Although the techniques used in the past were generally unreliable and may not have always resulted in a good result, the past 100 years has seen a rapid growth in the development of these important techniques, and today they are entirely reliable and guarantee a fantastic visual result. Heating can lighten, darken, deepen or completely change a gemstone's color. Treatments can vary from simple, like holding the gem over an open flame, to complicated processes involving furnaces controlled by computers.
Shopping for Sapphire Jewelry
There are a few things to keep in mind when shopping for sapphire jewelry. There can often be major price differences in two gemstones of the same carat weight and color if one of them has undergone a heat treatment process.  There are two ways to look at the heat-treatment/stone value situation.  Treatment could transform a cloudy sapphire into a much more desirable gemstone, dramatically increasing its appeal but remaining near the same value.  On the flip side, the absence of treatment in naturally colored gemstones makes them much more valuable than treated stones.  This is because fine colored, untreated stones are rare in comparison.
Creating Your Sapphire Heirloom
At Knox Jewelers, we'd love to share our experience and knowledge of sapphires with you. Let's get started today with your very own sapphire heirloom or engagement ring! We'll work closely with you to design and craft a unique, personalized piece of jewelry that truly embodies the special meaning you desire to imbue within it. We hope to hear from you soon!
Tags: Birthstone, Custom engagement ring, Gemstones, Heat Treatment, Knox Jewelers, sapphire, Treatment | Categories: Unique Engagement Rings


---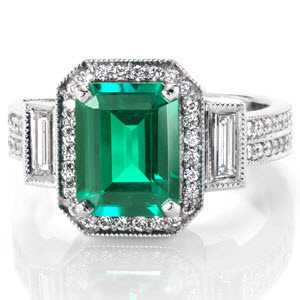 If  you're ready to begin production on your custom engagement ring you'll have a full team of world famous Knox Jeweler's craftsmen bringing your piece to life. Our designers work hand-in-hand with our production team in our Minneapolis studio to create every work of art you see on our website. We produce heirloom quality pieces that will someday be passed down to future generations.
A beautiful Emerald center-stone will only last as long as our lifetime ring designs if you wear and take care of them properly. This means not only using caution and common sense when wearing emerald jewelry, but also making sure it is cleaned and stored in a proper manner. These tips are useful for your emerald jewelry and for all fine jewelry.
Caring for emeralds starts with knowing the proper times to don your ring and when to remove it.  Do not leave your emerald rings on while doing the dishes, showering or using cleaners of any kind.   Emeralds tend to attract grease and soaps.  The gemstone's brilliance could be affected if these substances gather underneath it over a period of time. It is also wise to put jewelry on only after applying makeup, lotion, perfume or hairspray.  These products may contain chemicals that could damage the gemstone.  Your emerald center-stone could collect scratches, so it is smart to store it separately from other gemstones and jewelry.
To clean your emerald, soak the ring in room temperature water with mild soap like hand soap or Woolite.  Use a soft toothbrush to softly brush the underside of the emerald to remove the accumulation of dirt and grease.  It should then be rinsed with warm water and patted dry.  You should be able to notice a restored brightness in your gemstone.
You should not clean an emerald in an ultrasonic cleaners or steam cleaners. These may cause damage to the stone. An emerald should never be exposed to high heats. Try to avoid using strong soaps, jewelry cleaner liquids or other cleaners as most of these are not compatible with the oil treatments routinely done on emeralds. Cleanings should only be done a couple times a year.
Emeralds are majestic gemstones with a long history behind them.  Any emerald from our online gemstone list would make a beautiful center piece for your heirloom.  Our designers and gemstone buyers know exactly what to look for to help you choose a top quality gem.  With the proper care your Knox Jewelers' engagement ring featuring a vibrant green emerald will last for generations to come. Contact us today to get started on your custom design.
Tags: Care, custom, Custom engagement ring, Emerald, engagement ring, heirloom, Knox Jewelers, Unique Engagement Rings | Categories: Unique Engagement Rings


---