---
Minneapolis Minnesota Jeweler Specializing in Custom Design and Unique Engagement Rings.
---
Just what is yellow gold, exactly? Is it special or unique in some way? The answer is a resounding YES. 24k yellow gold is pure gold. It is the baseline for all forms of gold; in other words, yellow gold is what comes out of the mine. Colored golds like white gold are typically alloyed with silver, nickel, and other similar classes of metals to give it that whiteness. Rose gold's alloy is made up of mostly yellow gold and copper which results in the beautiful, warm peachy hue.
More and more of our valued customers are beginning to opt for yellow gold engagement rings, weddings bands, and more. At Knox Jewelers, we love to work with yellow gold, and we are ecstatic that it is making a come back on the market. Even yellow gold is alloyed with other metals, commonly copper and silver, to create a more durable metal for use in jewelry. Pure gold is very soft and malleable and while some pieces may be made from 24k gold, rings especially should not be made from pure gold because the daily wear and tear will be too much for it. Our favorite is 14k yellow gold because it meets the right balance between durability, cost effectiveness, and aesthetic quality. 18k makes for beautiful rings as well, as you can see in the two rings below. The higher content of gold in the alloy provides a more vibrant yellow color than the 14k gold, but it is not as durable as the 14k gold. It is also more expensive.
What sets us apart at Knox Jewelers is our commitment to ensuring you have the perfect blend of pure gold and metal alloy that balances the issues associated with both. Certain kinds of alloy blends can have issues down the road, including weaknesses in the internal structure of the piece, and a lack of ductility which can also cause many issues. That is why we are dedicated to providing you with alloys which ensure maximum durability, strength, and beauty for your jewelry.
Now that you have a good understanding of the characteristics of yellow gold, let's take a look at some of the yellow gold engagement rings and wedding bands we have created for customers at Knox Jewelers in the past. Each of these rings has its own unique style, and we hand-tailor each of our exquisite pieces exclusively for our clients. Without further ado, let's take a look at some of the stunning examples of engagement rings and wedding bands we have crafted for our customers.
Design 2627 – Inspiration from Nature
Design 2627 is inspired by the natural, fractal patterns of nature, thus evoking a sense of leaves, petals, and other organic entities. It is made of the 14k yellow gold that we described previously, and it has a side weight of .44 ct. The leaves and stem system of the ring circumnavigate the entirety of the band, and they are also accented with beautiful micro pavé diamonds and outlined with a lovely milgrain texture. To complete the natural appearance of this exquisite piece, we then add larger round diamonds to represent the iconic circular shape of the flower center.

Freyja – Intricate and Bold Beauty
Our Frejay design is an absolutely stunning piece. Its baseline material is 14k yellow gold, like our other yellow gold engagement rings and wedding bands. The centerpiece of this exquisite design is the large rare-colored sapphire. Yellow gold is perfect for bringing out the warm tones of this rare sapphire. We then added an uniquely designed halo to the center to orbit the sapphire. It is bead-set with vibrant diamonds to complement the warm tones of the yellow gold and the sapphire. Finally, the hand engraved designs and hand formed filigree curls of the piece truly make it one of our most beautiful rings.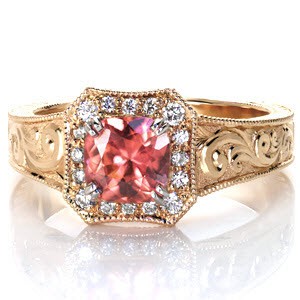 Design 3004 – Luxurious Elegance
Our Design 3004 is the pinnacle of luxury and beauty. 14k yellow gold forms the baseline material for this piece, and two concentric rings of micro pavé diamonds orbit a center stone. As you can see, the diamonds and yellow gold go perfectly together, as the yellow gold band provides a great level of contrast for the stones. Regardless of the angle at which you view Design 3004, it is bound to look stunning in every way.
As you have seen, yellow gold can be used in a variety of designs to accentuate the warm color tones of the other elements. It is perfect for both complementing and contrasting with other elements in a piece. We hope you enjoyed learning about yellow gold; please contact us if you have any questions about using it for your own rings.
Tags: Antique Engagement Rings, craftsmanship, engagement ring, Engagement rings, Unique Engagement Rings, Wedding Bands, Yellow Gold, yellow gold engagement ring, yellow gold wedding band | Categories: Ring Metal Info


---
Are you looking for a gift to complement our exquisite custom diamond engagement rings? Did you know that at Knox Jewelers we craft the finest diamond stud earrings? Well, now you do! What makes diamond stud earrings so special, anyway? The primary attribute of stud earrings is the floating appearance that they simulate on the ear or earlobe. From the frontal perspective, stud earrings lack a visible connection point between the decorative part of the earring and the post-and-back design that secures it to the wearer's ear.
This post penetrates directly through the ear and is held securely in place with a removable friction back or clutch mechanism. On occasion, we craft our stud earrings so that the post is threaded, thereby allowing a screw back to securely hold the earring in place. Another mechanism we recommend for securing earrings is known as a locking back which is equally, if not more, secure than the screw back design.
Now, a note about diamond qualities for our stud earrings: At Knox Jewelers, we recommend different qualities for earrings than we would for the center stone of an engagement ring because the ring gets more exposure and will be looked at more closely than earrings. For color we suggest using the H through J range for colors of earring diamonds. You do not need to go any higher than this, as you will be unable to appreciate a very high color from the average distance at which you perceive the studs on someone's ears. Furthermore, J will not show too many nuances of yellow as it is the very bottom of the near-colorless range. As for clarity grades, SI-1 to I-2 is optimal for earring clarity, but this also depends on the size of the studs. As a rule, the smaller the studs, the less noticeable the clarity will be.
Naturally, there are a variety of different settings which fit this paradigm, including Martini settings, Four Prong Basket settings, Bezel settings, and Halo settings. Each setting has its own unique character and appearance, but what they all have in common is the dedication we make at Knox Jewelers to creating stunning earrings. Please also note that the carat weights we have listed are the total combined weight of both studs, and there are other carat weight options beyond our examples in this blog post.
Let's take a look at some of these design styles now.
Martini
Our 2/3 ct Martini Studs feature 14k white gold, three sophisticated prongs, and look absolutely stunning on any ear.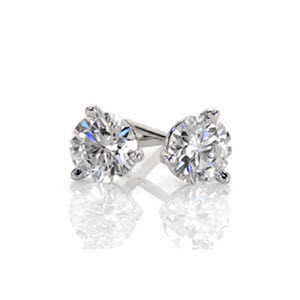 Four Prong Basket
These 1.00 ct tw round diamond studs come with a 14k white gold four-pronged basket that looks elegant and regal.
Bezel
Bezel diamond studs feature a seamless circular 14k white gold bezel that circumnavigate the entirety of the diamond setting.
Halo
Our round halo diamond stud earrings are absolutely exquisite. Gracefully orbiting the center diamond setting are numerous diamond inlets featured in 14k white gold. If you are looking to impress, then the Halo style may be the perfect match for you.
The majority of diamond studs are round, but we can hand-craft studs of any size or shape. The second-most common shapes for studs is the Princess cut. Princess diamond studs are typically square in shape and derive their name from the designs created by A. Nagy in London during the 1960's. Our .44 ct. tw. Princess Studs are a perfect example of this unique style.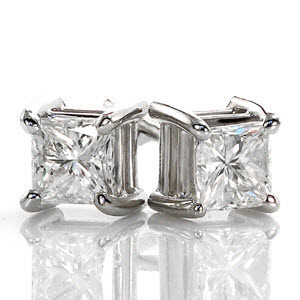 We hope you enjoyed learning more about our diamond stud earrings. If you are looking to harmonize with our engagement rings or wedding bands, have a browse of some of the past earrings we have handcrafted. We know you will find a pair that perfectly complement our other beautiful pieces, and are happy to help create a custom design if you aren't finding the perfect pair.
Tags: custom, Custom engagement ring, custom jewelry, custom wedding band, diamond earrings, Diamond Engagement Ring, diamond halo, diamond stud earrings, diamond studs, halo | Categories: Jewelry


---
It's that time of year again. The time when the snow begins to fall, when the world's major holidays occur, and when one has a valid excuse for curling up inside with a book and a cup of hot tea on a cold and windy day. But, December is also the month of the tanzanite gem – the youngest of all known gems. Though the rare crystal has long been known and used by the native Maasai people of Tanzania, it was only recently discovered in 1967 by Manuel de Souza, a professor and prospector who was searching for rubies in the region. Upon initial discovery, he and other gemstone experts had assumed the gemstone was some form of sapphire with especially vibrant properties. It wasn't until Henry B. Platt of Tiffany & Co came across it that tanzanite earned its name. So, you might be wondering what is so special about tanzanite. After all, if it was difficult for the people who discovered and named it to differentiate from sapphire, what makes it so unique? The truth is that tanzanite is in an unique class all of its own, a truth reflected by its inclusion in the birthstone list in 2002 due to its growing popularity and widespread understanding of its uniqueness.
There are many aspects of tanzanite that make this gemstone so unique and aesthetically intriguing, as well as making it the perfect December birthstone. The first aspect you will notice about a tanzanite gemstone is its alluring and very beautiful violet blue color. However, it is rare for a tanzanite freshly mined from the earth to have this intense blue color. It is a common process to heat treat tanzanite to give it the luminous color portrayed in pictures of the gemstone. This brings us to another important topic: The problems with color coating. You see, while heat treatments are a permanent change and do not have any negative impact on the stone, it has been discovered that some tanzanite gems have been coated in a thin layer of material to give them the blue and violet appearance many strive to achieve. However, these methods have come under intense scrutiny due to their unreliability. In fact, industry professionals do not recommend coating as the material applied during the process wears off very easily. That's why you should always ensure that the tanzanite jewelry you purchase is HEAT treated, not coated. Here in the United States it is required that any coatings be disclosed at the point of sale.
One of the most important steps in preparing a tanzanite gem for market is the cutting process. Tanzanite possesses a very peculiar quality that makes the cutting process more complex than usual. The gemstone is pleochroic which means if you try to view tanzanite from different angles, you will see different colors. In the case of tanzanite you will see a burgundy-brown from one angle, violet from another, and blue from the third. When the gems are heat treated it removes the burgundy-brown, creating a dichroic stone and leaving only the blue-violet colors that are so prized for this gem. Because of this dichroic property, the direction of the cutting will play a pivotal role in determining the general face-up color of the tanzanite piece, a variable which must also correspond with the financial considerations involved in cutting any gemstone. In general, cutting tanzanite so that it shows an intense blue color in its face-up position is likely to result in more weight loss than cutting it to emphasize its violet-blue color.
There are a few more considerations to take into account for customers looking to purchase one of our hand-crafted tanzanite jewelry pieces. Firstly, tanzanite is rated around 6 to 7 on the Mohs scale, making it fair to below average in durability. That's why we recommend using tanzanite in non-ring pieces such as pendants, earrings, and necklaces, as this will reduce the risk of damage occurring to the gemstone during normal, daily wear. For someone who is aware of the risks and takes care of their piece however, it makes for a stunning center stone in an engagement ring! As for carats, tanzanite is more often found in larger carat sizes which makes it a great option for the focal point of any piece. Smaller tanzanite stones tend to be less vibrant in color (while, of course, being less expensive). Finally, tanzanite can be cleaned gently with warm, soapy water and a soft tooth brush or other implement.
Make this December one to remember with a beautiful, elegant tanzanite piece. At Knox Jewelers, we are experts in crafting beautiful engagement rings, wedding bands, earrings, pendants, necklaces, and more. Choosing tanzanite for your custom jewelry is certainly a unique experience, and we would love to help you through the process and choose a beautiful tanzanite gemstone for your next idea. Please feel free to get in touch with us if you have any questions at all about these beautiful gemstones, and happy holidays from everyone at Knox Jewelers!
Tags: Antique Engagement Rings, birth stones, craftsmanship, custom birthstone jewelry, Custom engagement ring, tanzanite, Unique, Unique Engagement Rings | Categories: Unique Engagement Rings


---
Pear engagement rings come to us from a long lineage of diamond cutting styles, stemming all the way from the late Middle Ages. In the beginning, diamonds and other gemstones were typically used in their natural octahedral states. Over time, jewelers developed different techniques for forming diamonds into unique and symmetrical shapes, including pear shapes. Although the initial diamond cuts produced by European jewelers were quite crude, their techniques began to evolve steadily over time, thus leading to the work of a very important Flemish jeweler known as Lodewyk van Berquem.
Lodewyk van Berquem was the first artisan to introduce the applied concept of absolute symmetry by utilizing his hand-made scaif device to form stones into a shape that was historically known as the pendeloque shape, also then known as the briolette cut. This cut was the prototypical ancestor of the pear cut center diamonds we offer at Knox Jewelers today. This cut was extremely popular during the Victorian era in Europe due to its symmetry, refinement, and inherent beauty, all of which are characteristics found in the modern pear engagement rings we offer in the present era. Pear cuts are especially prized for their elegance, and we are very proud to offer a line of beautiful rings of this form hand-crafted by our in-house artists.
As you might imagine, there are almost an infinite number of ways to customize these rings, and at Knox Jewelers we offer them in a great variety of unique styles, each of which has its own individual character and spirit. The best way to discuss the different customization options and styles available for you to choose from is to talk about the actual rings that we have made in the past. Without further ado, let's take a look at some of the high quality engagement rings we have custom designed for our valued customers.
To start, let's take a look at our Pear Cielo engagement rings. This beautiful design features 14k White Gold and a 1.00 carat pear cut center diamond surrounded by a luxurious, micro pavé adorned halo. This ring is an example where the diamond takes center stage in the piece. All other elements of the ring orbit around the center diamond, thus drawing the eye toward it. Its teardrop shape that is customary of pear cut diamonds gently moves the eye around the remainder of the piece, thereby drawing in all of its unique and pristine elements.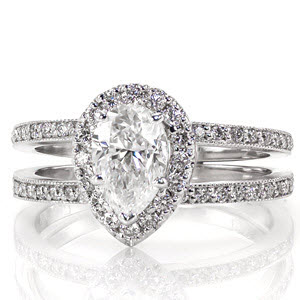 Another exquisite design we offer is our Design 2545 engagement ring. This pear engagement ring features a beautiful 1.50 carat full bezel set pear cut diamond with a beaded milgrain edge that accentuates the center stone. The 14k yellow gold provides a striking and beautiful contrast with the center diamond. The geometric design of the ring incorporates smooth but linearly inspired curves to give it an organized and ornate appearance. All of the elements of the antique inspired piece are oriented around the center cut diamond, though other stones can also be incorporated into the center.
Of course, pear cut center stones are not the only configuration we have available. Additionally, we also offer diamond rings in a side stone configuration. Our Venus engagement ring, in particular, is a beautiful example of the side stone settings. The center gemstone of the Venus ring is the primary focus of the piece. Branching off from the center stone are two pear shaped diamonds which flow with the two rows of micro pavé that circumvent the entirety of the ring. Our Venus engagement ring showcases the beauty and intricacy of side stone pear cut diamond settings.
At Knox Jewelers, beautiful designs are the lifeblood of our business. Our pear engagement rings hold within them a long history of beautiful craftsmanship, tradition, and elegance. Of course, the pear engagement rings we have listed in this post are just the tip of the ice berg: We offer a huge variety of uniquely hand crafted engagement rings that incorporate pear cut diamonds in both center and side stone configurations. We hope that you will take a very close look at our exquisite selection of these expertly crafted rings. Naturally, if you have any questions at all about our pear engagement rings, please do not hesitate to contact us. We look forward to designing the perfect ring for you!
Tags: Antique Engagement Rings, Custom engagement ring, Filigree Engagement Rings, hand engraved engagement rings, Micro Pave engagement rings, Pear cut center stone, Pear cut diamond, Pear Engagement Rings, Sapphire Engagement Rings, Unique, Vintage Engagement Rings | Categories: Unique Engagement Rings


---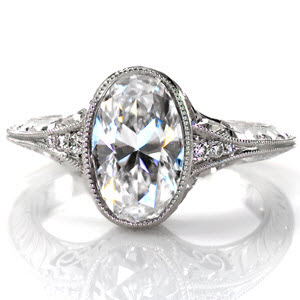 At Knox Jewelers, we take great pride in designing our premium engagement rings and wedding bands. We incorporate our signature design elements, including hand engraving, hand-formed filigree, and milgrain detailing in addition to our outstanding hand-cut stone settings. Our brilliant and talented jewelers take great pride in putting tender, loving care into each and every one of the pieces we produce, and we guarantee that you will find nothing in our inventory but the highest quality jewelry.  As the year draws to a close we like to look back on the rings that were most admired and most requested. Without further ado, here are Knox Jewelers' top ten most beautiful rings of 2014:
10. Winter Water Band – Etched
Starting with number 10, we have our beautiful Winter Water Etched Bands. Our jewelers use the traditional Japanese techniques of Mokume Gane to create the distinctive curves and patterns of this exquisite band. It is truly a stunning work of art and one of the most unique rings we offer. If you are looking for a ring that bridges the gap between the traditional and the modern, the Winter Water band is for you.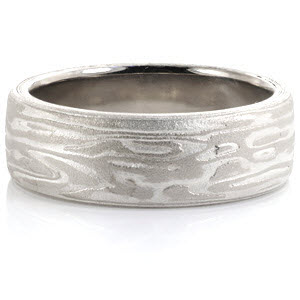 Here are some variations of this artistic Mokume Gane design:
9. Motion
Our talented artists crafted our Motion rings to evoke a sense of spiraling movement. The focus point of this movement is its center gemstone, thus giving our Motion rings an absolutely exquisite aesthetic. Your eyes will be drawn from the beautiful spiraling contours all the way to the center stone.
Here are some variations of our elegant  Motion design:
8. Centurion
For those individuals searching for a precision-crafted, elegant wedding band which calls to mind the grace and sophistication of its namesake, our Centurion rings are the perfect match. A round band of 14k rose gold circumnavigates an outer layer of 14k white gold, thus giving our Centurion band a unique and stylish design.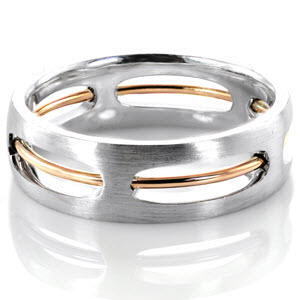 7. Caledonia
If you are seeking a remarkable ring which incorporates a highly complex, fractal design, then look no further than our beautiful Caledonia. This ring uses intricate filigree curls and diamonds to weave a beautifully elaborate design that is sure to impress anyone who has the honor of catching a glimpse of it.
Our stunning Caledonia has inspired some wonderful variations:
6. Bonita
Is there Amor in the air, Señor? If so, you ought to know that our Bonita ring will perfectly capture it with its vintage-inspired design. Hand formed filigree curls and hand engraving make this piece one of our most lovely and intricate rings. We think you will agree that it is truly "Bonita!"
This elegant design has lovely variations:
5. North Star
Antique inspired patterns and engravings are intertwined in our North Star band with micro pavé diamonds all oriented about a .50 carat round center gemstone set in a delicate, exquisite eight prong setting. To add additional sparkle, the design is framed with a fine milgrain detail.
Here are some variations of this sparkling beauty:
4. Jolie
Passers by won't be able to resist sneaking a glance at our head-turning Jolie. With a a 1.25 carat round center diamond and diamonds wrapped almost all the way around the circumference of the ring, our Jolie band is stunning and absolutely certain to turn heads. Like many of our other band designs, our Jolie rings can be made for any type, shape, or size of center stone.
Small changes can create unique variations of any design:
3. Venita
Venita takes some of the ideas of Jolie and goes all out with a 1.50 carat cushion cut diamond. This ring is available exclusively in platinum, and we think you will agree with us that it is simply extraordinary. The double claw prongs in each corner add a sophisticated detail to the halo, and we hand carve the V-cut setting of micro pavé diamonds to fit each diamond and the area around it, thereby creating a seemingly endless row of diamonds.
The Venita has inspired beautiful custom variations:
2. Rachel Lily
The centerpiece of our Rachel Lily design is its stunning 1.50 carat oval cut diamond. Combined with its hand engraved sides and the diamonds and filigree in its basket, the Rachel Lily band is one of our most exquisite and beautiful pieces. Best of all, our Rachel Lily design can be made for any type, shape, or size of center stone.
The Rachel Lily was actually created as a custom version of our Marseille Design:
Some other variations of these two antique inspired designs are:
1. Rebecca Kristine
And, finally, coming in at number 1 on our list is our lovely Rebecca Kristine. The beauty of this antique inspired band is beyond words. Each part of this gorgeous ring is crafted with tender, loving care and intimate attention to detail. Scrolling filigree adorns the circumference of the band, and beautifully faceted diamonds decorate each and every angle of the platinum metal elements. The yellow 18k gold elements have been detailed with astonishing and intricate relief hand engraving to make Rebecca Kirstine one of the most beautiful and stunning pieces in our entire collection.
Two variations of this gorgeous ring are:
Tags: Antique Engagement Rings, Custom engagement ring, Engagement rings, Filigree Engagement Rings, hand engraved engagement rings, Micro Pave engagement rings, Platinum, Wedding Bands | Categories: Unique Engagement Rings


---