---
Minneapolis Minnesota Jeweler Specializing in Custom Design and Unique Engagement Rings.
---
Hand engraving on jewelry and other metal objects is a very specialized art form in and of itself and when skillfully placed on an already high quality ring, can make for an absolutely unique and heirloom quality piece of jewelry.
The actual engraving is done with an extremely sharp tool called a graver. The graver is used to carefully carve a pattern or design into the metal, leaving no room for error. The artisan that does the hand engraving will have various sizes, shapes, and angles of gravers that they use for different effects/designs. The cutting into the metal with the graver is often (but not always) facilitated by small hand held pneumatic devices that are essentially small pneumatic hammers.
What is Cast in Place engraving or CAD-CAM engraving?
It is important to differentiate between actual hand engraving and the much more commonly found cast in place engraving or CAD-CAM engraving in which a design or pattern is placed in the wax or prototype of the item being cast to give the look or effect of hand engraving.
Here are a few examples of cast in place engraving or CAD-CAM engraving.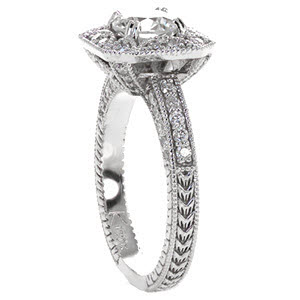 Example #1 of cast in place 'engraving'

Example #2 of cast in place 'engraving'

Example #3 of cast in place 'engraving'
Is it possible to tell the difference between hand engraving and cast in place engraving?
The quick answer is no, a novice may not always be able to tell the difference.
While even a novice may be able to tell the difference between extreme examples from both methods, (the example photos used here are classic examples of the representative methods) please note that there will be many examples from both methods that may be virtually indistinguishable from each other when looking at merely photos, especially to a novice.
That said, the predominant indication of cast in place/faux engraving will be a 'smoothed out' or 'polished down' look to the detailing in the pattern as opposed to a much sharper or crisper pattern in hand engraved designs.
Here are a few examples of actual hand engraved engagement rings. Notice the sharpness and crispness of the detailing in the patterns.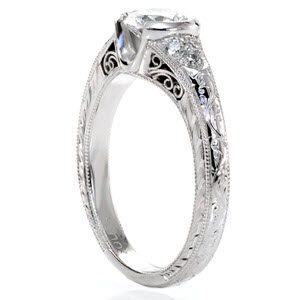 Example #1 of a hand engraved engagement ring design

Example #2 of a hand engraved engagement ring design

Example #3 of a hand engraved engagement ring design

Example #4 of a hand engraved engagement ring design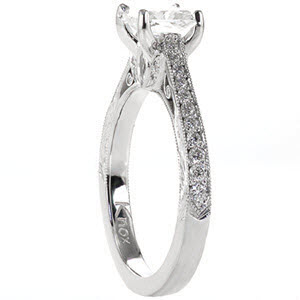 Example #5 of a hand engraved engagement ring design
Please visit our web site here:

Tags: hand engraved, hand engraved engagement ring, hand engraved engagement rings, hand engraving, Unique | Categories: Jewelry, Unique Custom Design Engagement Rings


---
Unique Engagement Rings
What exactly is filigree?
Filigree is fine and delicate ornamental work done in platinum or gold wire.
Filigree can be located on the shank or crown portion of the ring. It can be used as a main, accent, or complementary design element. By definition, filigree is wire work done by hand.While it's very common to see mass produced pieces with cast in place filigree, only true hand wrought wire can be considered as such. Hand curled filigree is an extremely skilled and tedious task as the wire used is often under half of a millimeter or the thickness of 3-4 pieces of paper. It takes a steady hand in welding wire to a ring and is often done under a 10X microscope to ensure proper contact and alignment.
The design pictured above uses filigree to hold several very light blue ceylon sapphires.
Tags: antique, Engagement, filigree, Rings, Unique | Categories: Jewelry


---
I see and hear of this occasionally, it even happened to me once when we cleaned a 1.00 ct F color Princess cut with the last few rusty bursts of dirty steam from an aging steam cleaner.
The F color diamond suddenly looked like a J/K color with no obvious dirt or minerals showing on the diamond.
My theory is that the iron (rust) has an affinity for the diamond and sticks to the surface and/or in the hollowed out area of the prongs that are designed to protect the corner of the princess cut diamond. With even a trace of dirt or minerals contacting the princess cut diamond, the diamond will look noticeably tinted.
Here is what I do to remedy this problem, I use alternating baths in a pickle solution (heated acid bath) and heated ultrasonic along with a steam cleaner to help steam out any particles etc. This process takes patience, as it takes much more time and repeated cycles of the process than an ordinary cleaning.
As a home solution, you could maybe try some more soaking in vinegar or even a CLR (calcium,lime rust) type cleaner as long as it does not have any chlorine in it (bad for gold)
| Categories: Jewelry


---
CAD = computer aided design

CAM = computer aided manufacturing
CAD software allows designers to build a design in the exact three dimensional (3-D) geometry and dimensions desired. The beauty of using this software for customers is being able to see exactly how a proposed custom design will look before any ring is cast in the metal or before any stones are set in the metal. The software we use (Matrix by Gemvision) can generate photo-like renderings of jewelry items from every potential angle and can even be used to make a moving video of a jewelry design.
Once the design is completed in the software there are several methods to use CAM to produce an exact 3-D model from various medias than can then be directly casted into precious metal.
The technology is a perfect fit for the jewelry industry as the models made by the various CAM methods provide a much higher level of precision and symmetry than all but the very top level wax carvers (artisans that carve wax models for casting by hand)
Also, the cost for these CAM models are often quite less than having comparable models made by hand.
Nearly all of the big manufacturers and designers are using the technology and it would appear that is just a matter of time until it truly dominates the industry.
Here is a quick explanation of a couple CAM methods:
A common method used to create wax models is a CAM (Computer Aided Manufacturing) Milling System. This machine receives the model's geometry information and drills out each and every detail. This system is very precise and accurate and the wax models milled can be directly cast into metal.
Another method used is a 3-D Grower. This CAM technology prints ultra-small layers of resin on top of one another until the model is finished. A laser follows the printing of each layer to harden the resin. The result is a very accurately detailed piece. These models can also be directly cast into metal.
| Categories: Jewelry


---