---
Minneapolis Minnesota Jeweler Specializing in Custom Design and Unique Engagement Rings.
---
We receive calls and emails from around the world inquiring about our unique wide wedding bands and unique engagement band designs. The ring designs that generate the most inquires tend to be wider than average designs. Some have center stones, like the cushion cut diamond, while others do not. All are singularly unique in their design and are meticulously and expertly hand crafted from the ground up. We feel these two facts combined help our wedding rings (especially signature designs such as these) stand out from more conventional wedding band or engagement ring styles. In fact, many of these unique rings would translate well as a right hand ring or anniversary band.
We wanted to have an article in our journal that featured some of these wide wedding ring designs along with a little info about each ring. Please note that the images are linked (when possible) to additional photos/videos of the design.
Let's start with a design that features a wide ring design with an Asscher cut center diamond along with sky blue sapphires set in the filigree between the two diamond pave set outside rails of the ring.
Here are other versions of this beautiful, unique, wide wedding ring:
Shown with a princess cut center diamond and deeper blue sapphires set in hand made filigree.
This unique wide wedding ring is shown with a radiant cut center diamond and rich green natural emeralds set in hand made filigree.
This engagement ring is shown with a princess cut center diamond and bead-set micropave diamond rails. Some of the filigree scrolls have diamonds set in them
This next wide wedding ring was a real labor of love for our artisans and we think this fact 'shines through' in the beautifully intricate detailing of the unique ring design. This is one of our wider ring designs at approximately 15mm
Since our original "Caledonia" design was created we've had a few custom versions made with center diamonds and sapphires.
Here are two versions of our Dolce design. A very unique wide wedding ring, set with fancy colored diamonds in two tone gold to accentuate the diamond color.

Here is our "Dolce" wedding ring set up with fancy yellow diamonds in 18k Yellow Gold with 18k White Gold.
Here is Dolce set up with fancy pink diamonds in 14k Rose Gold.
This is another unique wide wedding ring with an open pattern flower, leaf and vine motif.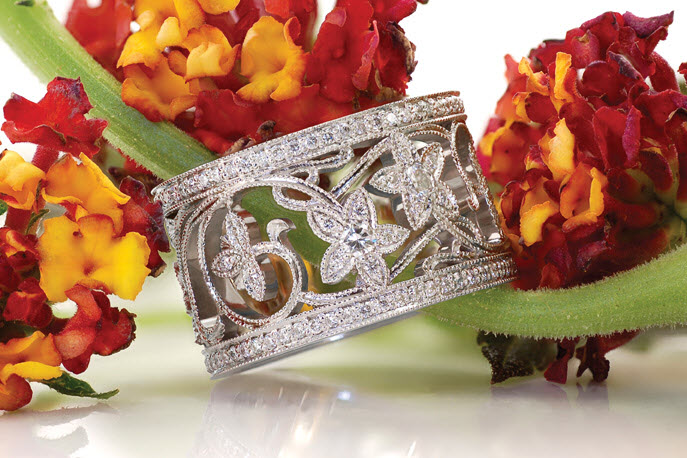 Here is our "North Star" Design… A very vintage style engagement ring when set up with a center diamond. Or can be used as an engagement or anniversary band (right hand band).

"North Star" with a low set center diamond.

Our Original "North Star" Wedding Band.
Allamanda features a flowing leaf and vine pattern. Set with several smaller round diamonds, this ring would also make a lovely right hand ring.
The following engagement ring was a big favorite when it came through the shop. The interplay of the deep blue sapphire with the bright white of this polished white gold makes for a stunning contrast. Similar to Allamanda, this unique ring features an organic leaf pattern.
The wedding ring below was created using 18kt white gold and 18k yellow gold. To truly appreciate the craftsmanship on this wedding ring, click on the photo to see other views, as well as a video.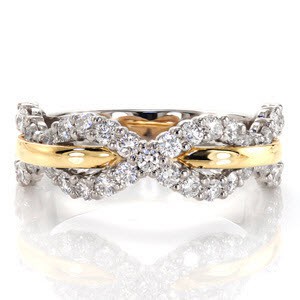 Tags: anniversary band, filigree, hand engraved, Rings, Unique, Wedding ring, wide anniversary band, wide wedding band, wide wedding ring | Categories: Unique Wedding Rings


---
Unique Engagement Rings
What exactly is filigree?
Filigree is fine and delicate ornamental work done in platinum or gold wire.
Filigree can be located on the shank or crown portion of the ring. It can be used as a main, accent, or complementary design element. By definition, filigree is wire work done by hand.While it's very common to see mass produced pieces with cast in place filigree, only true hand wrought wire can be considered as such. Hand curled filigree is an extremely skilled and tedious task as the wire used is often under half of a millimeter or the thickness of 3-4 pieces of paper. It takes a steady hand in welding wire to a ring and is often done under a 10X microscope to ensure proper contact and alignment.
The design pictured above uses filigree to hold several very light blue ceylon sapphires.
Tags: antique, Engagement, filigree, Rings, Unique | Categories: Jewelry


---
I thought I would post a little look behind the scenes with a unique custom engagement ring in progress.
Our local customer wanted a custom version of our "Passion" design, shown below in the first four pics. It is a very unique ring design with channel set carre cut (square step cut) diamonds and round micro pave diamonds covering nearly every available area.? This unique engagement ring also features hand wrought filigree.
We needed to start from scratch as we needed the new ring to fit a 1.50 carat radiant cut diamond ( the original Passion design was designed for about a 3/4 carat asscher, princess cut or radiant cut)
Here are a few photos of the larger version of our 'Passion" design in our 3-D software. This software provides the ultimate in "What You See is What You Get" technology as you will soon see later in this thread.
Notice the red areas on the under side of the shank and halo elements. These areas will become the sprues or inlet areas for the molten metal during the casting process.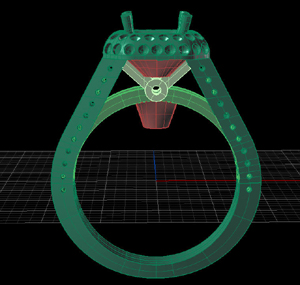 Once the design is completed in our 3D software, an actual physical prototype of the design is made that can be cast into metal. The results of casting process give us a raw casting of the design, from which, our artisans begin their magic.
Here are a couple photos of the raw casting.
Notice how many sprues ( the inflow areas for the molten metal) we built into the design to facilitate a complete casting in the casting process. This is a very important step in the manufacturing process. It allows for uniform filling of the model in the casting process, which makes for problem free castings with no porosity issues or problems that could detract from the durability and longevity of the finished ring.
The raw casting must be prepared for stone setting by filling off the sprues and generally cleaning up the lines of the mounting.
Although it does not look like it, the ring is actually 18 karat white gold, I know it looks yellow in the photos but the metal is not that yellow in real life.
I think it is a combination of the very off white color of 18KWG combined with less than optimal camera settings, lighting, etc.
Most of the starter holes in the casting will need to be opened up some more for the diamonds to fit correctly.
The little beads (prongs) that will hold each little round diamond have to be formed by hand. This is very time consuming to do at the quality level we want on these designs.? This type of setting is called pave or micropave.
Here are a few more pics of the ring at about half way stage of completion.
The platinum filigree was added on the inside of the ring.
Approx 1/2 of the small round diamonds are set
One channel of the Carre cuts are channel set.
Still a lot of work to go…
Once all the diamonds are set, all of the refining of the details and finishing touches must be applied.
Just the diamond setting labor (not counting design work, prototyping, casting) for a ring with this level of hand work will have approx 32 man hours of labor when finished.
After the diamonds have been set, the goldsmith will start to form borders around the diamonds (bright cutting) as well as preparing the intended areas of the ring design for milgraining.
Well done milgraining by hand is very time consuming as the diamond setter must first form a sharp ridge or rail (see red arrows in examples 1 & 2) around the area where the diamonds are set.
This cutting or forming of the ridge (or simply a border in some cases) is called bright-cutting, as the goldsmith uses a sharp tool (graver) to form a pointed ridge or rail that will later be worked or formed down into a beaded edge (mil-graining) using a mil-grain tool.
As usual the trick to anything that is well done is in the preparation.
Finally, after all the diamonds are set and the borders around the diamond sections are carefully formed by hand (brightcut) and the bright-cutting of the rails for mil-graining are completed, the ring is meticulously polished and prepared for the final step in the process which is the mil-graining.
Here are the final pics of the completed ring:

Here is the link the ring's product page on our website which has a Hi-Def Video of the ring.
Tags: antique, Asscher, carre, carre´, channel set, channel setting, Custom engagement ring, custom ring, design, filigree, Micro Pave, mil grain, mil graining, pave, ring, square baguette | Categories: Custom In Progress


---