---
Minneapolis Minnesota Jeweler Specializing in Custom Design and Unique Engagement Rings.
---
Emerald cut engagement rings are stunning, beautiful, and unique, and we are proud to offer them at Knox Jewelers. Why should you consider an emerald cut center stone over the plethora of other options available to you? For one, rings with emerald cut center stones are popular among the powerful and famous, including Camilla Parker Bowles (wife of Prince Charles), Grace Kelly (fiancée of Prince Rainier), and Melanie Knauss (fiancée of Donald Trump). The emerald cut is an elegant cut which incorporates a stepped square stone with cropped corners in order to reduce light dispersion and brilliance. Let's take a closer look at this cut now and show you just how versatile and lovely it can be in any context or design.
The History of the Emerald Cut

Originally, the emerald cut was designed – unsurprisingly – as a special way to cut emeralds in order to address the issue of inclusions that emeralds naturally have. However, as time progressed, the emerald cut found its way into use with other stones, too, including diamonds. Today, the emerald cut is widely regarded as bold, elegant, and striking- all of which are attributes we strive to imbue within our own designs at Knox Jewelers. And, as we'll discuss shortly, we've taken this classic cut in innovative new directions.
The Advantages of the Emerald Cut
The emerald cut has a number of valuable properties which make it a great and versatile choice for those customers looking to incorporate elements of nobility and boldness in their engagement ring for that special someone. What makes an emerald cut stone so versatile is its ability to be placed in almost any context and still look amazing and harmonious with the other elements of the ring. For instance, it is not rare to see an emerald cut center stone crafted in conjunction with such features as micro pave and halos, to name a couple.
Customization Options
To that end, we offer an almost unlimited variety of customizations options for your emerald cut engagement ring at Knox Jewelers. To best show you the variety of options available to you, let's take a close look at some of the engagement rings we have designed for our customers.
Emerald Cut Whisper – Hand Engraved Emerald Cut Beauty
A stunning example of a hand engraved solitaire we have designed in the past is our Emerald Cut Whisper ring. This beautiful design features a hand engraved pattern reminiscent of wheat that gently guides your eye to the luxurious .65 ct emerald cut center diamond.
Design 1158 – A Stunning Emerald Cut Sapphire
Naturally, you are not limited to emeralds or diamonds when it comes to the emerald cut. Our lovely Design 1158 is a striking variation of our Lucille design which swaps the center diamond for a gorgeous sapphire that truly gets the spotlight on this platinum-based ring.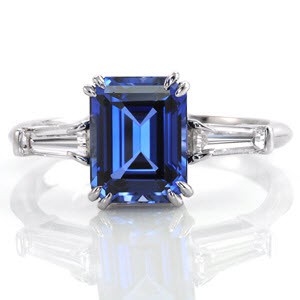 Design 1857 – An Exquisite Combination
We are quite fond of micro pavé stones, here, and Design 1857 takes our fondness for them to an entirely new level. This exquisite ring evokes a sense of nobility and pride due to the .80 ct emerald cut diamond that is framed in a four prong setting. Micro pavé stones are present all along the exterior of the 14K white gold band. This design truly exemplifies the versatility of an emerald cut stone.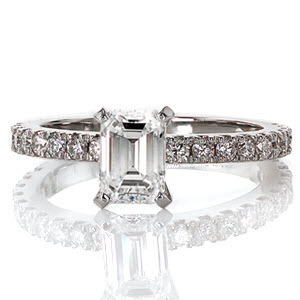 Design 2754 – A Lovely Halo-framed Emerald Cut Stone
The final ring we want to showcase is our brilliant Design 2754. As we said before, an emerald cut center stone can be used in just about any kind of context, including within a halo arrangement. In this piece, a 1.00 ct emerald cut emerald is embedded within an Art Deco-inspired micro pavé halo and shoulder detail. No matter the surrounding elements, an emerald cut stone is guaranteed to both enhance those elements as well as look fantastic all on its own.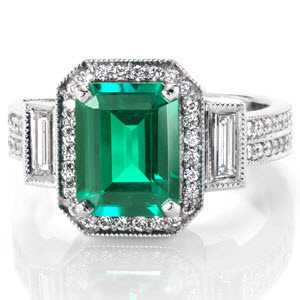 We're Here to Help!
If you are interested in incorporating an emerald cut center stone in an engagement ring for that special someone, then please do not hesitate to contact our friendly staff here at Knox Jewelers. We would be thrilled to discuss the options available and how best to utilize this remarkable cut in a stunning piece just for you. We'll explore different customization options, including band types, engravings, and more. We look forward to working together with you to design a unique emerald cut engagement ring!
Tags: Antique Engagement Rings, craftsmanship, custom, Custom engagement ring, Diamond Engagement Ring, diamond halo, Emerald Cut, Emerald Cut Diamond, Emerald Cut Emerald, Emerald Cut Engagement Ring, Emerald Cut Sapphire, engagement ring, Engagement rings, Filigree Engagement Rings, halo, hand engraved, hand engraved engagement rings, Micro Pave, Micro Pave engagement rings, Platinum, quality, Rose Gold, Sapphire Engagement Rings, Unique, Unique Engagement Rings, Vintage Engagement Rings, White Gold, Yellow Gold | Categories: Unique Engagement Rings


---
Pear engagement rings come to us from a long lineage of diamond cutting styles, stemming all the way from the late Middle Ages. In the beginning, diamonds and other gemstones were typically used in their natural octahedral states. Over time, jewelers developed different techniques for forming diamonds into unique and symmetrical shapes, including pear shapes. Although the initial diamond cuts produced by European jewelers were quite crude, their techniques began to evolve steadily over time, thus leading to the work of a very important Flemish jeweler known as Lodewyk van Berquem.
Lodewyk van Berquem was the first artisan to introduce the applied concept of absolute symmetry by utilizing his hand-made scaif device to form stones into a shape that was historically known as the pendeloque shape, also then known as the briolette cut. This cut was the prototypical ancestor of the pear cut center diamonds we offer at Knox Jewelers today. This cut was extremely popular during the Victorian era in Europe due to its symmetry, refinement, and inherent beauty, all of which are characteristics found in the modern pear engagement rings we offer in the present era. Pear cuts are especially prized for their elegance, and we are very proud to offer a line of beautiful rings of this form hand-crafted by our in-house artists.
As you might imagine, there are almost an infinite number of ways to customize these rings, and at Knox Jewelers we offer them in a great variety of unique styles, each of which has its own individual character and spirit. The best way to discuss the different customization options and styles available for you to choose from is to talk about the actual rings that we have made in the past. Without further ado, let's take a look at some of the high quality engagement rings we have custom designed for our valued customers.
To start, let's take a look at our Pear Cielo engagement rings. This beautiful design features 14k White Gold and a 1.00 carat pear cut center diamond surrounded by a luxurious, micro pavé adorned halo. This ring is an example where the diamond takes center stage in the piece. All other elements of the ring orbit around the center diamond, thus drawing the eye toward it. Its teardrop shape that is customary of pear cut diamonds gently moves the eye around the remainder of the piece, thereby drawing in all of its unique and pristine elements.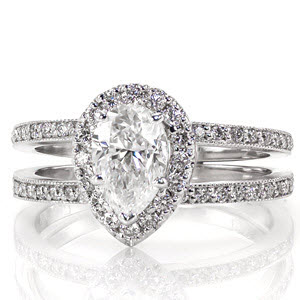 Another exquisite design we offer is our Design 2545 engagement ring. This pear engagement ring features a beautiful 1.50 carat full bezel set pear cut diamond with a beaded milgrain edge that accentuates the center stone. The 14k yellow gold provides a striking and beautiful contrast with the center diamond. The geometric design of the ring incorporates smooth but linearly inspired curves to give it an organized and ornate appearance. All of the elements of the antique inspired piece are oriented around the center cut diamond, though other stones can also be incorporated into the center.
Of course, pear cut center stones are not the only configuration we have available. Additionally, we also offer diamond rings in a side stone configuration. Our Venus engagement ring, in particular, is a beautiful example of the side stone settings. The center gemstone of the Venus ring is the primary focus of the piece. Branching off from the center stone are two pear shaped diamonds which flow with the two rows of micro pavé that circumvent the entirety of the ring. Our Venus engagement ring showcases the beauty and intricacy of side stone pear cut diamond settings.
At Knox Jewelers, beautiful designs are the lifeblood of our business. Our pear engagement rings hold within them a long history of beautiful craftsmanship, tradition, and elegance. Of course, the pear engagement rings we have listed in this post are just the tip of the ice berg: We offer a huge variety of uniquely hand crafted engagement rings that incorporate pear cut diamonds in both center and side stone configurations. We hope that you will take a very close look at our exquisite selection of these expertly crafted rings. Naturally, if you have any questions at all about our pear engagement rings, please do not hesitate to contact us. We look forward to designing the perfect ring for you!
Tags: Antique Engagement Rings, Custom engagement ring, Filigree Engagement Rings, hand engraved engagement rings, Micro Pave engagement rings, Pear cut center stone, Pear cut diamond, Pear Engagement Rings, Sapphire Engagement Rings, Unique, Vintage Engagement Rings | Categories: Unique Engagement Rings


---
There is something quite magical about falling so deeply in love with someone that you want them to be your partner for life. In fact, this type of love can be so intense, it may feel like no words could adequately describe just how special this person is to you. This is why a truly unique engagement ring can sometimes express what's in your heart better than any words you could ever speak! Moreover, these rings serve as a constant and beautiful reminder to your significant other of just how extraordinary they are to you.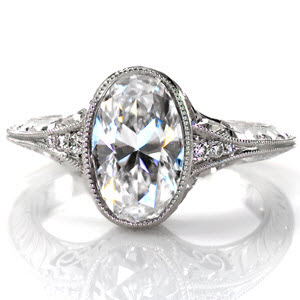 Unique engagement rings come in many different varieties ranging from antique engagement rings to sapphire engagement rings to contemporary engagement rings. You may also want to design your own ring with customizations such as filigree and hand engraving. Designing your own rings can also give you the best of both worlds. For example, some couples prefer to design their own brand new rings because of the superior materials and techniques used in modern rings but are still drawn to the styles of vintage engagement rings. In this case, it is possible for the couple to create a vintage style ring but still have the higher quality workmanship and materials of a modern ring. Below, you will find a discussion on several types of unique engagement rings. Hopefully, this will help you generate some good ideas for your own ring!
Filigree Engagement Rings
If you and your partner are drawn to antique engagement rings and vintage engagement rings, you may want to design your own ring with filigree. Filigree is delicate wire work featuring intricate details and is more common in antique engagement rings and wedding rings. Filigree reached its peak in popularity during the late 1800s and early 1900s. If you have a family heirloom engagement ring passed down from your Grandmother, or perhaps even your great-Grandmother, there is a relatively high probability that you'll find some filigree work in the design of this heirloom ring. Custom-made filigree engagement rings can never be copied exactly since the filigree work is all done by hand and it is extremely detailed. Filigree can be done in silver, gold, platinum, or a combination of these precious metals. The beautiful art of filigree traces back to the ancient Greeks and Romans but they were not the only cultures creating these delicate curls of metal. Archaeologists have also found intricate filigree metalwork in artifacts from ancient China and India. If you visit historic museums, you can often find examples of filigree rings and other jewelry from these cultures and see how skilled their artists were to be able to make such masterpieces.
Standard Bright-cut Engraving
With standard bright-cut engraving, a polished graver point is used to make engraving cuts that look polished, i.e. "bright." This is the most common style of hand engraving.
Relief Style Engraving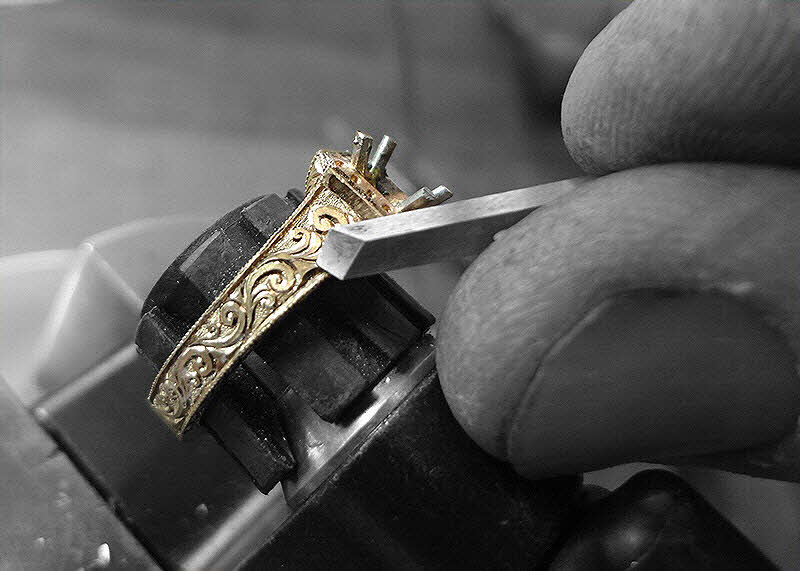 With relief style engraving, the background metal is cut out so that the designs appear to project above the surface of the background metal (think of the raised mountains on a graphic relief map). This can be done in high relief, medium relief, or low relief, depending on your preferences so be sure to look at multiple examples before you make up your mind. The background metal in relief style engraving is also stippled. This type of engraving is more labor intensive to produce than standard bright cut engraving so it is more expensive.
Sapphire Engagement Rings
Sapphire engagement rings are a vibrant alternative to the more traditional, neutral toned diamond engagement rings. Sapphire is a very durable gemstone and will stand up to everyday use just as nicely as diamonds do. Sapphire comes in a variety of amazing colors beyond the beautiful blue that most people think of. Sapphire also comes in white, red, pink, yellow, orange, peach, green, and even purple! Something that many people don't know about red sapphires is that they are also called rubies, and these luscious red gems make for truly regal pieces of jewelry. Adding color to an engagement ring is a fun way to create a mesmerizing piece that will truly stand out on your partner's hand. You can choose your partner's favorite color or choose a color based on a significant shared memory. Sapphire stones also mix well with diamonds and engagement rings containing sapphire stones can be used for a "layered look" to be worn with a more traditional wedding ring.
Design Your Own Ring
Designing your own engagement rings with your partner is an extraordinary and exciting process. You'll create special memories that will last a lifetime and the experience will bond you even closer together as you make all the necessary decisions. While this is reason enough to design your own ring, when the ring is finished, you will also end up with a highly customized engagement ring that will follow you and your partner everywhere you go. It is something you can share with your family and friends, and potentially your children as well. In fact, your personally designed custom engagement ring becomes a one of a kind original heirloom you can pass down through the generations of your family along with the story of your love.
If you'd like an old-fashioned look, or even something historic, you can bring in pictures of antique engagement rings and vintage engagement rings you like and share these with your designer. Some couples prefer to come up with a design that matches their cultural heritage. You may also want to combine two or more traditional cultural styles into one ring if you and your partner have a mixed heritage.
If you and your partner prefer a more sleek, modern look, you can still custom create your engagement ring from inspiration images or from combining your favorite details. When you design your own ring, you automatically have the amazing benefit of being able to combine the different elements you love most into one single ring! You can also incorporate elements most liked by each partner into a single style ring. In this way, your ring design becomes a collage of your tastes and preferences — a constant symbol of your union.
Rose Gold Engagement Rings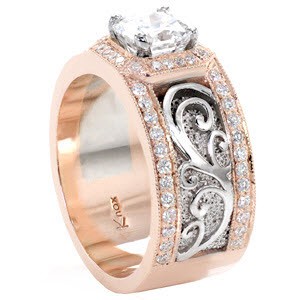 If you or your partner are set on having diamonds for your gem stones but still want to use color in your rings then consider changing the metal of your design to rose gold. With rose gold engagement rings the warm hue of the peachy-pink colored metal provides a luxurious twist on the cool tones of white gold or platinum. Rose gold is quickly gaining popularity with those who want to create a unique ring because it makes an impressive statement without being too ostentatious. Of course if you love color then you can also combine a sapphire gemstone with a rose gold band to create a magnificent piece that truly reflects your personality. Rose gold can also be used in combination with other precious metals as either the main color or as an accent.
Mokume Gane Engagement Rings
Mokume Gane is a tantalizing option for adding detail to the band of a ring and this type of metalwork goes back more than three centuries. Mokume Gane has its origins in 17th century Japan (1600s), during the heyday of the Samurai. The term "Mokume Gane" translates into "wood grain metal," although it is actually a composite of different colored metals that are fused under high pressure and high heat until the jeweler can work with it as one solid piece. The different colors of the metals interwoven together gives the Mokume Gane design a wood grain-like appearance. This beautifully crafted metal composite was originally used to decorate the swords of the great Samurai warriors, but over time Mokume Gane was also incorporated into jewelry. There are different types of patterns that can be achieved when creating Mokume Gane but the classic wood grain and a star burst pattern are two of the most common. Any engagement ring or wedding band created with Mokume Gane details will be one of a kind because each billet of the composite is created by hand which means every pattern ends up being slightly different than others of the same type.
Wide Engagement Ring Bands
Extra wide bands give engagement rings a regal look and allow lots of room for customized details. These have become very popular with our customers, generating many inquiries on how to create new custom designs. Wider engagement ring bands can also give you more space to include longer inscriptions inside the ring and other custom engravings. With wider engagement ring bands, you also have more room to include a more intricate design in split shank engagement rings. With wide bands, you can include a traditional, single center stone or you can choose more evenly spaced diamonds and gem stones. More and more frequently people who choose a wide banded ring use it as their engagement ring and wedding band all in one.
Patterns Inspired by Nature
Some couples choose to design their engagement rings to include motifs and patterns inspired by nature. Mother Nature is after all a remarkable artist! While the options for doing so are endless, a few of the more popular nature inspired elements include intertwining branches of a tree representing the union of the couple, leaves, flower blossoms, and nature inspired geometric patterns such as the inner spiral found in many seashells or the pattern you might see on the back of a sea turtle. If you and your partner are nature enthusiasts, these details may be perfect for expressing your personalities. Nature inspired motifs are also common on antique engagement rings and vintage engagement rings so they fit in well if you are inspired by these older designs.
Hiding Secret Details Inside a Ring
Sometimes what makes an engagement ring the most special is not what you put on display to the world, but what you "hide" on the inside of the band such as a special message for your true love. In this way, you can choose to keep these details just between you and your partner and/or share these details only with the most special people in your life such as family members and close friends. In some instances, the phrasing of the words on the inside of an engagement ring is something that no one else will understand of unless you explained it to them; something that only you and your partner, and perhaps those closest to you both, know about.
Additional Thoughts About Unique Engagement Rings
Your engagement ring is a lifelong symbol of your enduring commitment and love for your unique partner. It is only natural for you to want the engagement ring you choose to reflect the personality of the one you adore. Unique engagement rings say to your darling, every day, that they are exceptional, treasured, and loved immensely. The custom-made ring that you propose with will be a constant reminder of the very special bond you two share. Making your engagement rings unique gives you the opportunity to infuse your heart, soul, and outstanding personalities into the ring.
While customizing your engagement rings may at first seem like a daunting task, here at Knox Jewelers we are thrilled to walk you through the process step by step in such a way that it seems totally natural to design your own engagement ring. This makes it easy and fun to express yourself in the details of the ring without having to be a professional designer or creative artist to do so! Remember too, you can actually combine different elements from different rings you have seen and liked, so in a sense, you can become a mosaic artist. So you if you like the band on one ring, the pattern of the settings on another ring, and the way the inscription is done on another ring, speak to your designer about combining all three elements into one ring.
You may have noticed that people often cry over engagement rings, this is because there is probably no other object, except perhaps their wedding ring, that evokes a more deep heart-felt emotion. This is why it is important to pay attention to details and get your custom engagement ring absolutely perfect. Knox Jewelers can be a trusted partner in this process and can help you with one of the most important decisions of your life. We take pride in creating heirloom quality masterpieces that are the perfect fit for you and your partner.
2 Responses to "Unique Engagement Rings for the Love of Your Life"
Tags: Antique Engagement Rings, Filigree Engagement Rings, hand engraved engagement rings, Sapphire Engagement Rings, Unique, Vintage Engagement Rings | Categories: Unique Engagement Rings


---
We have opened our second location in the Minneapolis – Saint Paul Metro area. Our new store is located in Woodbury Lakes,  next door to Victoria's Secret®. The address is 9020 Hudson Road Suite 405, Woodbury, Minnesota 55125. Telephone number is 651.330.9275.
Our Woodbury store is open seven days per week.
Monday through Saturday from 10:00 AM until 8:00 PM
Sunday from 11:00 AM until 6:00 PM.
For those of you that know us, please stop into the new store to say hi. For those that are just hearing about us, here is a little bio for you:
Our passion is making rings and we like to think this passion shows through in our work.
Our jewelry making techniques combine cutting-edge technologies with the skills of our onsite master level artisans. The end result is a level of design and quality that we feel is in the upper echelon of jewelry.
Our level of quality cannot be mass produced. Every one of our rings is built to order from the ground up, in the exact intended finger size and for the exact intended center stone. One size fits all is good enough for our competitors, but not for us.
We take extreme pride in our unique line of rings. But more than that, we take pride in delivering a wearable work of art in every ring we make. Every Knox ring is meticulously hand crafted one ring at a time from the ground up. Even with our simple solitaire designs, our artisans are instructed to maintain crisp lines with perfect symmetry and perfectly polished surfaces. Our more ornate and artistic designs may take a week or longer for one of our master artisans to complete.
It is about more than just making rings to us. For us, it is about making every Knox ring a little work of art.
Our Woodbury location is intended to offer our unique line of artisan and handcrafted engagement rings, wedding bands and  jewelry to the following communities of the east Metro.
Woodbury
Oakdale
Afton
Lakeland
Bayport
Stillwater
Lake Elmo
North St. Paul
Cottage Grove
Newport
Inver Grove Heights
South St. Paul
Little Canada
Roseville
Vadnais Heights
White Bear Lake
Eagan
Hastings
Red Wing
Wisconsin
Prescott
River Falls
Hudson
North Hudson
Somerset
For those unaware of our unique line of handcrafted unique engagement rings and wedding bands, here are a few categories from our web site.
Micro Pavé Engagement Rings
Hand Engraved Engagement Rings
Filigree Engagement Rings
Halo Engagement Rings
Solitaire Engagement Rings
Antique Engagement Rings
Contemporary Engagement Rings
Sapphire Engagement Rings
Custom Engagement Rings
Classic Engagement Rings
Tags: Afton, Afton engagement rings, Afton jewelers, Afton jewelry store, Antique Engagement Rings, Bayport, Bayport engagement rings, Bayport jewelers, Bayport jewelry store, Classic Engagement Rings, Contemporary Engagement Rings, Cottage Grove, Cottage Grove engagement rings, Cottage Grove jewelers, Cottage Grove jewelry store, Custom Engagement Rings, Diamond Wedding Bands, Eagan, Eagan engagement rings, Eagan jewelers, Eagan jewelry store, Engagement rings, Eternity Bands, Filigree Engagement Rings, Gents Wedding Bands, Halo Engagement Rings, hand engraved engagement rings, Hastings, Hastings engagement rings, Hastings jewelers, Hastings jewelry store, Hudson, Hudson engagement rings, Hudson jewelers, Hudson jewelry store, Inver Grove Heights, Inver Grove Heights engagement rings, Inver Grove Heights jewelers, Inver Grove Heights jewelry store, jewelers, jewelry store, jewelry stores, Knox Signature Rings, Lake Elmo, Lake Elmo engagement rings, Lake Elmo jewelers, Lake Elmo jewelry store, Lakeland, Lakeland engagement rings, Lakeland jewelers, Lakeland jewelry store, Little Canada, Little Canada engagement rings, Little Canada jewelers, Little Canada jewelry store, Micro Pave engagement rings, New jewelry store, Newport, Newport engagement rings, Newport jewelers, Newport jewelry store, North Hudson, North Hudson engagement rings, North Hudson jewelers, North Hudson jewelry store, North St. Paul, North St. Paul engagement rings, North St. Paul jewelers, North St. Paul jewelry store, Oakdale, Oakdale engagement rings, Oakdale jewelers, Oakdale jewelry store, Prescott, Prescott engagement rings, Prescott jewelers, Prescott jewelry store, Red Wing, Red Wing engagement rings, Red Wing jewelers, Red Wing jewelry store, River Falls, River Falls engagement rings, River Falls jewelers, River Falls jewelry store, Roseville, Roseville engagement rings, Roseville jewelers, Roseville jewelry store, Sapphire Engagement Rings, Solitaire Engagement Rings, Somerset, Somerset engagement rings, Somerset jewelers, Somerset jewelry store, South St. Paul, South St. Paul engagement rings, South St. Paul jewelers, South St. Paul jewelry store, Stillwater, Stillwater engagement rings, Stillwater jewelers, Stillwater jewelry store, Unique Engagement Rings, Vadnais Heights, Vadnais Heights engagement rings, Vadnais Heights jewelers, Vadnais Heights jewelry store, White Bear Lake, White Bear Lake engagement rings, White Bear Lake jewelers, White Bear Lake jewelry store, Wisconsin, Wisconsin engagement rings, Wisconsin jewelers, Wisconsin jewelry store, Woodbury, Woodbury engagement rings, Woodbury jewelers, Woodbury jewelry store | Categories: Whats new at Knox


---
At Knox Jewelers, we have been creating more and more Sapphire Engagement Rings in many design styles.
Corundum, the stone that is commonly called sapphire, comes in every color of the rainbow except red, as red Corundum is called Ruby. There is also a white sapphire that when well cut, can look very much like a diamond.
Here are a few photos of some very unique sapphire engagement rings we have made. We can build these designs around any shape or size sapphire or diamond. So follow the links or click on the photos if you're interested in more info.
Blue Sapphire Engagement Rings
Here is a custom version of our "Caledonia" design with a remarkable 3.60 carat blue cushion cut sapphire.
Check this link to see other versions of our "Caledonia" Knox Heirloom Band. – Caledonia Custom Designs
Here is one of many of our "Cushion Barcelona" engagement ring designs. This is shown with a blue cushion cut sapphire. The hand done filigree and hand engraving make this design truly unique.
Here is a link to other versions of our Barcelona engagement ring. – Barcelona Engagement Rings
Our "Bezel Elegante" design is shown here with a beautiful bezel set, blue princess cut sapphire.
Check this link to see other versions of our "Elegante" engagement ring. -Elegante Engagement Ring Designs
Here is a very classic design with a blue emerald cut sapphire, beautifully accented by two tapered baguette shaped diamonds. Notice the elegant claw prongs holding both the side baguettes and the center sapphire.

Here is an Emerald cut blue sapphire in our "Art Deco" engagement ring.
Here is a Bezel Set Emerald cut blue sapphire engagement ring with hand done filigree.

Purple Sapphire Engagement Rings
This purple sapphire engagement ring features our "Seville" design again, with hand engraving and hand made platinum filigree.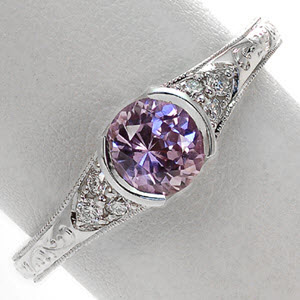 Here is a link to all of versions of our "Seville" design throughout the website. – Seville Engagement Rings
Here is a recent three stone engagement ring design with a purple sapphire. The design features a near eternity diamond band and also beautiful hand engraving.
Here is our "Lotus" halo style engagement ring, shown with a bright purple sapphire.
Yellow Sapphire Engagement Rings
This sapphire engagement ring features a low set cushion cut yellow sapphire mounted around diamonds, hand engraving, and yellow gold filigree. This is a custom version of our "Cushion Barcelona" engagement ring.
Here is a link to other versions of our Barcelona engagement ring. – Barcelona Engagement Rings
Here are two custom versions of our "Fireworks" engagement ring with yellow sapphires.

Green Sapphire Engagement Rings
Here is a fabulous green cushion cut sapphire engagement ring. The sapphire is surrounded by a halo of diamonds. The hand engraving and hand done filigree are what make this unique engagement ring a work of art.
Another beautiful green sapphire engagement ring. This is a version of our "Amante" halo design, customized with hand done filigree filling the gallery.

Orange Sapphire Engagement Rings
Stunning orange sapphire engagement ring. Based off of our "Contour Trellis" three stone engagement ring.

Here is a custom version of our "Cushion Barcelona" design with an vivid orange square cushion cut sapphire.
Here is a link to other versions of our Barcelona engagement ring. – Barcelona Engagement Rings
Pink Sapphire Engagement Rings
Here is a beautiful 1.84 carat cushion cut pink sapphire engagement ring in a micro pave style.
Check this link to see other versions of our "Adriana Sophia" ring. – Adriana Sophia designs
Here is a Pink Cushion Cut Sapphire in a split shank micro pave engagement ring.
Check this link to see other versions of our Cielo design. – Cielo Engagement Rings
Tags: beautiful sapphire rings, custom, ring, Rings, sapphire, Sapphire Engagement Rings, sapphire wedding rings, unique sapphire rings, unusual sapphire rings | Categories: Sapphire Engagement Rings


---