As we approach 6000 "real" photos of engagement rings and wedding bands, we're reminded of all the work we've done in getting our designs on this very website. It's important to understand that our quality and workmanship have to be top-notch when photographing at the macro level. Our jewelers and craftsmen must execute with the same passion as our designers. It takes years of experience across these many dedicated individuals to deliver a quality piece, something that a virtual image will never convey.
Sometimes we wish our photos could be produced by the touch of a button. It would be much easier to generate 6000 perfect computer renderings and not worry about capturing the countless hours of detail and passion put into our pieces. One slight problem, our customers don't wear virtual rings.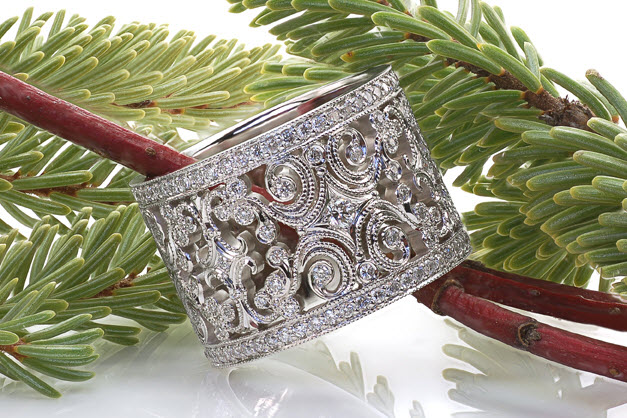 The key to our business is heirloom quality unique engagement rings. The designing is only half of the battle. The craftsmanship yields the end product and is where we really shine as you can see in every one of our engagement ring photos. Our designs are handmade and given meticulously attention to in every detail. How would anyone be able to see our quality if our collection was all computer generated? The diamonds still have to be precisely set, the metal still has to be polished smooth, and the engraving still has to be cut by hand.
Our customers come to us because they want to cherish the beauty and art put into everyone of our designs. They don't want the same design that has been made ten thousand times by an overworked, underpaid worker overseas. They want unique, they want one-of-a-kind, and they want heirloom quality.
Virtual jewelry only shows 50 percent of any given design. It's a mere concept of how a design should look. The design still has to executed into a beautiful piece of art and that feat takes years of experience. Quality and craftsmanship come with no easy button.