For most engagement rings, the focus and embellishments are directly solely on the center gemstone. But here at Knox Jewelers, we like to focus on the details interwoven into the band and profile of your ring, as well as your center stone. These are the small things that make your custom engagement ring completely your own. If you are a fan of uniquely detailed engagement rings, you may enjoy the trend that has been passing through our custom design studio recently. We have received a surge of custom design requests for both engagement rings and wedding band with twisting, infinity-style designs.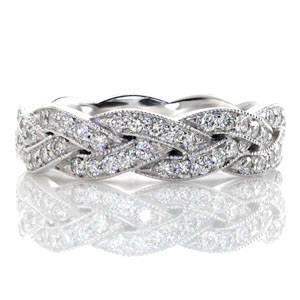 Both beautiful and complex, braids and twists are the perfect detail to add interest to a wedding band or the shank of your custom designed ring. Braids and overlapping patterns capture the attention of any viewer, urging the eye to trace the intricate designs. Twists and turns are not only visually appealing, but they can also hold a greater symbolism. A braided design could represent the tightly woven bond between you and your partner. If followed, a strand single strand of a braid in a circular ring is never ending, like the love between you.
Similarly, the twisted infinity-like symbol that has been eagerly requested in several designs lately, is both refined in its design and profound in its representation. The original infinity symbol stood to embody an unlimited and immeasurable duration of time with the simplicity of an overlapping circle or figure eight. This representation is perfect for couples who are starting their lives together and are promising to love one another for a never-ending amount of time.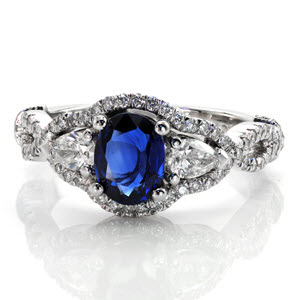 The infinity symbol or a braided design can easily be incorporated into many styles of wedding bands, engagement rings, or wider right hand rings. We can help you custom create anything you have in mind when it comes to your twisted engagement ring or wedding bands. Overlapping elements featured in a design is a modern and fashionable way to express your style and add sentimental meaning at the same time.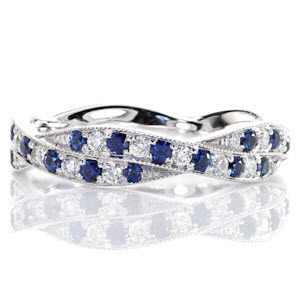 If a twisted engagement ring is the perfect symbolic representation of your never-ending love, let us help you get started with the custom creation process. Contact us today with your braided or infinity style requests. All of our finishing details are created by hand, so things like engraving, filigree, milgrain and side diamonds can add to the final look to your twisted creation. We can tailored any design around your preference in center setting, metal and gemstones selections. Nearly anything is possible with Knox Jewelers custom creation.