Knox Jewelers will now be offering Lab Created Diamond center stone options!
Lab created diamonds are natural diamond alternatives that are grown in highly controlled laboratory settings. These environments simulate earth's natural gemstone growing conditions and produce real mineral diamonds. These lab created gemstones are physically, optically and chemically identical to their earth-mined counterparts.
These grown options are real diamonds. They hold the same chemical composition, pure carbon, and crystal growth pattern as their naturally formed mates. These gemstones will have the same face-up appearance and optical properties as a real diamond, because essential they are real diamonds. The only different between the two will be their origin of creations. The same skilled cutters who fashion earth mined diamond are also responsible for faceting their lab created twins.
Lab created diamonds are grown using one of two very different techniques. When complete, each growing process will produce pure carbon mineral diamond crystals. Which process is used to create diamonds will depend on the application of the completed stone. The High Pressure High Temperature (HPHT) growing technique is the main process used to grow gemstone quality crystals, while Chemical Vapor Deposition (CVD) is most commonly used for the creation of industrial grade diamonds.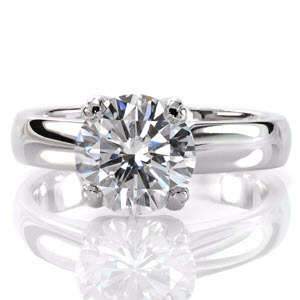 Benefits of Lab Created Diamonds
Aesthetic –

Lab diamonds are chemically, physically and optically identical to earth-mined diamonds. Up until now beauty such as this has never been attainable in a lab created stone.

Value –

Lab created diamonds offer excellent value, and are slightly more affordable than natural diamond of equivalent carat size and quality.

Environmentally Conscience –

Lab created diamonds are ethically grown with minimal environmental impact.

Sustainable –

The supply of grown diamonds will flow at a constant pace compared to earth mined diamonds that ebb-and-flow with availability, depending on the minable sources. Global demand for diamonds is on the rise, though a new sizable diamond mine has not been discovered in this decade.
Lab created diamonds will reflection a savings of 30 to 40 percent compared to their natural earth mined counterparts.
We now have a variety of lab created diamond center stone options available to be featured in one of our custom created engagement rings. Nearly every cut shape, carat weight, clarity grade and color grade is represented in our selection. Several fancy colored unique diamond options have also made their way into the pool of available center stones. If a lab created diamond option is in your interest, please contact us today to inquire on the available selection of gemstones. We can search our current collection for the perfect grown diamond option to become the finishing touch to your beautiful handcrafted piece.