We receive calls and emails from around the world inquiring about our unique wide wedding bands and unique engagement band designs. The ring designs that generate the most inquires tend to be wider than average designs. Some have center stones, like the cushion cut diamond, while others do not. All are singularly unique in their design and are meticulously and expertly hand crafted from the ground up. We feel these two facts combined help our wedding rings (especially signature designs such as these) stand out from more conventional wedding band or engagement ring styles. In fact, many of these unique rings would translate well as a right hand ring or anniversary band.
We wanted to have an article in our journal that featured some of these wide wedding ring designs along with a little info about each ring. Please note that the images are linked (when possible) to additional photos/videos of the design.
Let's start with a design that features a wide ring design with an Asscher cut center diamond along with sky blue sapphires set in the filigree between the two diamond pave set outside rails of the ring.
Here are other versions of this beautiful, unique, wide wedding ring:
Shown with a princess cut center diamond and deeper blue sapphires set in hand made filigree.
This unique wide wedding ring is shown with a radiant cut center diamond and rich green natural emeralds set in hand made filigree.
This engagement ring is shown with a princess cut center diamond and bead-set micropave diamond rails. Some of the filigree scrolls have diamonds set in them
This next wide wedding ring was a real labor of love for our artisans and we think this fact 'shines through' in the beautifully intricate detailing of the unique ring design. This is one of our wider ring designs at approximately 15mm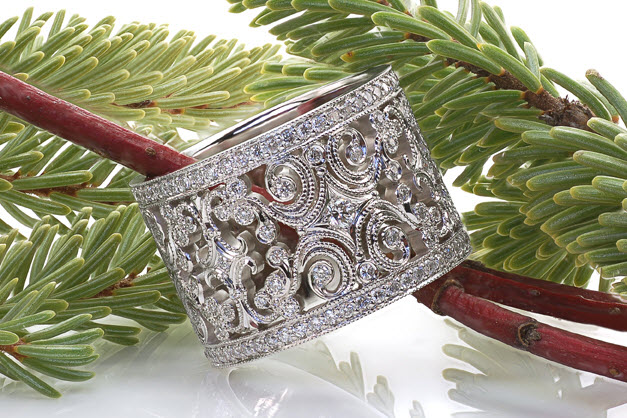 Since our original "Caledonia" design was created we've had a few custom versions made with center diamonds and sapphires.
Here are two versions of our Dolce design. A very unique wide wedding ring, set with fancy colored diamonds in two tone gold to accentuate the diamond color.

Here is our "Dolce" wedding ring set up with fancy yellow diamonds in 18k Yellow Gold with 18k White Gold.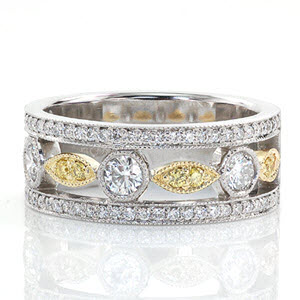 Here is Dolce set up with fancy pink diamonds in 14k Rose Gold.
This is another unique wide wedding ring with an open pattern flower, leaf and vine motif.
Here is our "North Star" Design… A very vintage style engagement ring when set up with a center diamond. Or can be used as an engagement or anniversary band (right hand band).

"North Star" with a low set center diamond.

Our Original "North Star" Wedding Band.
Allamanda features a flowing leaf and vine pattern. Set with several smaller round diamonds, this ring would also make a lovely right hand ring.
The following engagement ring was a big favorite when it came through the shop. The interplay of the deep blue sapphire with the bright white of this polished white gold makes for a stunning contrast. Similar to Allamanda, this unique ring features an organic leaf pattern.
The wedding ring below was created using 18kt white gold and 18k yellow gold. To truly appreciate the craftsmanship on this wedding ring, click on the photo to see other views, as well as a video.