CAD = computer aided design

CAM = computer aided manufacturing
CAD software allows designers to build a design in the exact three dimensional (3-D) geometry and dimensions desired. The beauty of using this software for customers is being able to see exactly how a proposed custom design will look before any ring is cast in the metal or before any stones are set in the metal. The software we use (Matrix by Gemvision) can generate photo-like renderings of jewelry items from every potential angle and can even be used to make a moving video of a jewelry design.
Once the design is completed in the software there are several methods to use CAM to produce an exact 3-D model from various medias than can then be directly casted into precious metal.
The technology is a perfect fit for the jewelry industry as the models made by the various CAM methods provide a much higher level of precision and symmetry than all but the very top level wax carvers (artisans that carve wax models for casting by hand)
Also, the cost for these CAM models are often quite less than having comparable models made by hand.
Nearly all of the big manufacturers and designers are using the technology and it would appear that is just a matter of time until it truly dominates the industry.
Here is a quick explanation of a couple CAM methods:
A common method used to create wax models is a CAM (Computer Aided Manufacturing) Milling System. This machine receives the model's geometry information and drills out each and every detail. This system is very precise and accurate and the wax models milled can be directly cast into metal.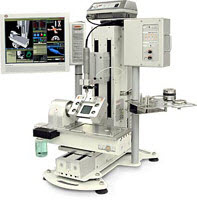 Another method used is a 3-D Grower. This CAM technology prints ultra-small layers of resin on top of one another until the model is finished. A laser follows the printing of each layer to harden the resin. The result is a very accurately detailed piece. These models can also be directly cast into metal.