Fluorescence or not to fluorescence? That is the question. Have you ever taken a look at a diamond grading report and wondered what does it mean when it says "Fluorescence?" Listed under the 4C's you find Additional Grading Information and discover a section listed fluorescence. First, let's take a look at what fluorescence is.
The formation of a diamond is how fluorescence exists in some stones. As a diamond grows in the earth, many defects occur during this formation. Nitrogen related defects are common during this process and if a growing diamond crystal captures surrounding nitrogen, the nitrogen resides within the crystal and it can result in fluorescence. There are various known colors of fluorescence, most commonly found is blue. Although many in the industry view fluorescence as a negative effect, research has proven otherwise.
Fluorescence in a diamond is an emission of light viewed under the concentration of long-wave ultraviolet radiation of a UV lamp. The appearance of fluorescence in a diamond continues as long as it's exposed under radiation, and not under normal lighting conditions. The strength of fluorescence is graded on a range of none, faint, medium, strong and very strong.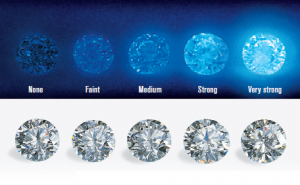 Let's see what are experts at GIA have to say regarding fluorescence. As the premier laboratory in diamond grading, GIA is widely respected world-wide and sets industry standards. They are highly recognized for strict diamond grading practices and continued research in gemology. As a leader in the industry, Knox Jewelers believes in this highly respected laboratory and primarily sells GIA diamonds.
Published in 1997 in GIA's quarterly journal, Gem's and Gemology, they offered insight on diamond fluorescence titled "A contribution to Understanding the Effect of Blue Fluorescence on the Appearance of a Diamond." The relationship of detecting fluorescence in a diamond was observed in a series of experiments. The study consisted of trained graders, industry professionals, and general observers using very similar sets of four round brilliant diamonds. The diamonds ranged in color of near colorless to faint yellow and diamonds were selected with varying strengths of fluorescence in the diamond color they typically represent. The observers then viewed the stones in various positions and lighting environments.
The general observers in this experiment represented the average jewelry consumer. When they viewed the diamonds in standard light, the effect of fluorescence was not detected. Even experienced individuals within the jewelry industry did not consistently agreed upon the effects of fluorescence from one stone to another. At the end, the results proved that most observers saw no correlation between fluorescence and transparency.
This study revealed that strong blue fluorescent diamonds actually appeared better in color when viewed face-up, with no noticeable trend when the diamond was facing down. Other sources report that diamonds in lower color grades, I-N, with fluorescence tend to offset the body color of these stones. The fluorescence will actually mask the faint to light yellow color of a diamond.
However, not all diamonds will have this effect with fluorescence. Some will actually appear milky in transparency. This hazy appearance attributes to the negative perception of fluorescence. Diamonds graded with fluorescence can often reflect lower values than those of similar quality with no fluorescence.
At Knox, our recommend diamond range where quality meets value, does include fluorescence. If fluorescence is present in a diamond and does not hinder the overall beauty of a stone, it can sometimes be a better value. Diamonds with fluorescence may appear to the viewer better in color than the grade it was given and save money for our customers. A great value for your investment.
Knox Jewelers can guide you through GIA diamond reports, from the 4C's to fluorescence or any questions you have. Visit one of our convenient metro locations, if you're in Minneapolis check out our Uptown location. Living in St. Paul, our Woodbury gallery is located right off of I-94.