Are you looking for a gift to complement our exquisite custom diamond engagement rings? Did you know that at Knox Jewelers we craft the finest diamond stud earrings? Well, now you do! What makes diamond stud earrings so special, anyway? The primary attribute of stud earrings is the floating appearance that they simulate on the ear or earlobe. From the frontal perspective, stud earrings lack a visible connection point between the decorative part of the earring and the post-and-back design that secures it to the wearer's ear.
This post penetrates directly through the ear and is held securely in place with a removable friction back or clutch mechanism. On occasion, we craft our stud earrings so that the post is threaded, thereby allowing a screw back to securely hold the earring in place. Another mechanism we recommend for securing earrings is known as a locking back which is equally, if not more, secure than the screw back design.
Now, a note about diamond qualities for our stud earrings: At Knox Jewelers, we recommend different qualities for earrings than we would for the center stone of an engagement ring because the ring gets more exposure and will be looked at more closely than earrings. For color we suggest using the H through J range for colors of earring diamonds. You do not need to go any higher than this, as you will be unable to appreciate a very high color from the average distance at which you perceive the studs on someone's ears. Furthermore, J will not show too many nuances of yellow as it is the very bottom of the near-colorless range. As for clarity grades, SI-1 to I-2 is optimal for earring clarity, but this also depends on the size of the studs. As a rule, the smaller the studs, the less noticeable the clarity will be.
Naturally, there are a variety of different settings which fit this paradigm, including Martini settings, Four Prong Basket settings, Bezel settings, and Halo settings. Each setting has its own unique character and appearance, but what they all have in common is the dedication we make at Knox Jewelers to creating stunning earrings. Please also note that the carat weights we have listed are the total combined weight of both studs, and there are other carat weight options beyond our examples in this blog post.
Let's take a look at some of these design styles now.
Martini
Our 2/3 ct Martini Studs feature 14k white gold, three sophisticated prongs, and look absolutely stunning on any ear.
Four Prong Basket
These 1.00 ct tw round diamond studs come with a 14k white gold four-pronged basket that looks elegant and regal.
Bezel
Bezel diamond studs feature a seamless circular 14k white gold bezel that circumnavigate the entirety of the diamond setting.
Halo
Our round halo diamond stud earrings are absolutely exquisite. Gracefully orbiting the center diamond setting are numerous diamond inlets featured in 14k white gold. If you are looking to impress, then the Halo style may be the perfect match for you.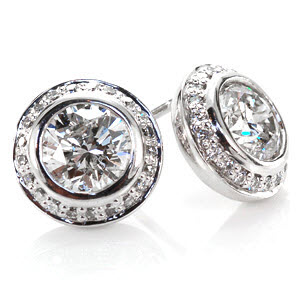 The majority of diamond studs are round, but we can hand-craft studs of any size or shape. The second-most common shapes for studs is the Princess cut. Princess diamond studs are typically square in shape and derive their name from the designs created by A. Nagy in London during the 1960's. Our .44 ct. tw. Princess Studs are a perfect example of this unique style.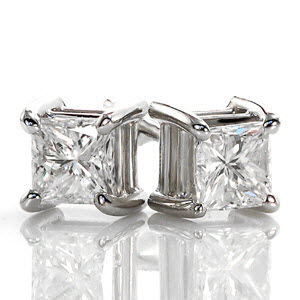 We hope you enjoyed learning more about our diamond stud earrings. If you are looking to harmonize with our engagement rings or wedding bands, have a browse of some of the past earrings we have handcrafted. We know you will find a pair that perfectly complement our other beautiful pieces, and are happy to help create a custom design if you aren't finding the perfect pair.