If you are currently on the hunt for the perfect engagement ring to propose in the upcoming year, then Knox Jewelers has a few suggests of current designs being sought after in our showrooms. With our custom created rings, the possibilities are endless, but there are a few styles that are gaining trend status. We are always ready to help you create the ring of her dreams, maybe one of these listed styles was made just for her.
Nature Inspired
Floral and foliage themes have a long history of symbolizing romantic love when stylized into a piece of jewelry. This tradition has now emerged as a popular motif among engagement rings.  Selecting a nature inspired engagement ring can show her how your love has grown into something beautiful.
Vibrant Centers
A bright, white, scintillating diamond has taken center stage in many dream rings, and we are sure it will continue to. However, those who dream in color have recently been selecting vibrant hues of diamond and sapphire to complete their perfect engagement ring. Both sapphire and diamond naturally occur in every shade of the rainbow, and with a little searching, we are sure we can unite you with your perfect gemstone.
Stack-able
Flip through any fashion magazine and you are sure to spot a hand or two piled high with slim, stacked rings. This style has now found its way into bridal jewelry. We have seen customers opting for solitaire engagement rings and mixing them with several of our custom wedding bands to create their own unique grouping. This trend is ideal for the bride who likes to mix and match.
Antique Inspired
Engagement rings are currently taking a cue from past decades. Vintage inspired details add something of the extraordinary to any custom created piece. All of Knox Jewelers antique detailing like engraving, milgrain and filigree is hand fashioned by our talented goldsmiths. Micro details like these can make all the difference in an heirloom quality ring.
Split Shanks
What is better than one diamond band? Two, of course. Split band engagement rings have been the recent selection of many Knox Jewelers' patrons. The style mixes well with a variety of center stone shapes and setting styles. Allowing it to be the final touch to any custom engagement ring.
Oval Cut Center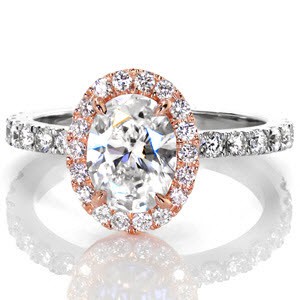 More and more women are stopping in-store and asking if we have oval shaped diamonds to see in person.  A close runner up to the round brilliant, oval shapes are definitely on trend. The shape flatters the finger and has an overall elegant vibe. Any of our custom created engagement rings can be crafted around an oval shape center.
Mixed Metal
Several Knox customers have recently undertaken a bold endeavor by creating their custom engagement rings in two or three tone metals. The warmth of yellow gold and skin flattering rose gold are being paired with the ever popular white metals. These daring combination can highlight the fine details included into your ring and give you a truly one-of-a-kind piece.
Now that you've been inspired by our current trends, stop in-store or livechat and let us answer any questions you may have on starting your very own custom engagement ring. The ring of her dreams is waiting to be created!