The Prominence of Filigree Across Jewelry Eras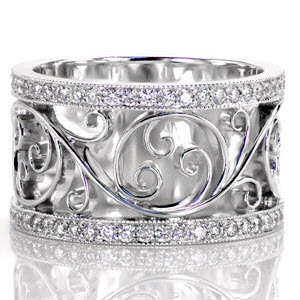 Over time styles change and the art of making jewelry and the use of filigree are no exceptions. Within each era, there has been a change in the appearance of jewelry and adornments. Many movements, cultures, and trends came together to influence new and emerging styles. Filigree has been present in many art movements but is most prominent in the Art Nouveau, Edwardian, and Art Deco periods.
Art Nouveau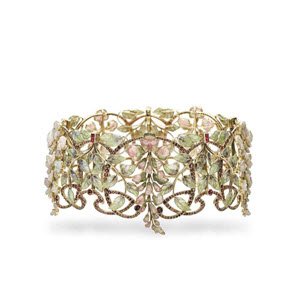 Popular in the 1890s through the 1910s, Art Nouveau blends the reemerging Arts and Crafts movement along with the popularity of Japanese art to create gorgeous new pieces. The roots of the Art Nouveau movement began in Paris within the Asian art gallery Maison de l'Art Nouveau, owned by German-born art dealer Siegreied Bing. From France, the movement made its way across the Atlantic, due in large part to French glass designer René Lalique. Most popular in France and the United States, the Art Nouveau era did not last long, but was pivotal in influencing the changing times of art and jewelry design.
The Art Nouveau style is most recognized by the sweeping curves, or 'whiplash' lines, found in nature and forged into the jewelry piece. To complement these curves other themes such as birds, butterflies, and flowers were often added to designs. Cameos of a female profile were also popular in the jewelry of the time. Cameos are small, ornate relief sculptures carved out of a quality material such as stone, shell, coral, or mother of pearl.
A central gemstone or cameo entwined within metalwork such as filigree was a common style present in Art Nouveau jewelry. Gemstones often featured in these designs include agate, opal, garnet, amethyst, peridot, and citrine. Art Nouveau jewelry often had little bursts of color, which gave the pieces a unique beauty and flair.
Jewelry of this period also incorporated enamel to add dimension and color to the pieces. Delicate enamel-filled filigree brooches were popular at the time. Pendants often featured enamel-filled filigree, while the rings often featured open-work filigree wire with raised center stones.
Edwardian
Named after the English monarch King Edward VII, the Edwardian era spans the time just before the king's reign and ends after his death at the beginning of World War 1. Edwardian style focused on ornate jewelry styled for and worn by the wealthy upper class. Pieces had a delicate elegance and airiness that reflects the joyous attitudes of the era. Edwardian style holds on to the flowing curves of the Art Nouveau style, however, it toned down the larger, more ostentatious jewelry in favor of the more delicate, traditional looks found in the eighteenth century. This combination of styles came to be known as 'guirlande' or 'garland' style.
The dainty look of Edwardian jewelry was due in part to new advances in working with platinum. Since jewelers were now able to properly heat platinum, it was much easier to work with. This meant it was no longer necessary to back platinum pieces with additional metals. With the durability of the metal, platinum was perfect for creating the most delicate, lace-like patterns and designs. Additionally, a new technique emerged called 'milgrain' which gave platinum a gentle beaded texture used to create a more delicate look. Milgraining appeared on many Edwardian pieces, including brooches, bows, and diamond collars.
Jewelers worked filigree designs into many Edwardian jewelry pieces. New necklace designs included 'lavelliére,' a simple chain suspending a light gemstone or pendant, and 'négligées,' necklaces with two pendants at different lengths, creating an asymmetrical design. Delicate dangling earrings were another prominent feature of the Edwardian style, occasionally including intricate openwork filigree. Rings often had an elongated profile, running the length of the entire finger. These oblong designs typically included a large central stone surrounded by smaller gemstones, and sometimes featuring openwork filigree. Platinum engagement rings often featured intricate filigree with Old-European or Old-Mine cut diamonds.
Art Deco
Named after the 1925 Exposition International des Arts Décoratifs et Industriels Modernes, a fair that focused on the artistic side of jewelry in Paris, Art Deco became the prominent style of the 1920s and the 1930s. Art Deco is easily identified by its straighter lines and sharper angles than those of previous eras.
There were many factors which influenced this drastic change in style. Art from Africa, South America, and Asia, as well as Cubism and Fauvism, all contributed to the Art Deco style. Female roles and fashion styles during the industrial age of WW1 heavily influenced the style's movement toward a sleeker and sharper look.
An abundant era for filigree work, the Art Deco era saw quite a bit of intricate openwork filigree in jewelry. Often Calibré work, cutting gemstones with precision to fit within a specific design, was featured in Art Deco jewelry. This was paired with openwork filigree to further define the geometric shapes within the piece.
During the Art Deco era, archaeologists unearthed ancient Egyptian items and treasures that gave inspiration to the movement with images of pyramids, scarabs, and lotus blossoms. These inspired pieces were designed using material-filled filigree. Another culture that influenced Art Deco jewelry was East Asia featuring designs with coral, pearls, jade, and intricate filigree work. The garland necklaces popular at the time were influenced by India, Persia, and the Far East, giving them sleeker and more geometric shapes.
By understanding the history and evolution of jewelry and filigree, we are able to stay ahead of emerging trends and craft jewelry that will forever capture your eye and your heart. Any of our vintage engagement rings will be a lifelong treasure. A Knox Jewelers engagement ring has the perfect combination of style, craftsmanship and antique inspiration.