Our antique engagement rings are new takes on pieces from the past. These vintage designs are very unique and often feature filigree and hand engraving. Some rings have halos and others are adorned with milgrain edging. Inspired from Victorian, Edwardian, and Art Deco eras, each ring is individually crafted for the center stone you choose and your finger size. We specialize in antique/vintage wedding rings. Whether you specifically want a custom vintage blue sapphire engagement ring or an antique Oval Seville, Knox Jewelers can help. Browse our selection of antique engagement rings and if you have any questions, please let us know. All Knox engagement rings are heirloom quality and can be made in platinum or any color of gold.
Antique Ring Design Elements and History
When it comes to designing stunning jewelry, Knox Jewelers has the knowledge, skill, and artistry to create the finest custom pieces. Every antique-inspired engagement ring is made with the utmost care and expertise, using top jewelry-making methods. Some of the best classic design elements used to craft elegant jewelry are hand engraving, filigree metalwork, and milgraining.
Hand Engraving
The term 'engraving' refers to the technique of cutting into a material that is softer than the tool used to cut it. Engraving began with nonmetallic materials such as shells, bone, wood, ivory, and stone. This particular design technique has been found as early as the Upper Paleolithic, in which the Western European cultures used tools made of pointed flint.
With the transition from the Stone Age into the Bronze Age, flint and stone tools were replaced with metal tools like copper, bronze, and iron. Engraving metal was less difficult as these tools could be sharpened into very fine points. The style of engraving used on more recent jewelry pieces all started with the use of iron tools in 11th Century B.C. As the practice and knowledge grew and flourished, engraving truly became an art form. Engraving methods became more controlled when artisans were able to harden and temper the metals so that the tools would not splinter or chip.
The tool used to engrave is called a 'graver,' which is a much more sophisticated version of the chisel that preceded modern engraving tools. The sharpened edge of the tool is held at an angle to the material being engraved; then forward pressure is applied to cut into the metal. Modern engraving tools were created as more intricate engraving designs emerged.
While most commonly used on metal, engraving is a craft that can be applied to many different materials. Metal, however, creates the most striking artwork. The contrast of dark and light that the grooves in the metal create is what makes it so impressive. An artisan's ability to vary the angles as they cut away metal creates a masterful pattern that reflects light differently with each stroke.
Filigree
Filigree metalwork is the art of using fine metal wire to create delicate and labyrinthine designs. Filigree techniques have been used for centuries by cultures all over the world. Found as early as Ancient Mesopotamia, filigree metalwork techniques spread through Europe and Asia, where new trends and techniques were added to the practice. Adding enamel into filigree started in Ancient Greece, and creating flowing nature pieces became a widespread practice in Italy. Artisans of the past created filigree patterns by hand, bending and twisting the wire to perfectly fit the piece. Modern artisans often use a filigree jig to shape the wire to create a more consistent and concise pattern.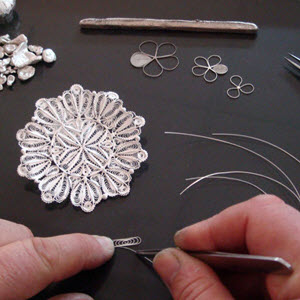 There are four types of filigree work: openwork, ground-supported, combination, and material-filled filigree. The lace-like patterns of metal can stand on their own, or they can be placed on a metal backing, which is easier to work with and creates a different look and texture. To add to the piece, the artist can also fill the spaces between the metal wires with other materials, such as enamel or resin. Some pieces will include multiple variations of these designs to create a more complex piece.
Milgrain
Derived from the French word millegrain meaning 'a thousand grains,' the term 'milgrain' describes the addition of tiny metal beads onto jewelry pieces. Typically added to the edges, borders, and stone settings, milgrain beading gives texture, depth, and personality to the jewelry it adorns.
To create this beaded texture, artisans use a milgrain tool over a bright-cut edge. This tool is essentially a wheel with semicircular depressions along the circumference. As the wheel is rolled over a bright-cut metal edge, the depressions from the wheel form the beading on the piece. The milgrainer tool comes in various sizes and shapes so that the artisan can choose the option that best suits each piece of jewelry.
Milgraining is a technique that gives a vintage feel to jewelry by highlighting or complimenting a design or gemstone. It is used to put the focus of a piece onto the center stone. It is also applied to accent a piece and to create a more refined and antique look.
Antique Design Elements in Your Ring
Engraving, filigree, and milgrain are essential techniques used to produce the finest quality in vintage jewelry. These design elements, combined with Knox Jewelers expertise and craftsmanship, is what brings the jewelry to life. Your antique engagement ring holds symbolism and significance to you and the one you love, and only the best artisans can create a piece as everlasting as the love you share.
Antique Engagement Ring Inspiration Across Different Eras
Antique jewelry has a distinct look depending on what era the pieces were made in. The different movements or eras that influence Knox Jewelers' incredible pieces are Georgian, Victorian, Edwardian, Art Noveau and Art Deco. Knowing about the different trends and styles within these eras allows you to choose the perfect details for your custom ring. Follow Knox Jewelers through a short tour of the major artistic movements in the world of jewelry.
Georgian Era
Spanning over the length of a century, the Georgian era began around 1714 and came to a close around 1837. Named after the four successive kings who reigned over the United Kingdom, this included George I, George II, George III and George IV. The Georgian era was important in so many ways, from social changes to advances in the arts and sciences. Jewelry of this era also blossomed with time.
This period inspired many different jewelry styles, beginning with Rococo influenced jewelry, followed by Gothic revival, and then Neoclassicism. Georgian-era jewelry was handcrafted into intricate and colorful pieces. The most common metal used was 18-karat gold, as well as sterling silver. Commonly used gemstones included dark red garnets, topaz, emeralds, and coral. Many of the gemstones were set in gold because the warm color tones paired gorgeously together.
Popular throughout the Georgian era, repoussé techniques were often applied to jewelry pieces of the time. Repoussé is created by hammering the back side of the metal using a variety of shaped metal tools called punches to create a raised, textured design. This era beheld many beautiful and intricate jewelry designs, the most popular being scroll and floral motifs.
Victorian Era
Princess Alexandria Victoria ascended the throne and was crowned Queen Victoria of England when the reign of George IV came to an end. During the 63 years of her reign Queen Victoria was a trendsetter and her tastes and styles had a deep influence throughout her kingdom. With the growth of printing and marketing, the queen's image abounded; making it easier for people to mimic her styles of clothing and jewelry.
The queen loved jewelry and was often adorned with many beautiful pieces. The influence of Queen Victoria's fashion, shifted the styles of popular jewelry during that time. Middle Ages and Renaissance-inspired pieces became prominent, with floral and nature-inspired designs at the forefront. Serpents, an ever popular symbol in jewelry-making, were one of the more sought-after patterns.
There was also a shift in the general design of jewelry. Instead of gemstones being the spotlight of a piece, intricate metalwork became the focus. Highlighting these beautiful designs, gemstones such as diamonds, garnets, pearls, turquoise, and amethysts often appeared in these delicate masterpieces.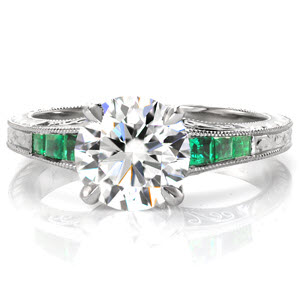 Also popular during the Victorian Era was mourning jewelry. These were pieces that people wore to honor those who had passed. Mourning jewelry was deeply symbolic and tended to include cameos or locks of hair.
The British monarch was not the only royal influence during this time period. Empress Eugénie of France favored emeralds to all other gemstones. It was her love of emeralds that created such demand that this gemstone became as sought after as diamonds.
Edwardian Era
Queen Victoria's son, King Edward, was the reigning king from 1901 to 1910. Edward was into luxury and high society, so things like style and jewelry were a big part of the elite upper class.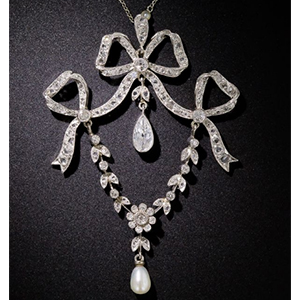 The Edwardian era saw the growth of the industrial age and with it came new and innovative methods for crafting jewelry. In response to this advancement of machine-made jewelry there came a higher demand for hand-crafted pieces, which made delicate and ornate styles all the more exceptional. The invention of the oxyacetylene torch in 1903 gave artisans the ability to heat platinum to the temperature needed for melting. When heated, platinum became malleable and easier to work with. Platinum metal was strong and durable enough to create deeply intricate lace-like patterns in jewelry. Diamonds were often paired with the platinum designs in order to create a polished and delicate look.
The milgrain technique also emerged and became prevalent during the Edwardian Era. Milgraining is when the artisan adds beaded details to the edges of jewelry designs to appear softer and lighter. It was the advent of using platinum in jewelry that made milgraining a prominent technique.
Art Nouveau
The Art Nouveau Period was an artistic movement that emerged from France. Designs were inspired from patterns found in nature and Japanese art. A desire to again handcraft decorative goods also played a significant role in emerging jewelry styles of the time. It was Samuel Bing's Asian art gallery, L'Art Nouveau, which featured prominent artists that would lend its name to the movement.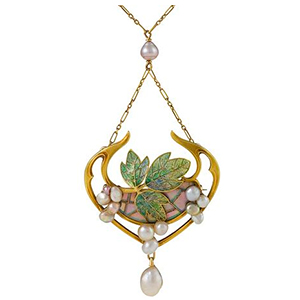 The flow and movement of lines, often referred to as "whiplash," within Art Nouveau pieces was a significant feature of the period. Along with these lines, other themes and symbols often appearing in Art Nouveau pieces included serpents, mythical creatures, maidens, butterflies, and other insects.
Art Nouveau saw an emergence of new materials as well as new ways of using older materials. Gold and silver took on new shapes, and gemstones like moonstone and opal gained popularity. There was also a re-emergence of organic materials like ivory, bone, and horn that artisans could carve into the signature whiplash lines. Enamel also regained popularity as it added depth and color to pieces. Jewelers created translucent leaves and wings with enamel by using the lengthy and difficult plique-à-jour technique.
While the Art Nouveau movement may have begun in France, this artistic style was manipulated and imitated throughout the world. What began as a revolution in the art of design would inspire artists from every discipline to experiment with new techniques and areas of art.
Art Deco
The Art Deco movement was named after the Exposition International des Arts Décoratifs et Industriels Modernes held in Paris in 1925. This exposition highlighted the relationship between the decorative arts and the growth of the industrial era while also presenting the artistic jewelry of the time. Art Deco styles were influenced by South American, African, and Asian cultures and styles, as well as the popular movement Cubism. The Cubism movement is aptly named for the sharp angles, straight lines, and geometric shapes. After the flowing lines and nature-inspired motifs of the Art Nouveau era, Art Deco shifted in a completely different direction, favoring more sleek and modern designs without the added embellishments.
With the First World War came a major shift in women's fashion. Clothing became elegant, sleek, and simple, with shorter hemlines and less fabric. The perfect accents to these more modern styles were the geometrical shapes and architectural designs of Art Deco jewelry.
The Art Deco movement breathed new life into jewelry with the change in the way gemstones were cut and set. They could be made into new shapes and patterns, adding facets and changing the way gems could be fashioned into jewelry. With these new shapes, pieces could be placed closer together, creating both mosaic patterns and invisible setting stones; a technique created by Van Cleef & Arpels that allowed the stones to be set into one another using grooves and rails cut into the stones.