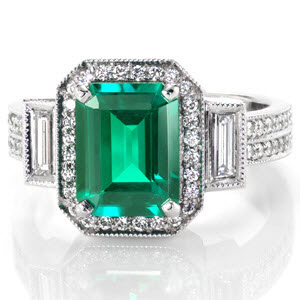 If  you're ready to begin production on your custom engagement ring you'll have a full team of world famous Knox Jeweler's craftsmen bringing your piece to life. Our designers work hand-in-hand with our production team in our Minneapolis studio to create every work of art you see on our website. We produce heirloom quality pieces that will someday be passed down to future generations.
A beautiful Emerald center-stone will only last as long as our lifetime ring designs if you wear and take care of them properly. This means not only using caution and common sense when wearing emerald jewelry, but also making sure it is cleaned and stored in a proper manner. These tips are useful for your emerald jewelry and for all fine jewelry.
Caring for emeralds starts with knowing the proper times to don your ring and when to remove it.  Do not leave your emerald rings on while doing the dishes, showering or using cleaners of any kind.   Emeralds tend to attract grease and soaps.  The gemstone's brilliance could be affected if these substances gather underneath it over a period of time. It is also wise to put jewelry on only after applying makeup, lotion, perfume or hairspray.  These products may contain chemicals that could damage the gemstone.  Your emerald center-stone could collect scratches, so it is smart to store it separately from other gemstones and jewelry.
To clean your emerald, soak the ring in room temperature water with mild soap like hand soap or Woolite.  Use a soft toothbrush to softly brush the underside of the emerald to remove the accumulation of dirt and grease.  It should then be rinsed with warm water and patted dry.  You should be able to notice a restored brightness in your gemstone.
You should not clean an emerald in an ultrasonic cleaners or steam cleaners. These may cause damage to the stone. An emerald should never be exposed to high heats. Try to avoid using strong soaps, jewelry cleaner liquids or other cleaners as most of these are not compatible with the oil treatments routinely done on emeralds. Cleanings should only be done a couple times a year.
Emeralds are majestic gemstones with a long history behind them.  Any emerald from our online gemstone list would make a beautiful center piece for your heirloom.  Our designers and gemstone buyers know exactly what to look for to help you choose a top quality gem.  With the proper care your Knox Jewelers' engagement ring featuring a vibrant green emerald will last for generations to come. Contact us today to get started on your custom design.