Near the close of last year, Knox Jewelers predicted what might be the up-and-coming trends for custom engagement rings in 2016. One conjecture, on the upcoming popularity of nature inspired engagement rings, has now become a fact. Both engagement rings and wedding band with motifs drawn from nature are currently in demand. All year the requests have been pouring in for custom created rings displaying flowers, petals, leaves, vines and even mountain scenes. If you or your partner-to-be has a passion for the outdoors, then creating a ring with natural elements might be the perfect way to symbolize that affection. A band with wrapping vines may remind you of time you spent outdoors together, or a ring with sculptural plumeria may symbolize her favorite flower. If you are at your most happy outside, close to the elements, let us incorporate that feeling into the most important piece of jewelry you wear everyday.
Your passion for the outdoors aside, certain flowers were used in antique jewelry to convey secret messages. For example, roses were a symbol of friendship. If you would like to mimic elements from your favorite antique floral jewelry, we can help you turn  your inspiration into a one-of-a-kind engagement ring.
Shown below are some of our favorite nature inspired engagement ring that were commissioned this year. Any of these settings can be recreated around your specifications. Taking into account the vast number of nature inspired ring created this year, we are sure the trend will continue to remain strong into 2017.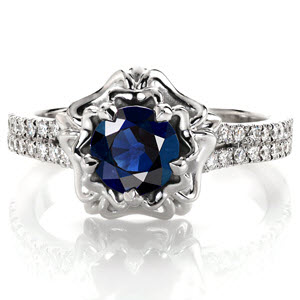 If you have any questions about the custom ring settings featured above, or would like more information on creating a custom engagement ring of your very own, please be sure to let us know. We're always happy to answer any questions you may have, and we look forward to working together with you to design a floral work of art that will last and be passed down throughout the ages. Get in touch with our friendly and professional staff today. We will aid you on the journey to creating your very own, one-of-a-kind piece of custom engagement ring. We are excited to see what inspiration you will draw from nature!