If you are currently on the hunt for the perfect engagement ring to propose in the upcoming year, then Knox Jewelers has a few suggests of current designs being sought after in our showrooms. With our custom created rings, the possibilities are endless, but there are a few styles that are gaining trend status. We are always ready to help you create the ring of her dreams, maybe one of these listed styles was made just for her.
Rose Gold 
Though white gold is still the most prevalent precious metal our custom rings are created in, rose gold is quickly becoming a fierce competitor. The warm tone of rose gold is versatile and flattering on a multitude of skin tones. It also pairs well with white metals, making stunning two tone pieces. Be it a custom engagement ring, wedding band or right-hand ring, rose gold adds the perfect feminine allure to any piece of jewelry.
Montana Sapphires
A bright, white, scintillating diamond has taken center stage in many dream rings, and we are sure it will continue to. However, those who yearn for a unique colored stone have recently been selecting a very unusual and rare variety of sapphire to complete their perfect engagement ring. Montana mined corundum produces some of the world's finest finished sapphires. They are extremely in-demand owing to their high clarity and eye-catching blue-green hues. We currently have several Montana mined sapphires in-stock, ready to be fashioned into a beautiful custom engagement ring.
Solitaires
A classic solitaire setting has been all the rage this year at Knox Jewelers. Small details and superior craftsmanship makes every Knox custom solitaire ring one-of-a-kind. Unique profiles, claw prongs, hand formed filigree and melodic hand engraving makes even a solitaire into a work of art. Many woman are choosing a solitaire engagement ring and coupling it to stacks of custom bands, telling a story and adding to their wedding set for years to come. A solitaire setting is versatile and flattering for any shape center stone you may desire.
Bold Center Stones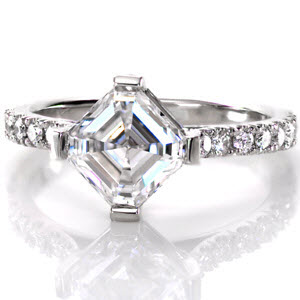 If we could choose one major trend that is picking up steam this year, it would definitely be the desire to choose an enlarged show-stopping center stone paired with a classically understated setting. Many clients this year have selected sizable center stones, be a diamond or gemstones, and opted to set them in elegant high polished or slim diamond bands. This allows their perfect center stone to be the focal point of the custom ring. You can be sure even the smallest details are impeccably hand crafted on any Knox custom created ring, the vastly intricate or the classic solitaire look.
Unique Halos
For years now, custom engagement rings with glittering micro pavé diamond halos surrounding a variety of center stone shapes have been en vogue. It has been the trend to watch, with a great number of our patrons requesting this setting style. As of late, we have been reinventing the trend, with the introduction of unique diamond halos. We have experimented with different shape diamonds, like baguettes, colored stone halos and vintage inspired pierced and curving designs. Anything is possible with Knox custom creation, so let us help you set your halo engagement ring apart from all the others!
Marquise Cut Center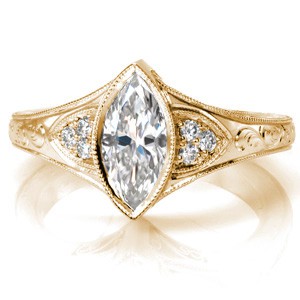 More and more women are requesting that our custom created ring to be altered to feature a marquise shaped center diamond.  Though nowhere near as poplar as the round brilliant or cushion cut, the marquise cut diamond is definitely growing in popularity. The shape elongates and flatters the finger with clean lines and interesting faceting patterns. The marquise cut was first commission in eighteenth century France, meaning it is the perfect center stone to make any of our antique inspired engagement ring feel truly authentic to the time.
Twisted Settings
Several Knox customers have recently requested amazing overlapping and twisting custom engagement ring designs. These daring masterpieces, with their eye-catching and meaningful patterns, give you a truly one-of-a-kind piece. These custom engagement rings bring to mind infinity symbols and love knot while creating a beautiful frame for your chosen center stone.
Now that you've been inspired by our current custom ring trends, stop in-store or contact us and let us answer any questions you may have on starting your very own custom engagement ring. The ring of her dreams is waiting to be created in 2017!