Although a round brilliant cut diamond remains the most popular center stone featured in our custom engagement rings, here at Knox Jewelers we have seen an influx of requests for the ever versatile cushion cut diamond. In fact, many of our cushion cut rings have been re-imagined with a cushion cut diamond taking center stage. A cushion diamond flatters any hand, with its clean lines and softened corners. However, they do carry weight in these corners, meaning a 1.00 carat cushion diamond will have a lesser millimeter spread than an equivalent 1.00 carat round brilliant. Cushion shapes can be found in a more square outline as well as a rectangular outline, depending upon the diamond's ratio.  This pillowed diamond shape will make a charming addition to any Knox custom setting.
Cushion cut is one of the oldest diamond shapes, seen through history, the modern interpretation of this diamond outline has become quite popular in our custom engagement rings. Cushion cut diamonds can trace their begin back to an early brilliant diamond cut call the "old mine cut", that was popular in the 18th and 19th century. An old mine cut originated through the hope of retaining as much finished diamond from the rough crystal as possible. The cut's square shape and rounded corners were an effective way to save carat weight from the most frequently occurring rough diamond shape, the octahedral. The modern cushion cut mimics its predecessor's  rounded square shape with the addition of brilliant cut kite shaped facets.
Solitaire Engagement Rings
Choose an elegant solitaire setting to showcase a beautiful, one-of-a-kind cushion cut diamond.
Antique Engagement Rings
Take a cue from generations past and feature a cushion cut diamond in your hand finished antique inspired engagement ring.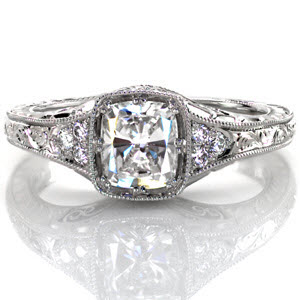 Classic Engagement Rings
A classic ring silhouette with clean lines and a cushion cut diamond make a perfect combination.
Halo Engagement Rings
Emphasize a cushion cut's unique outline with a glittering diamond halo setting.
Three Stone Engagement Rings
Choose the best of both world's with a custom three-stone setting displaying a cushion cut in its center and finished with round brilliant diamonds on either side.
Wide Band Engagement Rings
A cushion cut diamond offers the ideal outline for a dramatic wide band ring.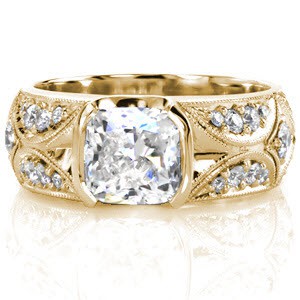 Split Band Engagement Rings
A custom split band setting would be an outstanding way to display a cushion cut center with a longer, rectangular outline.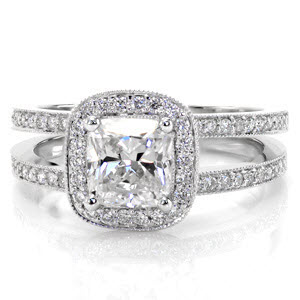 Sapphire Engagement Rings
A rounded square outline is not reserved only for diamonds. Many sapphires are available in cushion cuts as well. This shape is actually one of the best ways to intensify saturation in a colored gemstone.
Two Tone Engagement Rings
Take part in the newest engagement ring trend and surround your cushion cut diamond with two contrasting hues of gold or platinum.
Contact Knox Jewelers today and let us help you put the finishing touch on your custom engagement ring with the addition of a cushion cut center diamond! The cushion cut has a long history filled with elegance and splendor. What better way to craft your own heirloom then with a setting built around a beautiful pillow-shaped diamond. Our custom settings, no matter the style, can be tailored to featured your perfect cushion center stone. Nearly anything is possible with Knox Jewelers custom creation. Make your custom engagement ring a truly one-of-a-kind creation with the addition of an extraordinary cushion cut diamond center stone.