Rubies have been a favored selection in jewelry for centuries. That tradition continues here at Knox Jewelers, were our patrons select this gemstone to embody love and passion in their custom creations. Ruby's intense red color is desired for its beauty, rarity and the emotions it stirs.  In ancient Sanskrit, ruby is referred to as ratnaraj, or "king of precious stones." This title has endured throughout the ages, as rubies have come to represent wealth, power and passion; hence their wide use in royal jewelry.
Apart from their chromatic allure, ruby is also a practical choice for jewelry worn on a daily basis, like an engagement ring or wedding band. Corundum, the mineral name for ruby and other shades of sapphire, is ranked 9 on the Mohs Scale, and is hard enough to withstand everyday wear and tear. This being said, it is not indestructible.
With our custom created engagement rings and wedding bands the possibilities are endless when considering incorporating a colored gemstone. Customizing your engagement ring with the inclusion of  a romantic ruby will make it a truly personalize, one-of-a-kind piece. Listed below are just some of the ways this crimson gemstone could be featured in your favorite ring settings and bands.
Solitaire Engagement rings
Choose a rich hued ruby in your preferred size and shape as the central focus in any of our custom solitaire rings. This intense center stone can stand alone and offer a bold, classic look.
Antique Engagement Rings
Select a vintage inspired setting with the addition of a ruby center stone to create a romantic engagement ring with ties to the past.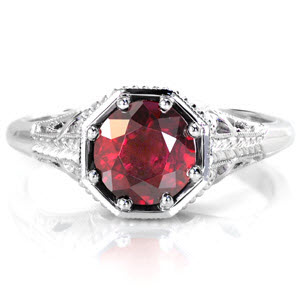 Halo Engagement Rings
Add vintage character with a diamond halo design featuring a contrasting colored ruby center. The juxtaposition of diamonds and a scarlet center stone creates a dynamic engagement ring.
Three Stone Engagement Rings
Get the best of both worlds with a custom engagement ring featuring a diamond center stone framed by saturated ruby accents. A three stone ring setting is the perfect way to incorporate gemstones while still selecting your perfect center diamond.
Wide Bands
Our truly unique wide band rings offer the room to experiment with the addition of colored stones. Rubies with definitely stand out in a wide band design no matter where you decide to incorporate them. Their intense color plays well with any shade of gold and the gemstone comes to life when placed against dazzling diamonds.
Wide Band Engagement Rings
One of the most creative ways to include hints of rubies is their inclusion in a wide band engagement ring. Small colored stones could be scattered within any wide design. The combination of a brilliant center stone, side diamond and side rubies would create a true work of art.
Ladies Wedding Bands
If a traditional diamond engagement ring is more your style, use the addition of your wedding band as the way to display colored rubies. Any of our custom wedding band style can be modified to feature rubies or other colored sapphires. Wedding bands are a great medium to display birthstones, anniversary stone or any colored stone with sentimental value.
Gents Wedding Bands
Men's bands should not be forgotten when considering the addition of colored gemstones. A dynamic ruby could make your custom gent's band a one-of-a-kind creation. Rubies bring to mind love and passion, the perfect addition to a wedding band.
Contact Knox Jewelers today and let us help you select the perfect ruby to complete the ring or band of your dreams. Every ruby is unique, and we can search for any shape, size or saturation you have in mind. Make your custom engagement ring a truly one-of-a-kind creation with the addition of special colored gemstones.