---
Minneapolis Minnesota Jeweler Specializing in Custom Design and Unique Engagement Rings.
---
What do you think about wide-banded rings and wide wedding bands? Most commonly, our customers at Knox Jewelers order wide bands for use in wedding rings or as anniversary bands. But, these rings are starting to evolve in terms of their function. Today, it is not uncommon to see individuals wearing a wide band for no other reason than "just because," and that's great news! When our designers have the opportunity to work with a wide band, they can incorporate far more creative ideas and visual motifs into their designs than when they do not have has much real estate with which to work. When it comes to ring design, every millimeter counts, and wide wedding bands give us a huge canvas from which to craft something truly amazing. But, don't just take our word for it – let's have a look at some of these magnificent and unique wide-band design styles.
Organic
These elegant styles capture some of the beauty of nature. Flowing vines are adorned with leaves and flowers that have been fashioned out of precious metals and gemstones.
Some of these bands feature free-flowing borders, while others are framed with bands of micro pave.
Contemporary
Minimalistic designs that highlight brilliant, dazzling diamonds, and lustrous high polished or satiny brushed metal. These rings also often feature geometric elements or movement in the band to create dimension.
Mokume Gane
The stunning wood grain patterns of these designs are created from scratch each time, so every ring is truly one-of-a-kind! These bands are easily customized with different color combinations and the addition of diamonds or gemstones.
Hand Engraved
The breathtaking patterns shown are all hand-carved into the metal of these rings with a sharpened steel tool called a graver. When the jeweler creates these intricate designs, they must be very precise with each and every line they make. Changing the pressure and depth of their strokes as they carve into the metal produces dimension when the light hits the engraved design.
Filigree and Scroll-work
Filigree curls of all shapes and sizes create a beautiful movement within a design. These scrolling lines can easily add vintage inspiration to a ring. Many times the sweeping line of metal is accented with diamonds or gem stones, hand engraving, and a beaded milgrain texture.
Two Tone
A great way to create a unique ring is to incorporate two different colors of metal. These two tone designs showcase how much different parts of the design can be highlighted simply by
Like What You See? Get in Touch!
At Knox Jewelers, we're here to help you design the custom wide wedding band of your dreams. Or, if you are not currently looking for a wedding band, we can help you to design the perfect ring for any context. Any of our pieces can be created with or without a center stone. If you have any questions about the process, or if you just want to get in touch with us, please contact us right away. We are always happy to answer any questions you may have.
Tags: craftsmanship, custom, custom jewelry, custom wedding band, fashion rings, filigree, hand engraved, Micro Pave, Platinum, quality, Rose Gold, sapphire, Unique, unique rings, unique wedding bands, Unique Wedding Rings, Wedding Bands, White Gold, wide wedding band, wide wedding ring, Yellow Gold | Categories: Unique Wedding Rings


---
Emerald cut engagement rings are stunning, beautiful, and unique, and we are proud to offer them at Knox Jewelers. Why should you consider an emerald cut center stone over the plethora of other options available to you? For one, rings with emerald cut center stones are popular among the powerful and famous, including Camilla Parker Bowles (wife of Prince Charles), Grace Kelly (fiancée of Prince Rainier), and Melanie Knauss (fiancée of Donald Trump). The emerald cut is an elegant cut which incorporates a stepped square stone with cropped corners in order to reduce light dispersion and brilliance. Let's take a closer look at this cut now and show you just how versatile and lovely it can be in any context or design.
The History of the Emerald Cut

Originally, the emerald cut was designed – unsurprisingly – as a special way to cut emeralds in order to address the issue of inclusions that emeralds naturally have. However, as time progressed, the emerald cut found its way into use with other stones, too, including diamonds. Today, the emerald cut is widely regarded as bold, elegant, and striking- all of which are attributes we strive to imbue within our own designs at Knox Jewelers. And, as we'll discuss shortly, we've taken this classic cut in innovative new directions.
The Advantages of the Emerald Cut
The emerald cut has a number of valuable properties which make it a great and versatile choice for those customers looking to incorporate elements of nobility and boldness in their engagement ring for that special someone. What makes an emerald cut stone so versatile is its ability to be placed in almost any context and still look amazing and harmonious with the other elements of the ring. For instance, it is not rare to see an emerald cut center stone crafted in conjunction with such features as micro pave and halos, to name a couple.
Customization Options
To that end, we offer an almost unlimited variety of customizations options for your emerald cut engagement ring at Knox Jewelers. To best show you the variety of options available to you, let's take a close look at some of the engagement rings we have designed for our customers.
Emerald Cut Whisper – Hand Engraved Emerald Cut Beauty
A stunning example of a hand engraved solitaire we have designed in the past is our Emerald Cut Whisper ring. This beautiful design features a hand engraved pattern reminiscent of wheat that gently guides your eye to the luxurious .65 ct emerald cut center diamond.
Design 1158 – A Stunning Emerald Cut Sapphire
Naturally, you are not limited to emeralds or diamonds when it comes to the emerald cut. Our lovely Design 1158 is a striking variation of our Lucille design which swaps the center diamond for a gorgeous sapphire that truly gets the spotlight on this platinum-based ring.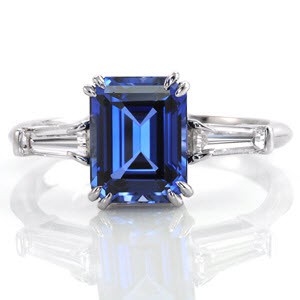 Design 1857 – An Exquisite Combination
We are quite fond of micro pavé stones, here, and Design 1857 takes our fondness for them to an entirely new level. This exquisite ring evokes a sense of nobility and pride due to the .80 ct emerald cut diamond that is framed in a four prong setting. Micro pavé stones are present all along the exterior of the 14K white gold band. This design truly exemplifies the versatility of an emerald cut stone.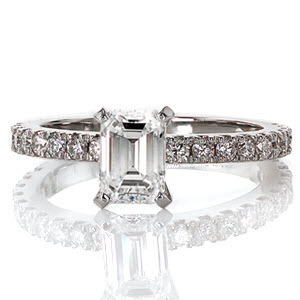 Design 2754 – A Lovely Halo-framed Emerald Cut Stone
The final ring we want to showcase is our brilliant Design 2754. As we said before, an emerald cut center stone can be used in just about any kind of context, including within a halo arrangement. In this piece, a 1.00 ct emerald cut emerald is embedded within an Art Deco-inspired micro pavé halo and shoulder detail. No matter the surrounding elements, an emerald cut stone is guaranteed to both enhance those elements as well as look fantastic all on its own.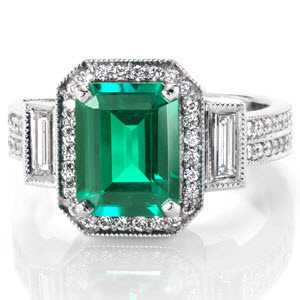 We're Here to Help!
If you are interested in incorporating an emerald cut center stone in an engagement ring for that special someone, then please do not hesitate to contact our friendly staff here at Knox Jewelers. We would be thrilled to discuss the options available and how best to utilize this remarkable cut in a stunning piece just for you. We'll explore different customization options, including band types, engravings, and more. We look forward to working together with you to design a unique emerald cut engagement ring!
Tags: Antique Engagement Rings, craftsmanship, custom, Custom engagement ring, Diamond Engagement Ring, diamond halo, Emerald Cut, Emerald Cut Diamond, Emerald Cut Emerald, Emerald Cut Engagement Ring, Emerald Cut Sapphire, engagement ring, Engagement rings, Filigree Engagement Rings, halo, hand engraved, hand engraved engagement rings, Micro Pave, Micro Pave engagement rings, Platinum, quality, Rose Gold, Sapphire Engagement Rings, Unique, Unique Engagement Rings, Vintage Engagement Rings, White Gold, Yellow Gold | Categories: Unique Engagement Rings


---
Before we begin, it is important to note that gold is naturally a yellow metal, and that any other forms of gold, including white and rose, are combinations of gold with other metals – we call these combinations alloys. We'll talk more about that in the next section, but in the meantime you should know that rose gold is an excellent way to add personality to your jewelry as well as give it a signature, unique appearance – in fact, rose gold is beginning to gain popularity and momentum among jewelers and customers alike, especially here at Knox Jewelers. Without further ado, let's learn all about rose gold.
The Basics of Rose Gold
As we said before, rose gold is a combination of gold and another metal. 14K rose gold is usually formed with gold (about three fourths), copper (about one fifth), and a marginal amount of silver. This blend of metals allows for 14K rose gold to be strong enough for jewelry as well as have its distinctive rosy hue from which it derives its name.
Growing Popularity
Rose gold has been steadily gaining in popularity, and for good reason – no other alloy quite matches the splendor and beauty of this red-tinted gold. More and more individuals are choosing to utilize rose gold in their custom engagement rings and wedding bands. Our designers have successfully used rose gold in a variety of one-of-a-kind pieces, and we are quite thrilled by the rise in popularity of this gold alloy for many creative reasons. Even men's wedding bands are starting to feature rose gold!
Mokume Gane
One of the areas in which rose gold is extraordinarily useful is in the practice of Mokume Gane. At Knox Jewelers, we are experts in these techniques, and having the option of using rose gold in conjunction with yellow and white gold can allow us to design some truly stunning Mokume Gane rings. In the next section, we'll take a look at these designs as well as other ones we have crafted by hand for our customers in the past.
Our Unique Designs
Rose gold looks fantastic with many different elements. The unique engagement rings and wedding bands we have created for our customers are varied, but they all share one attribute in common: they are exceedingly beautiful with their rosy tint. Let's take a look at some of them now:
North Shore Rose
This design makes exclusive use of 14K rose gold to give the ring a bright hue and warm texture. Combined with our detailed hand engravings and milgrain textures, North Shore Rose's rose gold base truly looks fantastic all on its own without other metals or stones.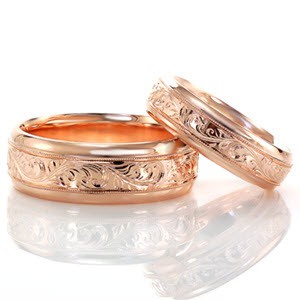 Flora – Autumn Wind
Flora is one of our stunning examples of Mokume Gane craftsmanship. This piece uses three metals: 14k yellow gold, white gold, and rose gold, all mixed and blended together to give the natural appearance for which Mokume Gane is so well regarded. We've also added two rows of lovely, sparkling diamonds to give this ring a beautiful aesthetic.
Design 2903
Finally, Design 2903 shows how regal and vibrant 14k rose gold can look in conjunction with a center stone – in this case, a 1.25ct princess cut center diamond. Rose gold is a truly versatile alloy that is both durable, striking, and warm, and we think that these designs truly make the case for its use in practically any context, including with diamonds, other stones, hand engravings, and more.
Two-Tone Designs
Designs featuring multiple metals are another way to add more detail to a design. As you can see, the warm hue of the rose gold stands out beautifully against the cool luster of the white gold.
Rose Gold Mock-Ups
We are more than happy to hand sketch or create a computer mock-up of your preferred design with rose gold. If this might be something in which you are interested, please let us know. We will create a detailed sketch of your piece and allow you to make modifications as you see fit – helping you to design a custom engagement ring or wedding band is what we are here to do.
Knox Jewelers Is At Your Service
We do not simply design stunning and unique engagement rings and wedding bands – we also go the extra mile in ensuring our customers understand exactly what goes into the process as well as give them complete freedom in the outcome of a particular design. If you have any questions about rose gold, please do not hesitate to contact us. We look forward to working together with you to design a beautiful rose gold engagement ring or wedding band!
Tags: Antique Engagement Rings, craftsmanship, custom, Custom engagement ring, custom jewelry, engagement ring, Filigree Engagement Rings, halo, hand engraved, hand engraved engagement rings, Micro Pave, Micro Pave engagement rings, pave, Rose Gold, Unique, Unique Engagement Rings, Vintage Engagement Rings, Wedding Bands | Categories: Ring Metal Info


---
Bezel settings – that is, settings wherein the metal of the band encompasses the edge of the gemstone – have a long and rich history in the metal smithing and jewelry-making professions. As a matter of fact, the use of bezel settings was one of the first ways in which metal smiths would set gemstones or diamonds into jewelry, as evidenced by many ancient heirlooms in public and private collections. But, bezel settings have practical advantages for the modern jewelry we design here at Knox Jewelers, too. While prong settings are the most common and popular settings for most modern pieces, they have a number of issues. In particular, prong settings allow for their stones to be more susceptible to accidental rubbing or damage; furthermore, these settings tend to be less secure overall. While the possibility of stone dis-lodgement through even intense activity is minimal, bezel settings make this risk practically nonexistent. These are just a few of the reasons why our handcrafted full bezel engagement rings and wedding bands have been supremely popular with our customers.
The History and Evolution of Bezel Settings

Some of the very first settings in the history of the profession used the bezel technique to perfectly fit and protect the beautiful gemstones of the eras past. For thousands of years, the bezel setting served as the one and only setting used by jewelers due to its feasibility with the tools and implements of those times. Essentially, an ancient jeweler might have fashioned a bezel setting by taking a piece of metal, whether gold, silver, or other, and fabricating it so that it matches the outer shape of the center stone. Then, the jeweler would place the stone within the bezel and "push" the metal over the stone so as to encompass it. This technique has largely remained unchanged throughout the ages, and it still requires many years to master the pushing of the metal to just the right amount over the center stone so that it is not only secure, but also concealed as little as possible.
The Advantages of Bezel Settings
As stated previously, bezel settings offer a variety of advantages. Here are just a few of them:
* Protection: Due to the seamless nature of a bezel setting, the stones contained therein are protected from many types of accidental damage.
* Versatility: Bezel settings look great with a variety of different band styles and stone cuts, as evidenced by our examples below.
* Snag-proof: Unlike prong settings, when a bezel setting gets damaged it is not likely to move away from the stone in a way that will leave the metal exposed to accidentally scratch someone or snag on things.
Examples of Bezel Settings Crafted By Knox Jewelers
At Knox Jewelers, we have crafted many unique engagement rings and wedding bands with bezel settings. Our metalsmiths have trained for many years to master this art, and we are proud to offer them to our customers. Those customers who have opted for a bezel setting have loved its elegance, durability, and sophistication, so much so that we could not help but tell you about them. Here are three of the unique and beautiful rings we have crafted for our customers in the past:
* Radiant Enchantment: With micro pavé stones stones forming a stunning halo around the center bezel setting of this beautiful ring, Radiant Enchantment surely lives up to its name. This piece in particular shows how bezel settings can be combined with halos and other silhouettes to create truly stunning jewelry.

* Monarch: The proud, noble Monarch ring showcases the exquisite combination of a round center stone, round bezel setting, and a lovely micro pavé band. Truly, this 14k white gold band is fit for nobility of the highest prestige.
Here are some custom, Monarch Variations:

* Bezel Step Eternity: Our innovative and elegant Bezel Step Eternity band takes the classic bezel setting design to a new level. A seamless, interlocking 14k white gold band of bezel round brilliant diamond settings makes this ring a truly unique and novel design not seen elsewhere.
Choosing a Bezel Setting for Your Wedding Band or Engagement Ring
A bezel setting is a fantastic choice of setting for the center stone of your wedding band or engagement ring. If you would like to learn more about using a bezel setting in a band for that special someone, please get in touch with us today. We look forward to discussing your plans with you!
Tags: Antique Engagement Rings, Bezel, Bezel Set Engagement Ring, Bezel Setting, craftsmanship, Custom engagement ring, Diamond Engagement Ring, diamond halo, engagement ring, Filigree Engagement Rings, hand engraved, hand engraved engagement rings, Micro Pave, Micro Pave engagement rings, pave, Rose Gold, Unique, Unique Engagement Rings, Wedding Bands, White Gold, Yellow Gold | Categories: Setting Styles


---
How much do you know about radiant cut diamonds? Did you know that the radiant cut was first invented in 1977 by a man named Henry Grossbard, a pioneer in the art of diamond cutting who wanted to synthesize the emerald cut and round stone, thereby creating a cut which combined the elegance and brilliance of both? At Knox Jewelers, we have been crafting unique engagement rings with radiant cut diamonds since our founding in 1984. The radiant cut has a very interesting and rich history – unsurprising for a cut of this intricate beauty. Let's take a few moments to discuss the history and properties of this beautiful cut, and then take a look at some of the stunning radiant engagement rings we have crafted for our customers in the past.
The History and Development of the Radiant Cut
Once upon a time, an enterprising and clever craftsman named Henry Grossbard wanted to find a way to combine the elegance of emerald cut diamonds with the brilliance of round, brilliant cut diamonds. After thirty-three years of developing his craft, Grossbard finally succeeded in developing a cut which combined the step cut and brilliant cut into one, distinctive, and astounding cut he proudly named the radiant cut due to its synthesis of the properties of the former. Since then, many artists, metal smiths, and craftspeople have endeavored to emulate the precision and dedication to craftsmanship that Grossbard displayed in his work, and at Knox Jewelers we too have carried on Grossbard's legacy of craftsmanship and attention to detail in the design of all of our unique engagement rings.
The Special Properties of Radiant Cut Diamonds
Radiant cut diamonds are so innovative and important in the recent history of jewelry because prior to their introduction by Grossbard and other craftspeople, all diamonds were cut in the emerald way, thereby limiting their potential brilliance. The radiant cut brought with it a complete revolution of the industry, as now diamonds were up to par with their fellow gemstones in terms of both brilliance and elegance. This evolution in cutting methodology brought with it a number of new styles in jewelry, and allowed for greater creativity by both customers and metal smiths.
Our Radiant Engagement Rings
At Knox Jewelers, we have crafted a number of these stunning, exquisite radiant engagement rings, and we wanted to take some time now to show you some of them we have created from scratch for our customers in the past. Naturally, these are not the sum of our entire portfolio, so please click here to view all of our stunning radiant engagement rings. Without further ado, let's take a look at three of our unique engagement rings which have incorporated radiant cut diamonds:
Rae – Regal and Luminous
Our Rae design is among our most regal, and the 2.25 carat radiant cut center diamond is absolutely stunning. Its platinum band is detailed with intricate micro pavé that truly gives this ring a brilliant and awe-inspiring appearance. The U-cut micro pavé is present along almost all sides of this ring, including the undersides of the halo.
Radiant North Star – A Fresh Take on a Classic Pattern
Once used by sailors to navigate the oceans of the world, the North Star has a long and rich history. Our signature North Star pattern looks simply exquisite with diamond accents, hand-cut micro pavé, and a .50 carat radiant cut diamond, all framed with a fine milgrain detail. This ring also shows just how versatile a radiant cut diamond can be, and how stunning it can look in any setting.
Heidi – Art Deco Beauty
Inspired from the artistic legacy of the Art Deco movement, our Heidi design places a yellow 1.00 carat radiant cut diamond within a 14k gold bezel and a 14k white gold halo accented with micro pavé diamonds. Heidi is truly a lovely ring, and its unique twist on the Art Deco style gives it a one-of-a-kind character. As you can see from this stunning piece, radiant cut diamonds look great in any size, shape, or form, and we have used them successfully in a variety of different configurations and designs.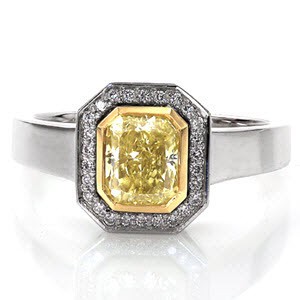 Have Any Questions?
If you have any questions at all about the radiant cut or about the radiant engagement rings we offer at Knox Jewelers, please do not hesitate to contact us. We look forward to hearing from you!
Tags: Antique Engagement Rings, craftsmanship, Custom engagement ring, Diamond Engagement Ring, diamond halo, engagement ring, halo, hand engraved, hand engraved engagement rings, Micro Pave, Micro Pave engagement rings, Platinum, radiant diamond, Radiant engagement ring, White Gold, Yellow Gold | Categories: Unique Engagement Rings


---