---
Minneapolis Minnesota Jeweler Specializing in Custom Design and Unique Engagement Rings.
---
The focus of this article is to illustrate some of the differences in micro pavé engagement ring styles, design elements and setting styles.
If you are looking  for a more thorough description and definition of Micro Pave. Please see our Pave? or Micro-Pave? article linked here:
http://www.knoxjewelers.biz/blog/category/micro-pave/
Hand Cut Micro Pavé Engagement Ring Examples
We will start with some hand cut Micro Pavé examples. Hand cut Micro Pave refers to a diamond setting style in which each little prong holding the diamonds in the ring design are cut out by hand. As well as cutting out each little prong, the diamond setter will also also cut out the area under and around where the diamond is to be set so as to give the setting style a nice aesthetic as well as help show off the micro pavé diamonds.
We only offer these hand cut micro pave setting styles in Platinum rings as other metals are not as ideally suited for this type of detailed hand work.
Here is  an extreme close up photo (macro shot) of a hand cut micro pavé engagement ring. We call this setting style, U-cut, which is a good descriptive of the U shape area cut out underneath each diamond. As mentioned, this hand cut pattern  helps accentuate the micro pave diamonds and also lends the design a very attractive aesthetic.
Here is another very close up example of a hand cut micro pave engagement ring. Note on this example how the U-cut style was also incorporated into the micro pave halo around the center diamond.
Here is a top view of the same U cut Micro Pave halo design engagement ring.  This view illustrates how this setting style minimizes how much metal shows and thus accentuates the micro pave diamonds.
Tags: fish tail, fish tail micro pave, Fish Tail pave, fishtail, fishtail micro pave, fishtail micropave, fishtail pave, french cut, french cut micro pave, french cut micropave, French Cut Pave, hand cut micro pave, Micro Pave, Micro Pave engagement rings, pave, u cut, U cut micro pave, v cut, V cut micro pave | Categories: Micro Pave Styles


---
At last count we had upwards of 50 split shank engagement ring designs with new and custom versions coming out on a regular basis. Many of these split shank engagement rings have micro pave set diamonds in the design. Others include a diamond halo. We wanted to feature some of our more popular split shank engagement rings designs in one article so that someone unfamiliar with our website or store could look and compare many different designs on the same page.
Please note that the images are linked to the rings product page which will have additional photos and possibly a video of the ring.
The first split shank design is a very clean and simple split shank design with pave diamonds. The center stone is a 2 carat round center diamond.
2.20 carat cushion cut diamond in a very elegant split shank engagement ring
Here is a micro pave split shank design with a round micro pave halo
Here is a very similar design with an Asscher shape center diamond
Here is a Split shank design with a round center diamond in a cushion shape diamond halo, the design also features a surprise diamond
(click through to other photos to see surprise diamond)
2.00  carat princess cut set in a beautifully delicate micro pave split shank design
Speaking of halos, the signature look of our Cielo design is the combination of a split shank with a halo. We have made this design for just about every shape center stone, here are a few:
Another round center diamond version…
One more…
Tags: Asscher, cushion, Cushion Cut, cut, diamond halo, engagement ring, Engagement rings, halo, Micro Pave, pave, princess, split shank | Categories: Unique Engagement Rings


---
Cushion cut styles are in vogue and have made a sort of revival. This page is dedicated to several different styles of cushion cut engagement rings.
Click here to browse our Cushion Cut Engagement Rings
Cushion cut diamonds can have very different looks:
(1) Cushion cut diamonds come in many different shapes (outlines) ranging from rectangular to square and everything in between.
(2) Cushion cut diamonds will also have many various looks based on how rounded the corners of the stone are, making for many very unique looks.
(3) Cushion cut diamonds can have different faceting patterns which makes for a wide variety of possible looks that are all classified as 'cushion cut'
Cushion cut diamond halo engagement rings
Our Venita design is one of our micro pave designs and features a square proportioned cushion cut diamond flanked by a micro pave diamond halo. The cushion cut is set by 4 sets of claw prongs, yielding a minimal amount of metal holding onto the stone. This stone happens to be a Cushion Brilliant and features larger facets like a Round Brilliant.
Another design from our hand cut micro pave collection, featuring a cushion cut center diamond with micro pave diamond halo.
Here is a popular bezel set cushion cut design with a raised halo that allows a matching band to sit underneath.
Here is a custom Cushion cut design featuring micro pave, split shank, octagonal halo and custom hand made filigree. Since there is a lot going on in this design, I will post a couple photos to show the detail.
Here is a clean design featuring a bezel set cushion cut diamond and a diamond halo. These 'low slung' bezel set designs are popular with people that are concerned about a ring sticking up too high off the finger or snagging or scratching.
Here is essentially the same design with a diamond pave band
Here is a cushion cut center diamond set in a micro pave, split shank, halo design.
Here is another thin design that allows a matching band to sit perfectly flush. This cushion cut engagement ring design features a sexy double micro pave halo.
Here is a beautiful cushion cut engagement ring design with half moon shape diamonds on each side. The design also has three diamond halos and filigree in the side gallery of the ring.
Here is a custom bezel set version of the above design:
Side view… note the three sided pave band and gallery featuring hand made filigree & a custom butterfly element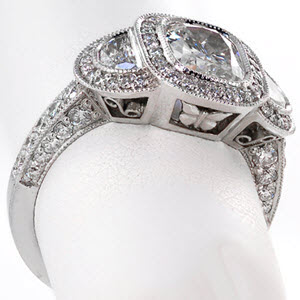 Here is a ring with a similar three stone design, except with bezel set triangle diamonds and a trellis gallery.
This cushion cut diamond engagement ring features a rectangular cushion cut diamond center stone flanked by two round brilliant cut diamonds in an elegant three stone trellis design.
This Cushion cut diamond engagement ring features a 1.00 carat center diamond. The ring has a very vintage look with hand made filigree and hand engraving adorning the elegant lines of the design. The center cushion cut diamond is highlighted by claw prongs which gives the ring a sexy, delicate look.
This cushion cut engagement ring features a sexy thin diamond band with a square cushion center stone.
Here is a bezel set cushion cut engagement ring design with a halo and diamond pave in the band.
More to come soon…
Tags: cushion, Cushion Cut, Cushion cut diamond, cushion cut diamond engagement ring, Cushion cut diamond ring, cushion cut halo ring, Custom engagement ring, diamond, engagement ring, Engagement rings, halo, micro, Micro Pave, pave, ring | Categories: Cushion Cut


---