Multi-level roads, trains running above cars, and a river that flows backward – sound like a scene from the future? It's just another typical day in Chicago. Why not make your Chicago engagement ring just as distinctive?
Discover the most unique engagement rings Chicago has to offer for your proposal or wedding day at Knox Jewelers. Our passionate, master-level artisans have helped hundreds of Chicagoans select or design their custom engagement rings and wedding bands with extraordinary results.
Visit Knox Jewelers and explore our breathtaking selection of diamonds, wedding bands, and engagement rings. You will work one-on-one with our dedicated, professional craftsmen who are devoted to finding the most exquisite custom engagement ring for you. Other Chicago jewelers and online dealers simply cannot match our commitment to customer service.
Get in touch with the jewelry experts at Knox Jewelers today and embark on this exciting phase of your life with the most brilliant engagement ring Chicago has ever seen.
Discover Your Chicago Ring Today
Searching for the perfect ring can be an intimidating process. The sheer number of possible combinations of ring settings, designs, cuts, styles, and shapes make deciding near impossible. Instead of feeling overwhelmed, you can trust the knowledgeable staff at Knox Jewelers to support you. Backed by decades of experience in jewelry design and manufacturing, we will guide you step-by-step to discover the wearable work of art you've always imagined.
Our vast selection of unique engagement rings and wedding bands is second to none. From brilliant contemporary wedding rings to antique style engagement rings that radiate elegance and beauty, you are sure to find what you're looking for in our collection of fine jewelry. However, if your heart is set on something truly personal, look no further than the creative workmanship at Knox Jewelers to design an heirloom that will outshine all other Chicago engagement rings. You've already found "The One" – now, find the flawless engagement ring or wedding band that is as extraordinary as your love.
Connect with our team or explore our exceptional Chicago engagement rings and wedding rings online. To learn more about custom engagement ring design, contact Knox Jewelers for personalized customer service.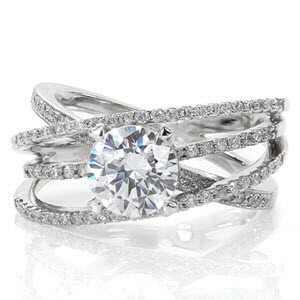 Knox Jewelers distinguishes itself by not only offering personalized service tailored to your needs, but by offering a variety of center stone options so that you are easily able to find the perfect gem to symbolize your relationship.
Is your love's heart set on a natural diamond, plucked from the earth and faceted into brilliance? Knox Jewelers' team of experts will partner with you in the process of deciding on the perfect natural diamond.
Lab created diamonds are also available. These stones have exactly the same chemical composition and are indistinguishable from naturally mined diamonds, but cost less per carat. There are many factors involved in selecting a diamond, whether natural or lab created, and you won't find friendlier, more personable customer service than at Knox Jewelers.
Or maybe you're curious about moissanite, having heard of its incredible value per carat along with its ecologically friendly lab creation. The expert gemologists at Knox will walk with you through the process of deciding if these are your forever stone.
Perhaps you have a stone already, a family heirloom, that deserves a place of honor displayed in a wearable work of art. Partner with Knox Jewelers' highly trained team of artisans to reset your stone into a custom ring designed exactly for the dimensions of the stone you already possess.
If you're not finding a jewelry store in Chicago that matches your needs, Knox Jewelers provides a Try Before You Buy service that will set you at ease and ensure your every question is answered. If you are interested in potentially moving forward with a particular design, Knox Jewelers will send a model of the ring that interests you to your door. You don't have to just make a decision based on pictures online. Instead, take the opportunity to try on the ring that intrigues you. When you see the ring in person, you have the chance to fall in love with tiny details in the design. Those details will be faithfully created in the ring that's custom-made for you after you order your own in any size and color that suits you and your love story.
Even better, when you order from Knox Jewelers and have your ring sent to you in Chicago, the fact that our store is located in Minnesota means that you are charged no sales tax, which reduces the cost of the ring. Your money goes farther toward the piece you have selected and designed.