If you are looking for true romance and the perfect location to pop the question in Tulsa, Oklahoma, you are in luck. This beautiful city offers hundreds of outstanding proposal options and with Knox Jewelers by your side offering the most comprehensive and stunning collection of engagement rings in Tulsa, you will create the most special day for your loved one. An unforgettable experience for anyone looking to propose to their loved one in Tulsa would be to take a drive to the edge of the city where you will find what is known as Green Country, an amazing area filled with dense vegetation, rolling hills, and pretty lakes and rivers. Another area of the city that would be breathtaking is to propose at the Philbrook Museum which boasts the most amazing estate gardens and artwork, with the Cupola being the ultimate location. These will both be truly romantic experiences!
When you are looking for the ultimate wedding bands in Tulsa, look no further than the professional artisans at Knox Jewelers. They can create any type of wedding band that you like which combines beauty and simplicity with architecture and style to give you precisely what you want. From diamond engagement rings to the most intricate and ornate filigree wedding bands, Knox Jewelers has you covered when it comes to the most important day of your life!
Aside from the scenic proposal spots in Tulsa, there are many other options that you have for surprising the love of your life. Being the cultural epicenter of the South, Tulsa provides tons of performing arts venues, concert halls, music centers, and much more. One of the best ideas for a marriage proposal would be to organize a picnic and a concert at the River Parks Amphitheater where you can also enjoy the beauty of the large fountain system. There are also restaurants and cafes that you can choose from for your proposal including Elwoods and Blue Rose Cafe with outdoor dining overlooking the river and live entertainment in the evenings.
For those who are more adventurous at heart and want to create a unique, memorable experience in Tulsa, how about planning a hot air balloon ride over the Arkansas River or go zip lining through the canopy in "Green Country"? You can be sure that with a proposal like this and with a gorgeous hand engraved engagement ring made by Knox Jewelers, that your day will be a success!
There are also tons of art deco and modern buildings in Tulsa which you could use for your engagement. Some will allow you to book out a floor or rooftop for your proposal, such as the 15th floor of the Mid Continent Tower Building where you will find the Cosden Reception Room and Auditorium which would also make a stunning wedding venue. Brady Theater is another option, as well as the Price Tower Arts Center, where you can also choose a one of a kind, art deco style engagement ring from Knox Jewelers. Price Tower is considered to be one of the great buildings of the 20th century and offers various art exhibitions and event displays, shopping facilities, the Copper Bar, hotel accommodation, and much more. The Ambassador Hotel, which is part of the National Trust for Historic Preservation, is another lovely proposal and wedding venue. It offers a day spa and fine dining restaurant and you can even organize a romantic weekend package which can culminate in your proposal. The Crown Plaza Hotel is grand and ideal for popping the question. Take your loved one there for a special weekend away, enjoy the restaurant and lounge and also treat them to a spa treatment before offering one of the carefully selected engagement rings from Knox.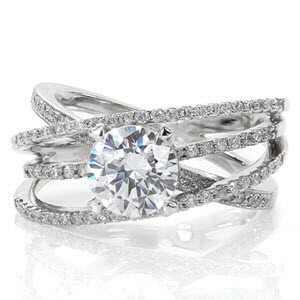 Knox Jewelers is found in Minneapolis, Minnesota, and our staff are experienced in providing top-notch customer service across the United States. If local jewelry stores aren't providing what you and your partner are seeking, Knox offers not only heirloom-quality custom craftsmanship, but also long-distance customer service that will make you feel right at home.
The Try Before You Buy program at Knox Jewelers, simply put, lets you try on rings instead of just looking at them online. Rather than enlarging pictures and trying to puzzle out details in the design, select a ring that captivates you and get it shipped to your door. By seeing the ring in person, you are better able to decide if a particular style fits the aesthetic you've always imagined.
When you purchase a ring from Knox's master craftsmen in Minnesota and have your purchase shipped to Tulsa, you benefit by not needing to pay sales tax. This results in a significantly reduced purchase price, so whatever amount you decide to budget for a ring is functionally increased without creating a financial burden.
Deciding on a particular ring style or custom design is meaningful and deeply personal. Simultaneously, the center stone will serve as the focal point around which the whole ring design flows. There are several options to consider while evaluating center stones beyond simply shape and size: the actual gemstone itself is a matter of personal taste and preference.
Moissanite is a man-made gemstone that is increasing in popularity. While it shares many visual characteristics with diamonds, the fact that this stone is created in a laboratory setting means that the cost per carat is lower than a naturally mined diamond. Additional motivation behind this surge in popularity includes a widespread embrace of more ecologically sensitive stone sourcing techniques, including lab creation.
Lab-created diamonds have a similar benefit in a lower cost per carat, while simultaneously matching naturally mined diamonds in every technical aspect. These are actual diamonds, produced through advanced technology, rather than being sourced from diamond mines.
However, natural diamonds, pulled from the heart of the earth, have an undeniable emotional draw. The romance of a stone forged over millennia cannot be denied.
Knox Jewelers' team of specialists will partner with you in your journey to finding the perfect stone. Whether clarity, size, shape, or color is the characteristic that motivates you, the information you need to make a decision will be presented in ways that engage and excite you.
If you have a diamond that is already in your possession, perhaps passed down as a family legacy, Knox Jewelers' artisans will craft a custom-designed ring specifically for your center stone.