For those lucky enough to be born in the month of April, we have good news for you: Your birthstone is the illustrious, famous, and sparkling diamond. As the saying goes, "Diamonds are forever" – and in more ways than one. Diamonds are extraordinarily durable in both physical strength and historical staying power – in fact, it's quite possible that diamonds have been a part of human civilization for many millennia – and for good reason, too. Let's take a look now at how diamonds came to achieve their lofty status, and how you might incorporate one or more of them into a stunning work of art right here at Knox Jewelers.
The History and Mythology of Diamonds
Diamonds have a rich and complex past. Countless cultures and civilizations throughout history and around the world have coveted and revered diamonds for their stunning and unique properties. From India to Italy to Brazil, diamonds have captivated countless generations. Although the sources of diamonds and the major players in the market have changed dramatically over the past few hundred years, one aspect of them has remained constant: They have been prized for their splendor and beauty, and as the remnants of aristocracy made way for the middle class of the modern era, they have only grown in popularity.
From the sultans to the kings and queens to the middle class, diamonds have forever remained a staple of human culture, and we have no doubt that they will continue on this path for countless millennia to come. Why are we so sure about this? Let's take a look now at just how alluring and special diamonds truly are. After all, they have been brewing beneath the surface for millions – if not billions – of years.
Just What Exactly Makes Diamonds So Unique?
But just what makes diamonds so unique and beautiful? Indeed, the answer to this question is more nuanced than you may have assumed. We all know that diamonds are rare, but what makes them different? To answer this question, we need to take a close look at the properties of these stunning stones.
Firstly, diamonds – without exception – are all composed of the same chemical components. In fact, they're the only stones that are made of  one element – carbon. Each and every diamond shares the same internal structure that gives it its superb strength. These stones are so strong that they are 58 times harder than anything else that you'll find in nature, and they were formed billions of years ago during the creation of the earth by interstellar forces and bodies.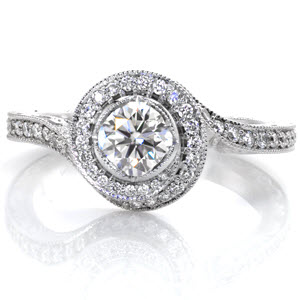 Incorporating Diamonds into Jewelry
At Knox Jewelers, we have been designing stunning engagement rings, earrings, pendants, and more for our happy customers for decades, and many of these pieces have utilized a diamond center stone or in a micro pave arrangement. Among engagement rings, diamonds are very popular. Whatever your plans may be, we're here to help you pick the right design for your special someone.
Diamonds are extremely versatile, and can be used in any number of pieces. They blend well with all metal types, including white, yellow, and rose golds, platinum, and more. Additionally, they can even work well with other center stones, such as in our micro pave configuration. Whether you're looking to use a diamond in an engagement ring, or just in a special gift for that special someone (who happens to have a fortuitous birthday in April), you're bound to find exactly what you need at Knox Jewelers.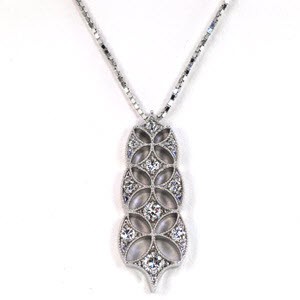 See More Diamond Jewelry Today at Knox Jewelers!
If you or a loved one has an April birthday, then the diamond is the right stone for you. We would be honored to have the opportunity to show you some of our stunning diamond designs up close, and we think that you will agree with the praise we have heaped upon them here. If you would like to learn more about using a diamond center stone or micro pave design in an engagement ring for your special someone, we encourage you to get in touch with us today to begin the conversation. Our friendly, veteran staff are here to work together with you to design a work of art that will stand the test of time. Don't be shy – get in touch with us today!