Morganite Engagement Rings
The beautiful gemstone known as morganite is appearing in all types of jewelry as it becomes a coveted gemstone to wear. A delicately colored stone, morganite comes in soft hues of pastel pink, rose, peach, and salmon. This unique color, which is captivating the jewelry industry, is just becoming popular in the last few years and we are excited to provide you with information on its origins and ideas for how to incorporate it into your own, one-of-a-kind heirloom quality design from Knox Jewelers. Learn all about morganite, from its origins and characteristics to maintenance and alternative options.
Morganite: History and Facts
What type of gem is morganite and where does it come from? Morganite was first discovered in 1910-1911 in Madagascar. George Kunz, at the time the chief gemologist for Tiffany and Company, proposed that it be named "morganite" in honor of his friend J.P. Morgan. J.P. Morgan was a renowned financier and banker in the United States, and he knew Kunz through his many donations to the arts and sciences. Particularly through his gifts of gems to the American Museum of Natural History in New York and to the Museum of Natural History in Paris.
What is Platinum?
This newly discovered gem was not a completely new discovery, but rather a new species of the mineral known as beryl. There are several other varieties of beryl, but the most commonly known are emerald (thought to have been discovered as early as 2000 B.C.E.) and aquamarine (thought to have been discovered around 300 B.C.E.). Each type of beryl is categorized according to it's color or color range. Morganite is known as the pink variety of beryl, and has a range of pastel colors including pink-purple pink-peachy pale orange. This stone has occasionally been referred to as "pink emerald" but this colloquial term is not accepted by the professional regulatory bodies and trade associations in the jewelry industry. Until more recently, morganite has remained generally unknown to the public and seemed to be limited to gem collections, and museum quality pieces. Because of this there are large specimens of morganite available on the open market. In fact, most morganites for jewelry pieces are commonly cut as big, multi-carat stones to achieve proper color saturation. Smaller sizes are extremely rare, and often difficult to find.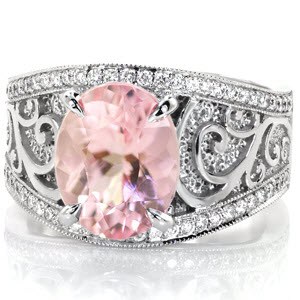 Characteristics and Quality of Morganite
There are several things to keep in mind when selecting a morganite center stone for your custom Knox ring. Morganite is less durable when compared to diamond or sapphire. Although a diamond and morganite share the same toughness grade of Good, what separates them is their hardness. A moganite rates between 7.5-8.0 on the Mohs scale, while diamond is 10 and sapphire is 9. With this in mind, we advise to be careful when choosing it as your center stone, as rings can be prone to certain types of accidental damage.
A gemstone softer than diamond can accumulate scratches over time and should be worn with care. Cleaning a morganite doesn't require special equipment but should be done gently. First, you'll want to soak your ring in plain warm water for several minutes to allow for any build up (commonly lotion or soap) to soften. Next create a warm soapy solution to clean your morganite ring. Using a non-abrasive cloth or Q-Tip gently brush all around your gemstone to remove normal build up. Lastly rinse your ring under warm water, shake off excess water and let air dry. Be sure to never expose your morganite engagement ring to harsh chemicals, such as bleach or chlorine, as these chemicals can cause major damage to your stone.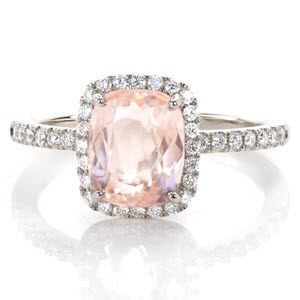 Custom Design a Morganite Engagement Ring
Add a truly unique flair to your custom create an engagement ring with a morganite center stone. The soft pink hue complements platinum or any shade of gold. For a ring setting that will last you a lifetime of wear we always recommend platinum. Other popular choices include rose gold or white gold as your ring base, although yellow gold also looks amazing. Whatever metal choice you should decide, you can't go wrong with morganite as your gemstone center.
We are here to make your dreams into a reality. Select from any of our handcrafted designs or custom create an original to display a stunning morganite gemstone. Browse through our collection of unique engagement rings and wedding bands to find a design that would look amazing in conjunction with your desired stone. Be sure to also check out our entire inventory of morganite options under our gemstone page.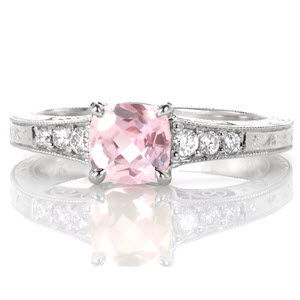 Alternative Gem Options to Morganite
Morganite is not the only gemstone that possesses the soft, pink and peachy color tones, but it is by far the most common one. If you are in love with these colors but are looking for a more durable option we are happy to check for sapphire options to match the shape and color you prefer. Sapphires in the pale, pastel versions of these colors are rare but they do exist. More vibrant options are often easier to find. It can take time to find the perfectly colored sapphire in these hues, but the results are worth the wait! Other potential options with similar colors include tourmaline and topaz. Though these have similar durability to a morganite, they are likely to be available in smaller sizes.
Get Started on your Custom Morganite Engagement Ring
Our friendly staff at Knox Jewelers is here to assist in creating your perfect morganite engagement ring. We'll guide you through the designing process from concept to creation. Our client-oriented approach is tailored to making sure your dream ring is perfect. We have an assortment of morganite shapes, sizes and colors just waiting to be transformed into a stunning center stone! Contact us today to get started on your very own one-of-a-kind engagement ring. We look forward to hearing from you!