You might be wondering what the differences are between standard bezel settings and their younger siblings, half bezel settings. The answer is simple: a half bezel setting is just a regular old bezel setting, except that it only encompasses approximately half of the edge of the stone rather than the entirety of it. Now, you probably want to know why on earth someone would only want to have a bezel setting that covers half the edge of the stone rather than all around it. Once again, the answer is simple: By keeping around half the edge of the stone uncovered, you can show off the unique edges and angles of that particular stone. We truly enjoy designing rings with half bezel designs, and we think you'll love how they look.
An engagement ring or wedding band with a half bezel setting that exposes sides of the center stone tends to fall into the contemporary camp, though this kind of setting can look absolutely stunning in just about any context and with any kind of stone, not simply diamonds. Whether you are working with emeralds, sapphires, rubies, or diamonds, a half bezel setting can add a modern flourish and round out the rest of the design of the ring. Now, let's take a look at some of the half bezel engagement rings and wedding bands we have crafted for our customers at Knox Jewelers in the past. If you see any you particularly like, be sure to let us know! Onto the rings…
Luna – A Contemporary Half Bezel Ring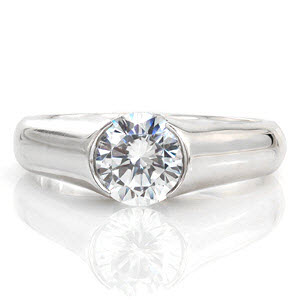 The most common contexts where half bezel settings tend to be found are in rings which are generally labeled as contemporary, or modern. Our Luna design is a prime example of these kinds of rings, and it really showcases how a half bezel can add a level of intricacy to more pure designs – being able to view a side cross section of the center stone truly livens up the piece and gives it an elegant appearance.
Here are some other contemporary styles:
Motion Channel – A Diamond Band Half Bezel Design
Of course, half bezel settings are not simply limited to those designs that we might call "contemporary." Our Motion Channel design is a great example of this fact: Motion Channel incorporates a half bezel that remains fluid with the entirety of the 14k white gold band in order to both show the sides of the round brilliant center cut diamond as well as remain faithful to the broader visual motifs we designed into this piece.
Some additional designs featuring a half bezel setting with a diamond adorned band:
Dreams – The Stunning Synthesis of Filigree and Half Bezel Settings
Our Dreams design is a brilliant example of how filigree and half bezel settings can work together to create an entirely new and distinctive visual style that catches the eye and guides it towards those exposed edges of the center stone. The yellow gold filigree curves gently guide the war towards the center stone, wherein it then views the side perspective of the center stone.
Filigree detailing can be added to half bezel settings in a variety of ways:
Princess Seville – A Half Bezel Ring Inspired by Antique Designs
More examples of beautiful antique inspired half bezel designs:
To demonstrate how a half bezel setting can be used in just about any sort of jewelry context, we wanted you to have a look at our Princess Seville design, an antique-inspired ring which incorporates intricate hand engraving, a beautiful 14k white gold band, and a half bezel setting that shows off the stunning center stone. Truly, half bezel settings can have a place in any kind of ring, and they can truly take them to another level of exquisiteness and fine design.
Interested in Half Bezel Settings? Get in Touch with Knox Jewelers Today!
If you enjoyed this overview of half bezel settings and some of the examples of our fine craftsmanship here at Knox Jewelers, then you may want to consider having an engagement ring or wedding band with a half bezel setting designed by hand for you. We will work together with you throughout the entire design process to ensure you have a piece at the end which is unique, stunning, and crafted specially for you and your loved one. If you have any questions about how a half bezel setting can be best used in an original design, please do not hesitate to contact us today to learn more about getting started. We look forward to hearing from you soon!