FILIGREE ENGAGEMENT RINGS
Filigree Engagement Rings
Our unique line of filigree engagement rings feature beautiful scroll work done in platinum, rose gold, and yellow gold. Our styles are reminiscent of Edwardian and Victorian era designs. Our filigree is made by hand from wire and is not cast. Filigree can be the primary focus of a design or a simple embellishment. Diamonds and other precious gemstones can be flush set into the scroll work to add another dimension of beauty. The Filigree engagement ring is an artistic ring setting where beautiful designs can accent the main stone or create a design in itself. It is one of the most creative ways to design an antique or modern engagement ring. The most beautiful vintage rings in the world are Filigree. Our level of quality is unsurpassed. We focus on bringing you the most beautiful rings, cutting edge tools, artistic creativity and decades of experience. If you have any questions regarding your antique wedding ring, we look forward to helping.
Read more on our filigree engagement rings here.
The History of Filigree Jewelry
It is the detail and effort put into crafting filigree jewelry that makes each piece as beautiful as it is unique. Filigree is a fine and intricate metal wirework that can be found on jewelry as well as other adornments such as belt buckles, hair pins, and small boxes. The word filigree has roots in the Latin words filum, meaning 'thread of wire,' and granum, meaning 'a grain or bead.' Some filigree pieces are made not only with wire but also by adding small metal beads. This process of adding beads is called granulation.
A most astounding and beautiful art form, the creation of filigree metalwork has a history as intricate and extraordinary as the style itself. Found as far back as 3000 BC in ancient Mesopotamia, filigree metalwork is present on items all over the world throughout history.
Different parts of the world have developed different techniques and designs for their filigree jewelry. From 15th Century Mesopotamia, filigree pieces called telkari were crafted with gold and silver wires, a method which continues to be used in present times. Ancient Phoenicia is where the first gold filigree with gold backing styles appeared. With the style migrating from ancient Phoenicia, the ancient Greeks and Etruscans specialized in intricate gold filigree designs with a gold backing. The ancient Greek style then spread east into India and Central Asia where elaborate filigree work is still present. Medieval Europe had a prevalence of biblical texts and ceremonial objects that were adorned with gold filigree designs. Irish filigree work incorporates long strands of metal threaded to appear as an unending knot.
All over the world, museums hold many gorgeous filigree pieces which have been crafted and perfected over time, and the popularity of filigree work has not waned in its centuries of existence. Still used all over the world today, filigree styles vary in different locations now just as they did in the past. Portugal is known for its lovely filigree hearts. Italian filigree is often created adding feathers and petals to the pieces. Jewelry as well as larger pieces of filigree work created in Greece often use wires of varying thickness and add granulation with beads of varying sizes.
Styles of Filigree Jewelry
The varying filigree styles fall into three basic categories: openwork filigree, ground-supported filigree, and material-filled filigree.
Openwork Filigree
This style of filigree is the most difficult to create, which makes it all the more extraordinary. Openwork filigree lacks any backing and uses a thick metal framework to support the lace-like designs of the lightweight wires. The frame is created using flattened or twisted wires soldered together using high-heat or hard solder to keep the frame from bending as the filigree patterns are added within.
Ground-Supported Filigree
Also referred to as backed filigree this style has the intricate wiring pattern soldered directly onto a solid plate or mesh backing. Creating these pieces is much simpler because the wiring can be added onto the backing in small portions at a time. However, if the piece only has a small section of detailing it is considered wirework instead of actual filigree.
Material-Filled Filigree
Material-filled filigree is another type of ground-supported filigree, however, with this method, the spaces between the wires are filled with another material. Artisans will use materials such as enamel or resin to fill the piece. This method is used to give the piece a pop of color and the kinds of details you cannot get with metal alone.
Filigree Styles in Your Jewelry
One of the remarkable things about filigree is that it is often crafted by hand. The style is so intricate that it takes a careful human touch to make the design work. Though, artists and jewelry makers will sometimes use a jig, a tool that can hold pegs of various sizes to twist the wires around in order to create a more consistent and precise pattern when necessary.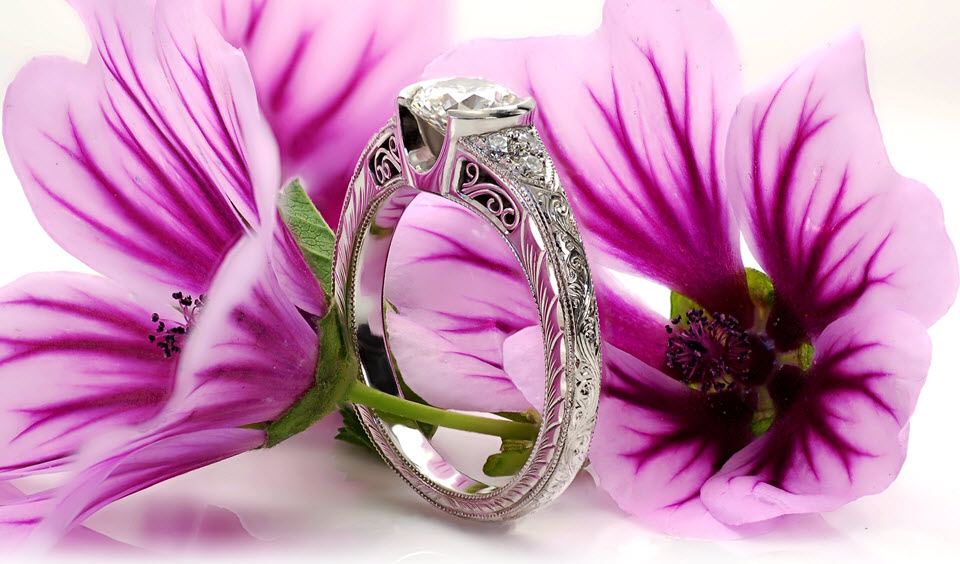 The filigree style is so elegant and refined that it is no wonder many are looking to give their partners hand-crafted and unique filigree engagement rings. Knox Jewelers is home to the leading experts when it comes to filigree metalwork for these extra special pieces. We are here to help you create the perfect custom, hand-crafted ring that will symbolize the unending love that you share with your future spouse.